In his article, How to Create a Better Customer Experience, Shep Hyken says, "There is no doubt that creating a better customer experience translates into revenue." Everyone can agree that a good Customer Experience is good for business.
But opinions tend to differ on what comprises the Customer Experience. Here at Olark, we define Customer Experience as the 12 stages that make up a consumer's buying process. These are:
1. Need / want Customer feels an unfulfilled need

2. Attention Customer attention is acquired

3. Matching / Searching Customer is searching for something

4. Interest Something catches the customer's eye

5. Objections The customer wants to be convinced

6. Engagement / Desire Customer is sold

7. Action How does the customer buy it

8. Fulfillment How does the customer get it

9. Evaluation The product is what they expected

10. Satisfaction Product meets expectations

11. Repeat customer Customer comes back

12. Referral Customer recommends you
Earlier this year, Brent Summers of Segment explained how how marketing technology (martech) improves the Customer Experience. Looking at the list above, you can see where some bit of martech could affect (hopefully for the better) the customer's interaction at each step.
Olark user, TheServiceManager.com, also shared some observations on trends affecting Customer Experience, and captured those in the handy infographic below.
Among the trends they include, some are worth a closer look:
Self-Service
Earlier this year, Forrester pointed out that self-service channels are on the rise. Their data showed, "a rise in adoption across all self-service communication channels, not just Web or mobile self-service. Online forums/communities use jumped from 31% in 2012 to 56% in 2015; virtual agent use jumped from 28% in 2012 to 58% in 2015; and this year, respondents report using speech self-service 55% of the time."
Even though customers are showing a growing preference for self-service, don't discount the fact that they might need Support at some point in their buying process. Apple does a great job of giving customers a subtle option to chat if they need.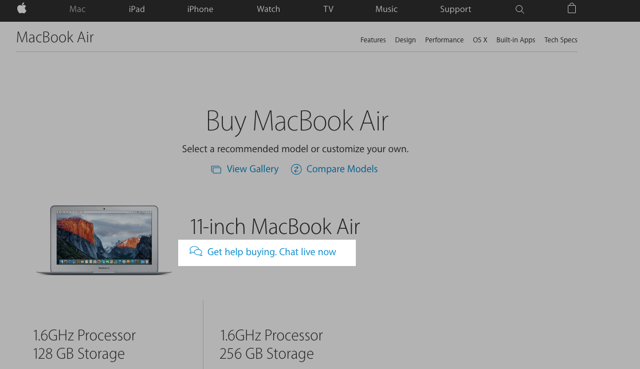 Ez Texting did something similar on a sign up form managed to increase signups by 31%. (Read the full article.)

Mobile
Within the list above, every aspect of the Customer Experience can happen on a mobile device. Whether it's mobile web, or in-app, consumers can move through the 12 stages of the buying process without ever putting down their phone or tablet. Google recognizes this, and is factoring mobile-friendliness into its search rankings. We also recognized this, and launched Hummingbird for mobile-friendly live chat.
Pay close attention to your Customer Experience on a mobile device. Ask friends and family to find your site, place an order, and rate their experience in only a mobile browser. Make a note of where they run into issues - these are bottlenecks you're going to want to improve.
Analytics
We're going to be talking a lot more about Olark and Google Analytics this month, but if you haven't already, take a look at our Google Analytics integration documentation.
In addition to quantitative data from analytics, platform, consider how tools like live chat provide you with qualitative data too. This is what Giles Adam Thomas has previously talked about when he explained how to use chat transcripts to increase conversions by 137%.
What other Customer Experience trends are you tracking in 2016?