Today's guest post comes from Brent Summers who is the Director of Content Marketing at Segment.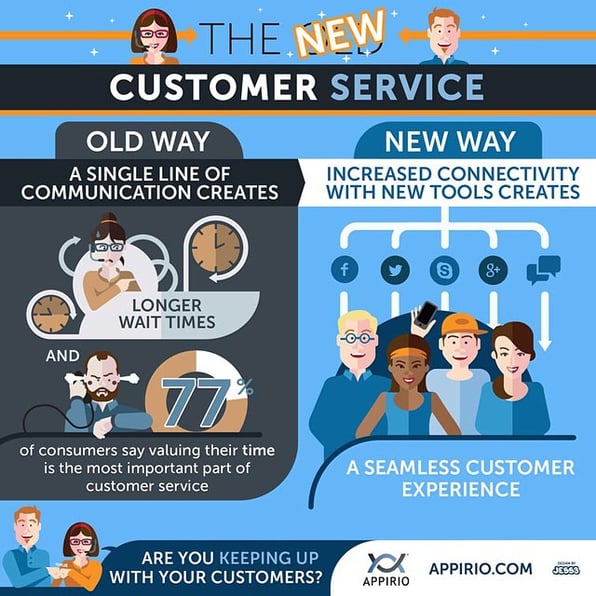 In reflecting on this past year, one of the most notable trends we saw was a focus on enhanced customer experiences. Most consumer experiences with brands begin passively, often online when friends share opinions about products and services over social media.
Once a consumer chooses to express their interest - a click, a like, a retweet, etc. - brands now have a plethora of active ways to escalate a 'passive' relationship, and that is the beginning of the 'customer experience.'
In a recent survey, Gartner reported that "89% of marketing leaders expect to compete primarily on the basis of customer experience by 2016, as compared with 36% four years ago." That same study also indicated that the IT department plays a key role in 80% of CX (customer experience) initiatives. It's clear technology and marketing must work together to compete in the modern marketplace to offer the best customer experience possible.
We expect this trend to continue. Here are three outcomes we're anticipating in 2016.
Prediction 1: Marketing technology will enable better customer experiences
Marketing has always commanded a significant share of company budgets. In fact, in 2014 brands around the world spent more than $1 trillion on marketing. Historically, the lion's share of those funds is allocated to advertising channels, but as CMOs become CXOs (Chief Experience Officer), investment in marketing technology will increase.
In their whitepaper "MarTech and the Decade of the CMO", Foundation Capital speculates marketing technology will become a 120 billion dollar industry. In that report, Doug Milliken, VP of Global Brand Development for Clorox underscores that point by admitting, "Marketing is a technical discipline now."
Traditionally non-technical brands such as Target and the London Tube are now offering enhanced, Bluetooth-powered experiences to people willing to download an app and share their location data. Facebook beacons provide smaller businesses with the ability to create geo-targeted offers like coupons or brand messages. Even Geocaching.com, which boasts over 10 million members globally who use GPS to find hidden containers, now partners with brands to generate buzz and boost engagement.
B2B companies are getting in on the action too. More and more SaaS companies are investing in inbound marketing tools to track the interests and interactions of would-be customers. These interactions with a brand can be aggregated into a customer profile using a data collection tool like Segment.
As a result, B2B businesses are providing an increasing amount of helpful literature accessible to everyone without ever having to talk to a sales team. Every whitepaper you download or blog post you read is fodder for brands to leverage when creating personalized messaging intended to persuade you to buy a product, request a demo, or start a free trial. Which leads me to...
Prediction 2: B2B and B2C brands become publishers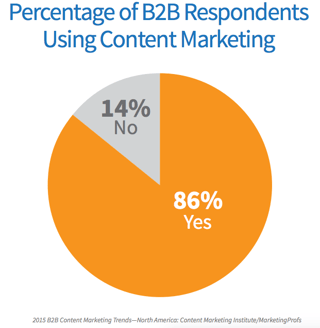 According to the Content Marketing Institute, "70% of B2B marketers are creating more content than they did one year ago." Buffer and Moz are great examples of companies who are generating leads and building trust through content. More and more companies will invest in content as it becomes more difficult to reach people through traditional and digital advertising.
This is especially true as we saw surge in new ad blocking technology this year:
This past year Apple released iOS 9 which finally allowed mobile users to employ ad-blocking technology on their mobile devices;
Android has allowed ad blockers on their platform for a while;
And Google users can now contribute money to see fewer ads on the sites they visit.
Privacy concerns, faster loading pages, and irrelevant ads are all cited as reasons that 200 million people are blocking ads.
And if brands don't want to become publishers? There are plenty of new and creative native advertising (sponsored content) opportunities being pioneered by sites such as Buzzfeed, The Onion, and niche sites like Allrecipes, which has inventory that brands can purchase.
By creating content people actually want to engage with, brands increase their likelihood of reaching more potential consumers on mainstream sites. And, they also support cash-strapped publishers in need of a constant flow of high-quality content.
Prediction 3: Data gets a seat at the executive table
New marketing technology and more content represent massive opportunities for brands to improve the customer experience. However, these new tactics are worthless if they aren't grounded in a clear strategy.
Companies large and small are making it a priority to appoint someone to track and analyze data being gathered throughout the customer experience then using that data to inform ongoing strategy. In best case scenarios, this person sits in the c-suite in order to institute a cultural shift toward relying on data.
These "Data czars" are being nominated to define processes and systems to collect clean data. Clean data follows a well-structured framework. It's robust enough to provide deep insights and omits unnecessary events to prevent a bloated data set. Winning teams are using a combination of quantitative and qualitative data to make their product (or content) more attractive.
Regardless of where they sit in the org chart, data czars help companies integrate customer experience data into all facets of their business. Marketers will use it to evolve "from Mad Men to Math Men" and combine right-brain creativity with left-brain logic for targeted campaigns with a greater chance of success; executives will use data to clearer picture of the business landscape; sales teams need it to provide prospects with better, more-targeted solutions; and product teams use data regularly to make critical decisions about their roadmap that reduce churn or otherwise achieve ROI.
The customer experience is the key to winning in 2016
The customer experience is the key to success for businesses in 2016. Businesses now have access to rich data and powerful tools that can reveal so much about existing and potential customers. And brands now have more opportunities than ever to attract potential customers through content which supports an inbound sales process. Smart companies are restructuring their organization to make customer experience data the lifeblood of their business. Are you one of these companies?