Last week, while in line at the grocery store, I checked my email on my iPhone and up popped a clearance sale announcement from my favorite running company. I'm a size medium, so I had no time to lose—millions of averaged-waisted shoppers were vying for my shorts! I made my thumbs do the cha-cha and had three pairs charged to my PayPal account in seconds flat.
Yep, I'm a sucker for instant gratification...but I'm hardly alone. According to a December 2016 Pew Research report,
51% of Americans, and 77% of those age 18-29, have made made a purchase from a smartphone, and
45% have used a phone to research products while shopping in-store.
In fact, mobile friendliness is so important to consumers that in 2015, Google updated their search algorithm to give priority to mobile optimized sites.
If meeting your customers where they are is critical—and it is!—you need to meet them on mobile. And if you're like most folks these days, you'd probably love to be able to talk to customers from your phone, too.
Fortunately, we made Olark Live Chat mobile friendly to help you do just that.
Read on for the details of our mobile features, and for some tips on talking to and from mobile devices—or create an Olark account right now to experience mobile friendly live chat firsthand.
What does Olark mobile chat look like?
In 2016, we completely redesigned the Olark chatbox to provide a seamless experience for visitors who initiate a chat from a mobile device.
The mobile design, which is now standard for all Olark accounts, consists of a small, non-intrusive chat button and a live chat experience that closely mirrors other messaging apps. This makes it easy for a visitor to navigate your page without feeling interrupted, but also to get answers to their questions as soon as they're ready: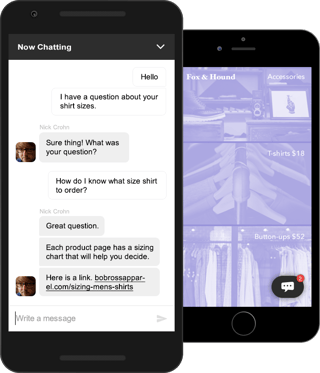 The chat button will appear for mobile visitors by default—you don't need to do anything special to turn it on. If you've enabled offline emails, the offline email form will be available on mobile as well.
Want to customize the mobile chat button to match your mobile site's look and feel? You'll find all kinds of options for color, size, and positioning in your theme settings: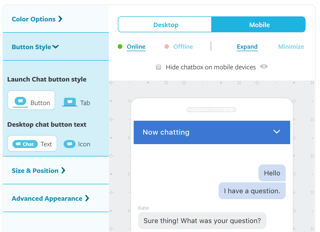 Make chat on mobile more human
But, as we all know, looks aren't everything. If a visitor is chatting from a mobile device, you need to take that into account in the way you interact with them. Here are a few tips for creating an awesome human-to-human mobile experience:
Identify mobile visitors. Get in the habit of checking the visitor information in your agent console, so you're always aware when the person you're chatting with is using a mobile device. You can identify mobile users by their operating system (usually iOS or Android, followed by a version number):

Hover over the operating system icon for operating system info. The visitor on the left is using a mobile operating system, iOS. The visitor on the right is using a desktop operating system, Mac OSX.

Keep it short. Reading and scrolling through long blocks of text is harder on a small screen, so keep your chats concise (but still friendly!). You might even want to set up a few Shortcuts specifically for talking to mobile visitors, so you always have shorter options on hand.

Be patient. Mobile visitors are more likely to be surrounded by distractions or to have spotty Internet connections, and typing on a mobile keyboard isn't exactly a walk in the park. Give your visitor time to reply, and make sure they know you won't go anywhere if the conversation gets interrupted.

Follow up. Mobile visitors are less likely to save information from a chat or to read through knowledgebase articles right then and there. Make sure they have a record of the conversation by using the !send command to forward the transcript to their email; if you mentioned a variety of resources throughout the conversation, you might even consider sending another quick email with a summary of recommended links.
Have another tip for keeping mobile live chat human? Let us know by commenting on this post!
Chatting from a mobile device
When I'm in line at the grocery store, I buy clothes. But there's a larger truth behind my indulgent iPhone shopping, which is that no one likes to stand around aimlessly when they could be doing something productive.
You can twiddle your thumbs while you're in line at the bank...but you'd probably prefer to use those same thumbs to help customers and capture sales leads. That's why we made it easy to connect Olark with mobile messaging apps like Trillian and Xabber.
Even if you're not using one of these apps already, setting up an account and linking it to Olark takes just a few minutes (you can learn how it works in our Help Center). And once you're set up, most of the Olark features you're familiar with will be readily available from your mobile device.
For example, you'll be able to:
Respond to incoming chats and handle multiple chats up to your usual limit
Get information about where a chatting visitor is located, what page they're on, and whether they've chatted with you before
Use common chat management commands like !transfer and !tag, or send the conversation to your preferred CRM, helpdesk, or other integrated tool with commands like !salesforce and !mailchimp. See the full list of Olark integrations
Automatically show yourself as away from chat when you close the app, or after the app has been closed for a certain amount of time
If you're ready to try chatting from mobile, you can get started right now with a free 14-day Olark trial!
Psst...want to use the Slack app to talk to visitors from your mobile device? Sign up to test our new Slack integration!