Live chat and business-to-business (B2B) companies haven't been friends as long as other sectors like business-to-consumer (B2C). At my last B2B company, we had our quote forms and email support. And we went on Twitter if we wanted to be *really* fast at responding!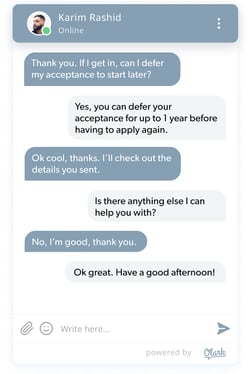 But savvy businesses in B2B—and institutions like higher ed and government—are realizing they're more likely to qualify leads and satisfy website visitors by offering an immediate, human connection. And these organizations are standing out by offering live chat on their websites.

Whether it's a transportation solution, software, or a college course, your chatbox helps nudge your visitors towards answers... and you towards your business goals.

So let's talk about Drupal. If you already use the platform, you know there are real advantages to this content management system (CMS). Low security threats, custom user roles, and content scalability (even highlighted by a WordPress agency) make Drupal a standout for B2B, higher ed, government, and more complex B2C companies. Those I talked to also liked its configurability and clean look.

Drupal is fairly developer-focused, so many businesses use an agency to set up their site. Regardless of what you choose, both web agencies and businesses who set up themselves recommend Olark live chat for its simple, user-friendly Drupal integration.

Like Drupal, Olark live chat prioritizes accessibility, fully conforming to WCAG 2.1 AA and Section 508. Businesses can also rest easy knowing that chat data is secure, encrypted, and compliant with GDPR and other privacy regulations.
Now, let's hear from seven real B2B, B2C, and higher ed organizations who use Drupal and Olark together. Whether you want to qualify more leads, provide better customer service, increase sales, or all of the above, there's a story for you below!
1) DBSync: Increasing qualified SaaS leads by 200%
DBSync is a platform for quick and easy backup, replication, synchronization, and integration between SaaS applications. Rajeev Gupta, Founder and CEO, explained how Olark on their Drupal site helped them engage their visitors proactively with push notifications and triple their qualified leads.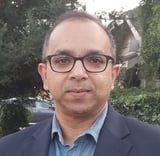 "Drupal is a very configurable CMS platform and is well-suited to our company's ever-growing content and structural needs.
"The most significant advantage of Olark is the push notifications to visitors that engage them in conversations. Other chat platforms lagged in this feature. We have had great success in using chat to convert visitors into opportunities.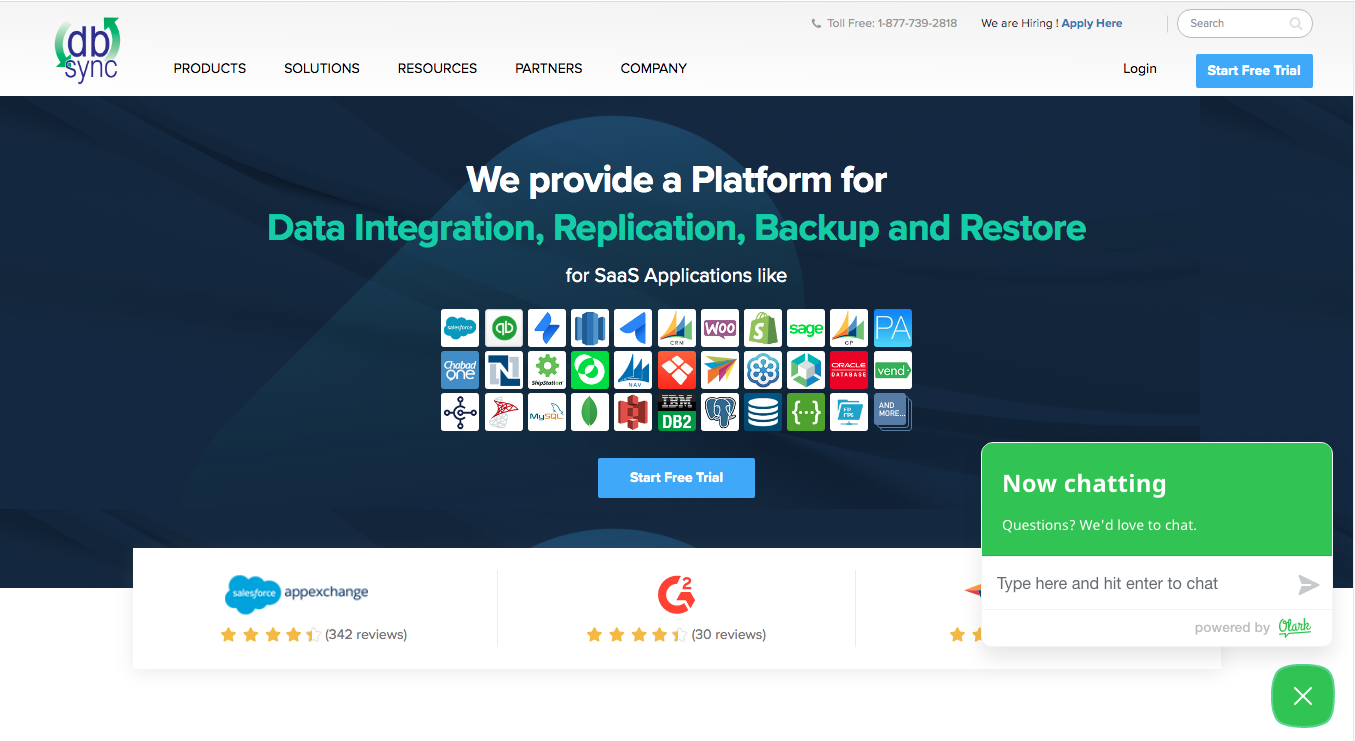 "At DBSync, we have had great success with online chat in terms of engagement and conversions. It did require building out new processes, and fine-tuning the automation and rules, but the result was a 200% increase in qualified leads, year over year.
"We believe chat has enabled prospects to engage with our knowledgeable reps easily, getting the information they need while exploring their options."
2) US Duct: Scoring B2B leads and winning over dealers in industrial ductwork
US Duct is an experienced, American-owned and -operated ductwork manufacturer. Marketing specialist Liz Wallace shared how Olark live chat and the Drupal platform make a user-friendly combo that helps them gain new end-user leads and satisfy their all-important dealers.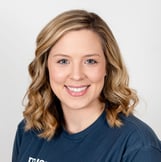 "The agency that designed and manages our current website was very familiar with working in Drupal. After listening to what all we wanted for our website, they recommended Drupal as the best option to meet our needs. They developed a clean, user-friendly, mobile-friendly website that we are very pleased with and are able to manage very easily.
"After researching multiple services, we chose Olark because of the competitive price, the ability to integrate smoothly with Drupal platforms, and ease of use.
"The live chat feature has allowed us to give an even better customer experience—quick responses lead to happy customers! It has added an extra form of contact for customers and prospects who might prefer the chat feature over a phone call or email.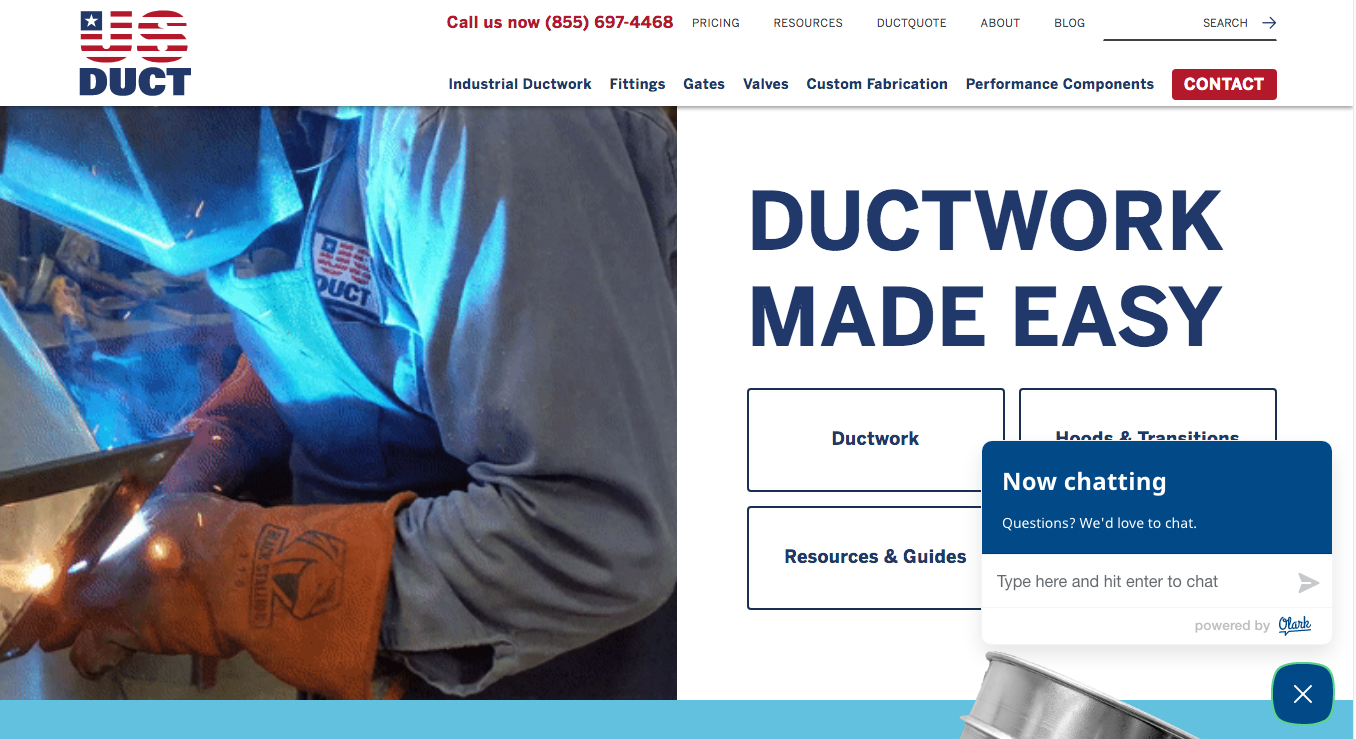 "We are a B2B company that sells industrial ductwork, so instead of selling directly to end-users/consumers, we sell to dealers and contractors who then sell our products to the end-user. The live chat feature has proven to be a good way to accumulate end-user leads that we send to our dealers, satisfying them and making them more enthusiastic about working with us. We have also gained some new dealers using the chat feature."
3) Career Center at UVA: Engaging students one on one
The Career Center at UVA supports students in planning for post-college. Nathan Hunsaker, Associate Director of Technology and Data, shared how Olark live chat on the Drupal platform helps them assist students instantly and effectively.
"We wanted a way to help our students out quickly when the need arose. Olark gives students a direct line to us and our services that is much more up-to-date than placing a phone call."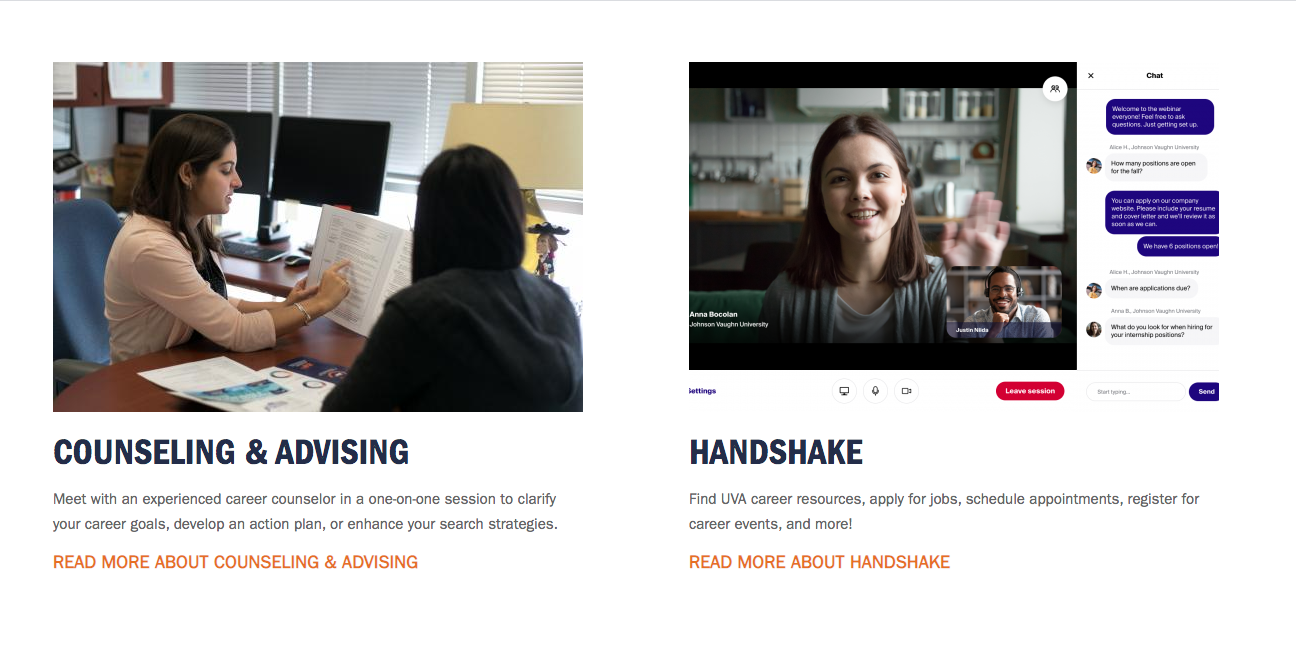 Learn more about how University of Virginia troubleshoots student issues, learns from chat conversations, organizes appointments and more in their live chat case study.
4) Electric Marketing: Helping customers navigate 5000+ products
Electric Marketing is a research-led data company that specializes in UK business lists of directors and senior managers. Director Melissa Mackey described how Olark plus their Drupal site is simple to operate, while driving online sales and saving time for their clients.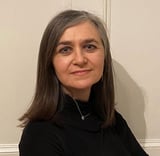 "The building and maintenance of our website is outsourced to our web agency, Zodiac Media, who recommended Drupal and Olark to Electric Marketing. We trust our contact to make these decisions.
"I am the main user of live chat and was keen to put the chat box on our website. I think there is a move away from using the phone to call in to a company to ask a quick question. There is a growing perception that an email may take a few days to be answered. Customers like to be able to ask a question on Olark and get an instant answer.
"I have found that clients who are new to Electric Marketing's B2B data services use live chat just to check a small point before they hit the buy button. It is a great tool for closing an online sale, dealing with minor objections, and giving reassurance to your new clients.
"Live chat is also being used by customers who cannot find what they are looking for on our website. Our website has over 5,000 business mailing list products and can be tricky to navigate for the new user. I can reply to an inquiry with some advice and a link to the product page on the site and it very often results in a sale. Olark is a great time saver for our clients and is proving to be a driver of online sales for us.

"Since we launched our new Drupal website in January 2020, our ecommerce stats have improved across the board. We find the Drupal website pretty easy to edit which means that we can make quick changes to the website to respond to the marketplace, without having to brief our web agency. This has been invaluable during the UK's successive lockdowns in the last year.

The chatbox is very simple to set up and operate. I can happily have multiple chats running at the same time without any issues.

"

5) ALLOcloud: Offering quick, personalized help to enterprise visitors
ALLOcloud is a professional telephony service dedicated to small and mid-sized enterprises (SMEs), based on a cloud platform, with advanced telephony features. Marketing executive Estelle Loir discussed how Olark live chat on their Drupal website has increased customer satisfaction and gives them helpful visitor insights.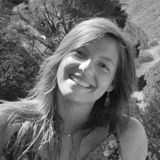 "We chose the Drupal platform for its diversity of content types (videos, blog posts, product pages, etc.). It allows us to create both simple and complicated web pages. We also like the fact that it is an open-source CMS and that it is highly secure.
"We chose Olark because it is very easy to use. The features Olark offers are thoughtful and user-friendly. You can analyze a visitor's entire journey on the website: the pages they visit, the number of times they have visited the website, their location, the length of their visit, the language, the device they use…
"Olark chat is installed on our website. Each time a visitor comes to our site, Olark's pop-up chat appears and allows visitors to communicate with us and ask questions.
"Live chat has allowed us to have a more personalized approach in communicating with visitors and potential clients. It has allowed us to give information at a faster pace to our clients, but also partners if they have little time to call or visit our office. The fast and personal chat also made it possible to redirect visitors and their questions to the right people (IT, support...) or send documentation in a swift way. It has improved our customer satisfaction."
6) TOTAL Transportation of Mississippi: Boosting recruiting leads
TOTAL Transportation is a transportation service offering flexible solutions to help businesses meet supply chain needs. Justin Cullars, Media Manager, shared how Olark live chat on their Drupal site offers an easy integration and a valuable tool for capturing more recruiting leads.
"Our web design company suggested Drupal 5 years ago. We wanted a live chat option on our site and our web design company suggested Olark. Important criteria for us: Ease of integration and use.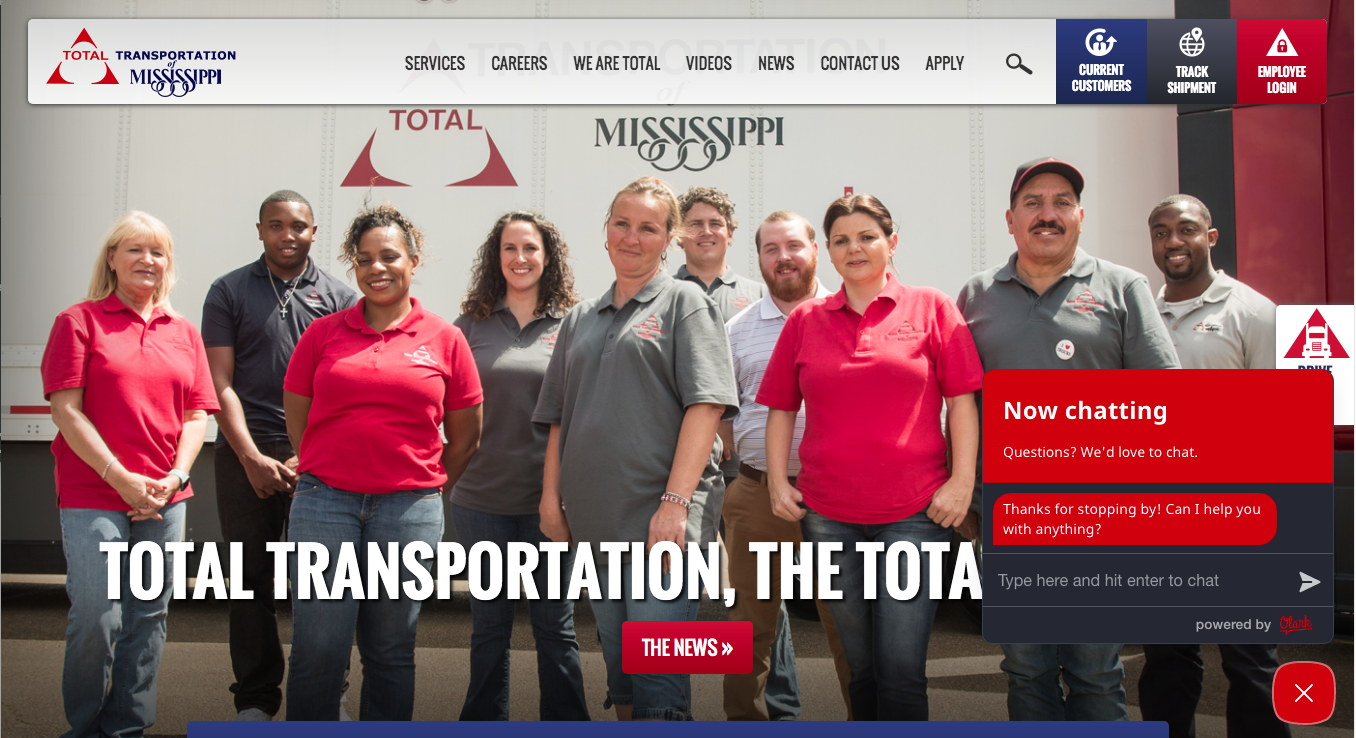 "Olark has proven very helpful in gathering recruiting leads we might have otherwise lost. It has also been great for routing inquiries to the correct department throughout the country."
7) American Graphics Institute: Providing quicker, more efficient B2C and B2B customer service
American Graphics Institute provides organizations and individuals with training and support for marketing, design, development, and publishing technology. President Christopher Smith explained how Olark was easy to deploy on AGI's Drupal-based website on just the pages they wanted. The combo offers the institute a quick, efficient way to respond to customer questions.

"Drupal provides flexibility and scalability required by the large number of professional development training courses we offer.
"Olark makes it easy for our customer service team to respond to clients in real time as well as the ability to transfer chats between staff. The simple integration with Drupal made it easy to deploy. Olark is easy to implement on specific pages, and can even be added or removed based upon the type of device being used.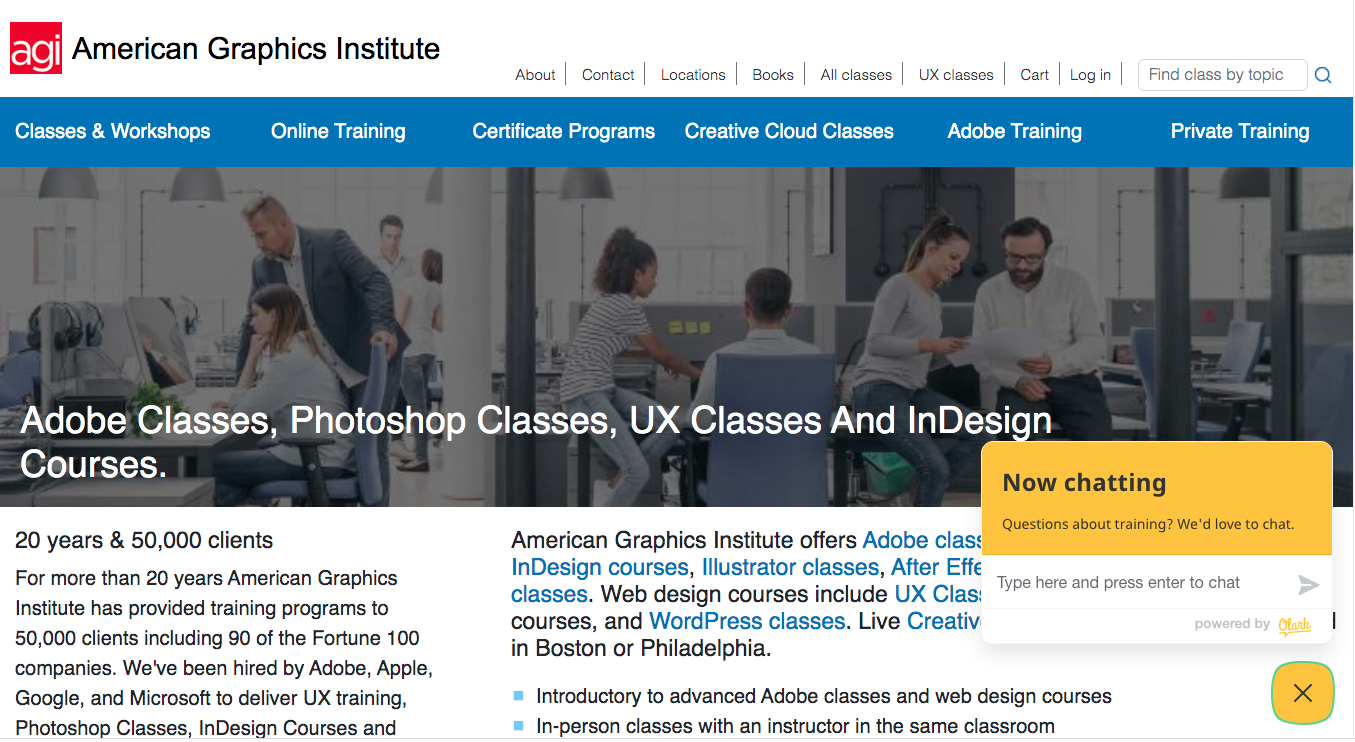 "Some customers seem more comfortable to use chat rather than a phone call, which allows us to make certain that questions are answered at the right time when they are choosing a course.
"Live chat makes it possible to help clients select the right course, answer questions at the time of registration, and provides customers with a higher level of satisfaction. Chat helps us to provide better customer service. We're able to respond to inquiries more quickly and efficiently. Olark aligns perfectly with the customer-first ethos of our organization."
Are you trying to build a customer-first brand, capture more leads, or convert more customers? See what Olark live chat can do for your business.
Resources