We're coming to an end of a busy, busy year here at Olark Live Chat, but before we close the books on 2016, we have one more integration partner to add to our redesigned Integrations Portal.
Today we're announcing that we've teamed up with Front to launch a native integration that makes it easy to access all of your customer conversations and messages in one place.

Team Collaboration Made Easy
What is Front? Front is a fellow Y Combinator alumni founded by Mathilde Collin and Laurent Perrin. If you use multiple email addresses, like Support@, or Contact@, or Team@, then you can view and respond to customers from a single Front inbox.
In addition to multiple email addresses, you can link other customer communication channels - like chat, social media, and SMS - to your inbox, so your whole team can get the full story on how a customer has been contacting you. In Front you can also add internal notes and pass messages to other team members, making it easier to customize responses and provide a more personal customer experience.
"We want our users to have all of their customer communication in one place, and that includes chat," said Mathilde. "Just like Olark, we're committed to an open platform that enables our users to sync with the tools they already use. We want both Front and Olark users to develop a tech stack that best fits their business needs, and make sure the process of linking separate platforms is quick and easy. This integration is both, and we think it will provide quick wins for businesses who try it out."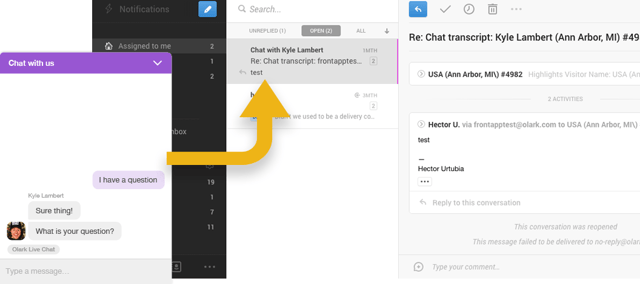 A screen shot of how a customer conversation goes from Olark chat box to Front inbox.
Ready to Get Started?
If you've been looking for a way to centralize your customer communications and make life easier for your team, here are a few reasons to try the Olark + Front integration:
Easily send your Olark transcripts to a customer record in Front;
Clearly see which customers need follow-up, and all of their communication history with your company (from numerous channels);
Quick set-up, you'll be up and running in no time.

(Want to learn more? Head over to our help article, or send us a chat!)
The New Olark, Same Great Price
This year we've completely overhauled Olark and launched some exciting new integrations, yet our prices haven't changed. In fact, you may have noticed that we've made it even easier for you to add and subtract new operators.
(If you didn't know that, login to your Olark account and go to your billing page.)
To recap 2016:
We hope you've taken advantage of these new upgrades, and if you have, we'd love to hear your feedback on them!
And stay tuned - we've got a lot more in the works that we can't wait to share with you. Happy Holidays and see you in the new year!