One of our goals here at Olark is to help all of your systems work together to provide the best possible customer experience. With that, we're excited to announce the revamped Olark Live Chat and Groove help desk integration.

If you haven't met them yet, Groove is intuitive help desk software that helps you delight your customers with high quality, personal support (making this a perfect fit with your Olark Live Chat!). Collaborate on all your customer emails, social media posts, calls, and chats together in one help desk.
For all of our customers who have been looking for a way to connect all of their support tools in one place, this integration answers your call! Here are some benefits of integrating Olark and Groove:
Customer communication in one place -

Log into your Groove dashboard and you'll see every interaction on every platform that you've had with a customer.

Know who's responding - Groove makes it easy to see who on your team has interacted with a customer.
Private notes and ticket assignments -

Groove also makes it easy for your team to collaborate on the backend with the ability to leave private notes for your colleagues, or assign tickets to specialists.

Automate your workflow with rules and labels -

Groove makes it easy to organize, track, and filter your tickets with easy to set-up workflows.

Detailed customer service metrics

- Tracking and reports in Groove will help your team evaluate and improve its performance, and spot customer trends at a glance.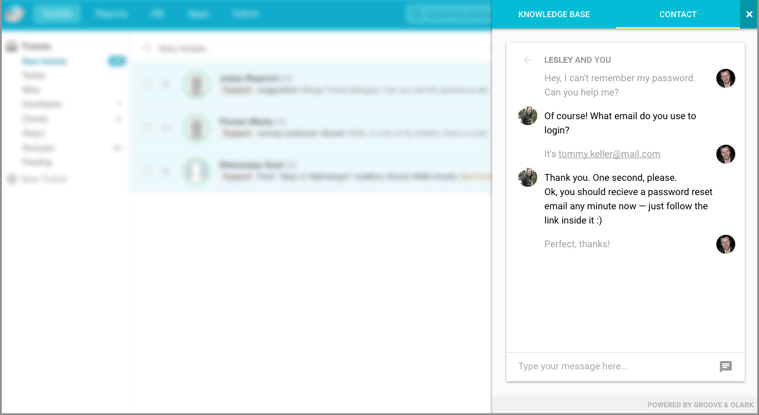 "Nobody likes switching between two apps to deliver customer service," says Groove CEO Alex Turnbull. "And now, you don't have to. This partnership creates an all-in-one help desk and live chat solution that helps you deliver awesome, personal, and fast support to your customers."
How to get started:
Questions, feedback, or need a hand getting set up? Send us a chat, and we'll talk more!
BONUS: Join our webinar on September 20th to learn more about the Olark & Groove integration, and learn some tips about how we run support at both companies!