This story is part of our Making Business Human series. For more on the series and our mission, check out this post!
Olark has always been a remote-friendly company, but earlier this year we decided to say goodbye to our headquarters in San Francisco and fully embrace the remote life. Our team loves working remotely for reasons as unique as Olarkers are! We thought we'd share a few of these reasons with you in our own words to start a discussion about the benefits of remote work.
Bill, our head of sales:

"Working remotely allows me to indulge my odd, always on bio clock and work around the clock without burning out. I can get up at dawn to work the east coast hours and take easy, sporadic breaks throughout the day to allow me to keep at it till the end of the day on the west coast, taking breaks throughout the day to recharge like a stint on the rowing machine mid day, or a trip to the store to plan and prep the evening's dinner, or just sitting out on the deck in the California sunshine for 20 minutes. These breaks allow me to give 12+ hours of coverage without burning out. Thursday I baked bread between sales calls!"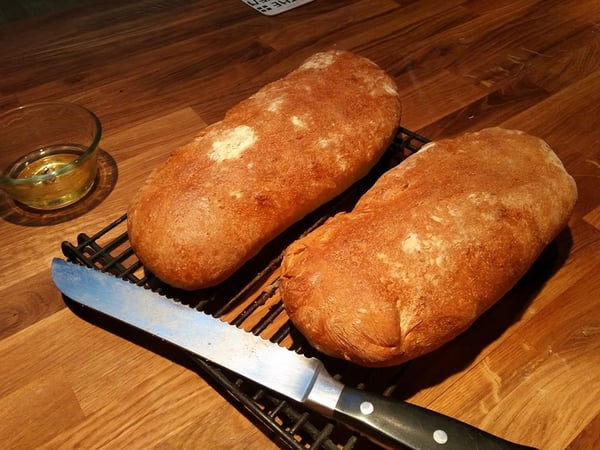 Sarah Betts, our feels herder:
"As a divorced mom of 3, it really is my absolute best option for my family, and my employer. Kids get sick, they have appointments for dentists, and doctors, and activities. They miss the bus. As a remote worker, I'm able to be available while they get ready for school, and be home when they get off the bus. If they get sick, I don't have to take a day off work to watch my child nap and color pictures. During the summer, I can hire part-time help instead of finding (very expensive!) all-day summer camps.
Also critical for me, is that I am able to live in a small town, where there are fewer employment options, but the community is lovely. I know my neighbors, I don't have to battle a long commute, and I'm able to choose my living environment based on the needs of my family, rather than chasing employers around the region -- or even the country. In short, I'm a more committed, available, and engaged employee."
Kate, our Story Sherpa:

"I sought out a remote job because my husband and I want to move from Silicon Valley to a remote town in the mountains :) However, since I started at Olark I've realized that many of the benefits of working remotely actually have little to do with schedule or location flexibility. One big one for me has been diversity. Because I work remotely, I have colleagues who live around the world and represent a variety of cultures — from Scotland, to Brazil, to both the rural and urban U.S. They bring a broad range perspectives to their work, and help all of us foster greater empathy for customers from all cultural backgrounds. As an added bonus, our general Slack channel is full of mini history lessons, crazy weather updates, and photos of every cute animal you can imagine."
Rhoda, our CS Director:

"I always like to say that for me, remote means really remote. I live on a small island off the West coast of Scotland. I am working to get a small farm and family house back on their feet after some years of neglect, and there is no way that I could do that if I didn't have a remote job.
In an area where jobs can be hard to come by, Olark is not only directly benefiting me, by enabling me to work remotely, but is also indirectly benefiting the community I live in.
Practically, I am 5 hours ahead of the East coast of America, and 8 ahead of the West coast. This is ideal for me. In the mornings, I can tend to my livestock, and start on farm-related tasks. I then work for a few hours whilst my US colleagues are catching some zzz's.
About midday, I take a break from work and catch up with my life, weed vegetables and deal with the myriad things that arise when you have hens, ducks, sheep, a pig, and a house to renovate. I join the East coast working day an hour or so after they start, enabling me to work with my colleagues, and I stay online and working until about halfway through the West Coast day.
I not only get quiet to blast through tasks in my morning, but I manage my life by working a split shift, and still manage to have one to one time and meetings with colleagues as far away as San Francisco. The added bonus? Well, if I am asked to get something done at the end of my working day, because of the time-zone difference, it will be on my colleague's desk by the time they wake up the next day!"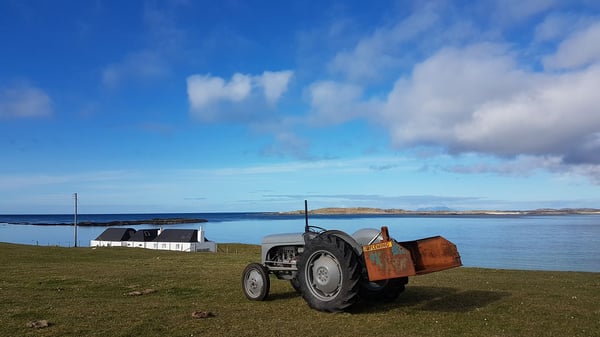 Mark, Olark's Sudo Wrestler:

"I've been working remotely for ten years, and there are two main things that attract me to this way of working. The first is the time flexibility. My wife is a critical care nurse and works long hours. When our children were in their adolescent years my ability to work around their needs and activities was a huge benefit.
The second major thing is the quiet work time it affords me. As an engineer I have always found office environments noisy and distracting. Software work requires focus and occasional periods of deep thought and my home office is a good location for that (better now that the kids have mostly grown up and are not at home as often!)"
Alicia, part of Olark's Platform team:

"I've been working remotely for 2 years and it has taught me so much about myself. I pursued a remote position because I desired flexibility and escape from my cubicle.
Since getting a remote job at Olark I've travelled and worked from awesome places like Hawaii and Thailand - here I am at the Pai Village Farm near Chiang Mai. It has been a blessing to see the world while still earning a living but the funny thing is - I discovered I didn't need as much flexibility as I initially desired!
I started to crave structure, routine and in person human interaction. Now I work remotely from a cospace and get the best of both worlds. It's all about balance :)"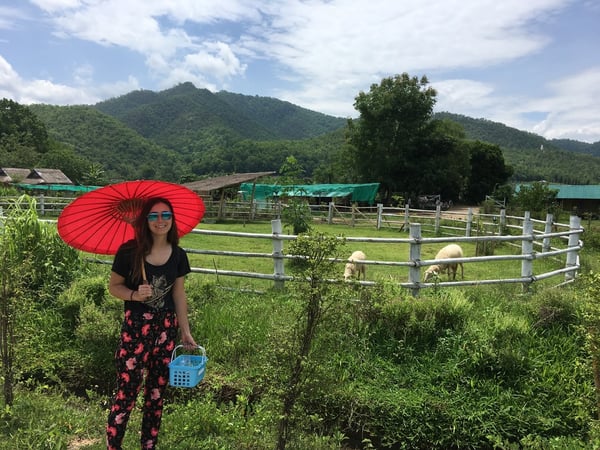 Rhi, Our Support team's Cat Behavior Consultant:

"I'm in my sixth year of working remotely and I've discovered that remote work makes me more productive AND offers me a fairly large income advantage over commuting to an office. Parking downtown, gas, wear-and-tear on the car, etc., all really add up. Coupling commute savings with savings in before-and-after school care costs for my kids really saves my family a considerable sum.
Other bonuses: the break-room is 2 steps away and is always stocked with my favorite coffee and snacks; my office-mates are fuzzy and cuddly; in the summer I can step outside and work from my deck; in the winter I can cozy up in front of the fireplace while helping our customers get the most of of Olark. I also get my pick of the corner offices!"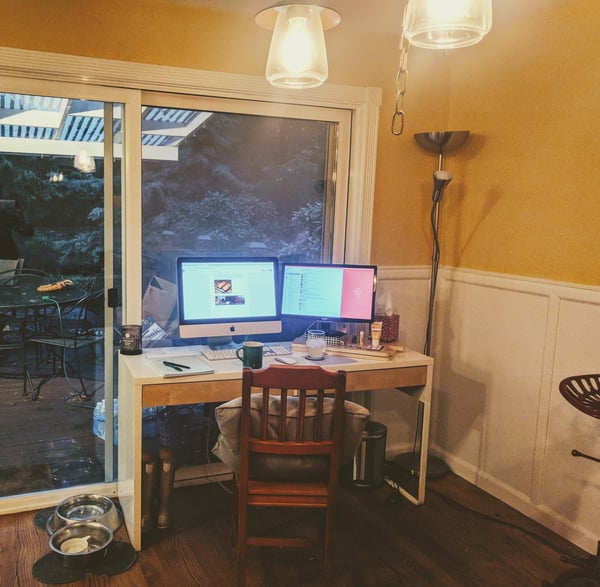 As a company we can't imagine working any other way! Our offices might be in different states or even different countries, but we unite around our values and the benefits that remote working brings to us. We cherish the time we have in person at our yearly retreat and in remote celebrations and weekly all-hands meetings.
Do you have any experience working remotely? What benefits has remote work brought to your or your team? We'd love to hear your thoughts!
Want content like this delivered straight to your inbox?