This story is part of our Making Business Human series. For more on the series and our mission, check out this post!
….Think Morgan Freeman's voice as you're reading this….
Long ago in a land called Palo Alto, four founders embarked on a journey to change online chatting. They lived and worked together in a house with a garden. In the garden grew a faithful redwood tree, Dory.
As they toiled over the complex creature that is online chat, Dory watched from the garden in supportive silence. Through rain, sleet and dark of night, she remained calm, certain they would succeed in their mission.
One day, in a spark of holiday inspiration, the founders realized that Dory deserved a reward for her selfless support. They decided to do for her what trees love most: deck her out to be the most badass tree on the street.
The fearless founders climbed Dory's branches and began to dress her up in twinkling lights. For hours, they worked tirelessly, pausing only to take in sustenance in the form of pizza (delivered via a slap dash pulley system). When every branch was bedecked and glittering, the founders stood back and gazed in awe upon their noble friend. They vowed that no matter where life took them, each year they'd honor Dory.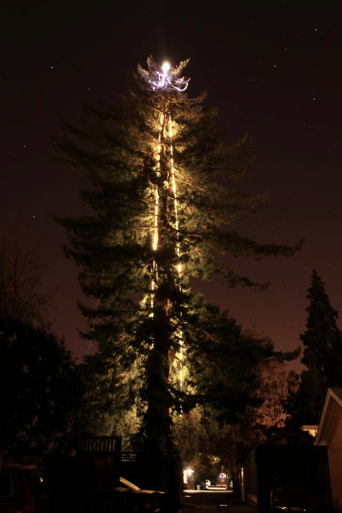 The original Redwood: Dory
And so began the iconic Olark celebration: The Lighting of the Redwood.
Dory now watches over another owner of that property in Palo Alto, but her calm spirit continues to support all Olarkers.
Over the years, the LOTR (as we like to call it) evolved. When Olark had a San Francisco office, Olarkers from around the globe made an annual pilgrimage to enjoy our holiday party, with a memorial tree as the centerpiece. As time went on, the celebration spread to our Ann Arbor office and onward to remote teammates. And last year, the Lighting hosted a final farewell to our physical space in SF.
This year, with Olark ever more distributed, the LOTR has evolved, as all good traditions do.
Olark is taking our Holiday Party - and recognition of that mighty redwood - fully remote. On Wednesday, December 20th, we'll convene via Zoom for a few hours of holiday games, quizzes, and show-and-tells. And thanks to Glitch.me, Dory will be there in all her glory. Her impressive branches will be decorated in digital lights, and Olarkers, no matter where they are in the world, will be joined in delight as they gaze upon her wonder.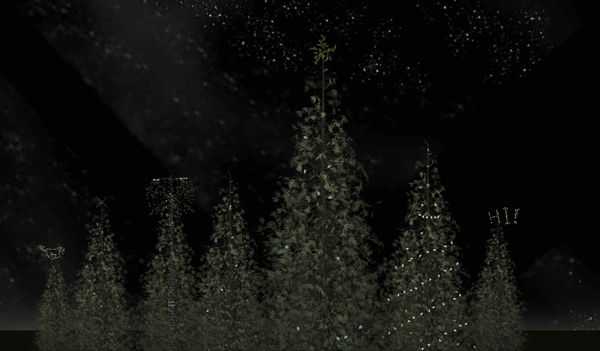 To allow all Olarkers to focus on merriment, we'll be pausing chat support on Olark.com from 3PM to 6PM Eastern on Wednesday. If you need to reach us during that time, send a quick email, we'll get back to you promptly once the party's over!
Dory and Olark would like to wish all of our customers, friends and followers a safe and peaceful Holiday season. May you be inspired by the strength and twinkly greatness of the giant redwood. And if that doesn't do it for you - try our ever changing holiday greeting on for size!

Happy holidays, everyone!
Want content like this delivered straight to your inbox?