Live chat can mean the difference between a potential customer clicking "buy" and walking away from your store forever. Let me tell you a quick story...

I was browsing a small herb website for ginger and goldenseal. It was all local, organic, sustainably sourced. I added to my cart, and then… the dreaded California Prop 65 warning popped up. Ugh, heavy metals?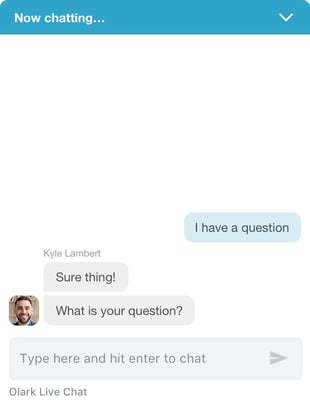 I hesitated, tempted to crawl back to Amazon's larger selection. But the local herb store's chat window beckoned.

Before 5 seconds had passed, I was live chatting with a thoughtful support rep who gave me background on the prop and offered to send lab reports. Reassured, within minutes of seeing the reports, I hit "buy". Live chat: 1, Lost sale: 0.
Mini-dramas like this play out constantly on your webstore, with your support rep playing hero. But thankfully, with WordPress plugins like WooCommerce and Olark, getting started with an ecommerce and live chat combo doesn't have to be dramatic.

Ecommerce businesses think WooCommerce and Olark live chat have a lot in common. You don't have to take my word for it though... Easy. User-friendly. Customizable. Smooth integration with WordPress. These are actual words that six businesses (who you'll meet below) use over and over to describe WooCommerce and Olark.

You're probably already using WooCommerce for its great online store customization, open-source platform, tens of thousands of WordPress plugins, vibrant community, and more. Great choice!

And Olark? We offer simple, intuitive live chat software that you can install in minutes onto WordPress. (Did I mention our handy Cart Saver feature that lets you see a customer cart? See how VPS Underfloor Heating uses this feature to boost sales below.)
Without further ado, let's hear why real businesses—from B2B commercial suppliers to B2C retail shops—chose this combo and how they use it to increase sales conversions and customer satisfaction. Get ready to be inspired!
BottleLess.com: Helping customers set up water coolers, clinching sales
BottleLess.com sells bottleless water coolers to U.S. businesses. AJ Levinson, CEO, explained how Olark and WooCommerce form a powerful, user-friendly combination that strengthens their sales and customer support.

"We know the water purification business very well, but we're not coders. We were able to build websites in WordPress fairly easily, and WooCommerce integrates so well with that platform. So that was natural for our shopping cart.

"We stuck with WooCommerce because you can so easily add plugins for design features, integration with FedEx, integration with more robust post-purchase emails... We just spend 100 or 200 bucks and it looks like we're brilliant coders! We're very happy with it.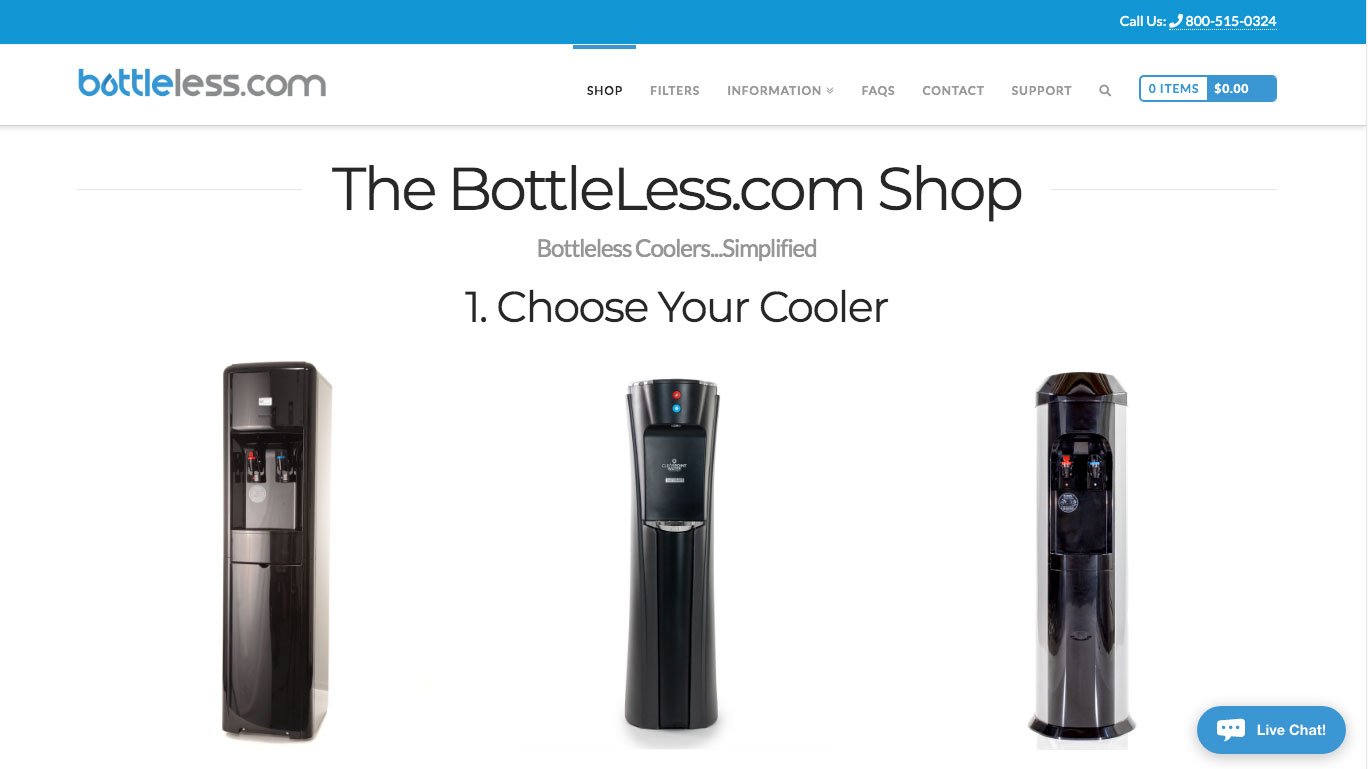 "We also picked Olark because of its easy integration with WordPress. Beyond that, we liked the ability to customize (again, without being coders), things like being able to swap out staff photos ourselves. It was great to see what potential customers on the pages were doing and choose situationally whether to initiate chat or not. Olark is really nice about allowing us to customize the reachout to people in our sales funnel and bring them to specific product pages.

"We have about 15,000 customers across the US that have our water coolers. They have questions from 'How do I change the filters?' to 'The water isn't coming out hot, what do I do?'
"The number one way all our customers prefer to communicate is by live chat. And we prefer that too."
"We've made a lot of support videos. Within a chat conversation, we can copy and paste a link to the exact video they want. If they're in front of their watercooler and they have a question like, 'How do I change the filter?' we can send that to their phone. They can click and play it while standing there. It's just so customer-friendly. And we like the user interface, it's nice and clean.

"With our business, there's a do-it-yourself installation. They don't know how to do that. You're also connecting to water. People feel like, 'Oh my goodness, it's plumbing, this is scary.' Through chat, you can lead them situationally to answer their question and overcome their fear of the installation process.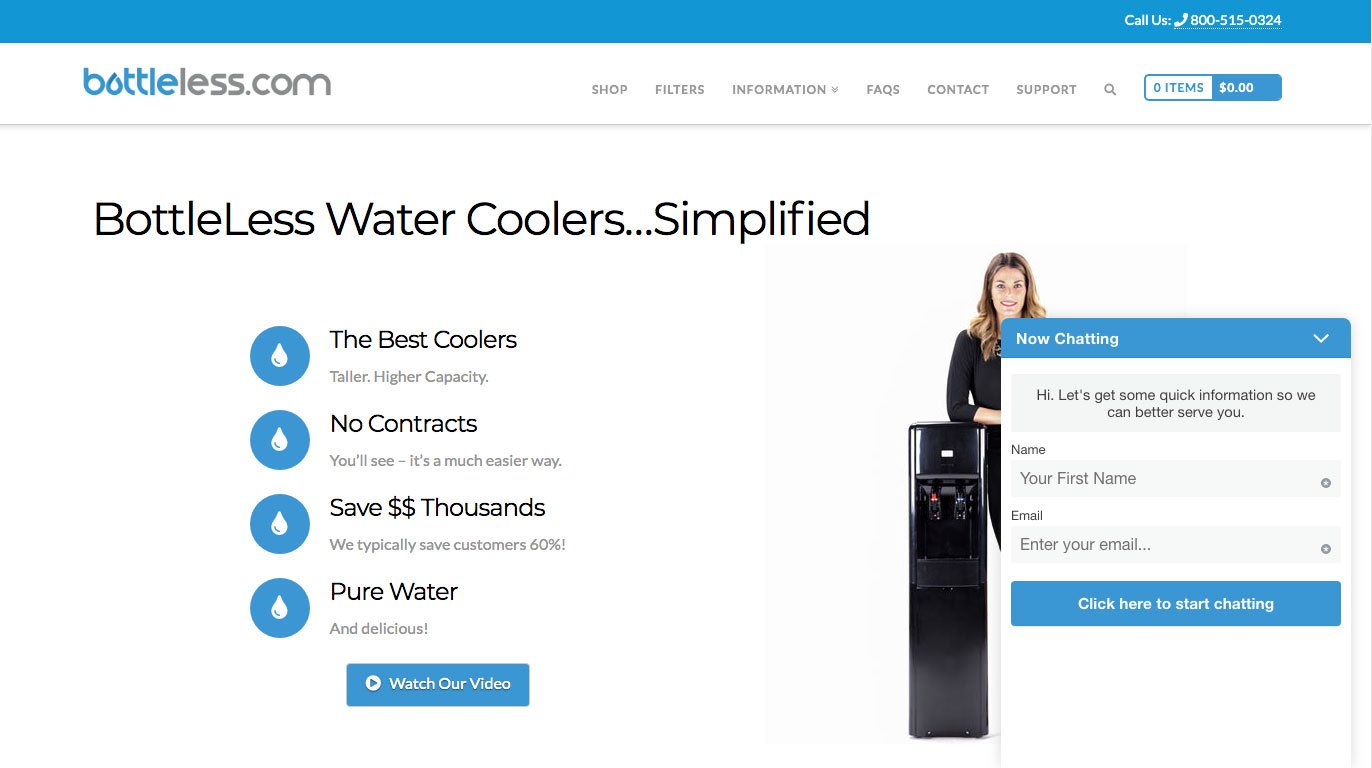 "One negative of the phone is that I have to paint a picture with my words. And what people see in their minds may not be identical. With chat, we can send them to an image. We see a lot of people sign up as a result of a chat conversation.
"We have a fairly high close percentage. Of those who contact us via Olark, our close rate is more than 40%!"
"If we can get them to engage in a chat conversation when they're kicking the tires, we can often get them to sign up. If we see they're stuck on a page, we can send a coupon to offer a discount, like if they sign up by the end of the week. That helps put them over the top.

"The key thing about the combination of WooCommerce and Olark is I don't have to hire sophisticated coders for my small business to get what I want. Customers will chat with us: 'I can't find the filter!' and we can use Olark to lead them right to the WooCommerce page."
Audio Concept: Selling high-end music equipment with live chat
Audio Concept is a 15-year-old Swedish business that sells hi-fi equipment to the general public. Robert Grubstad, the owner, both operates Olark live chat on their website and serves customers in their physical store. He shared how the combination of WooCommerce and Olark helps his business build trust and strong customer relationships.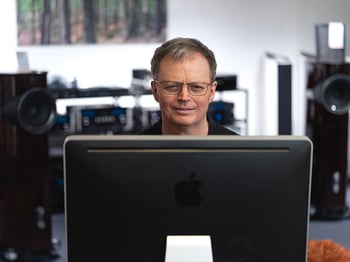 "We selected WooCommerce because it's on the WordPress platform. We needed a commerce system that would integrate with our theme and WordPress, and also would be able to handle many products. I think we have about 4,000 products!
"Also, it felt better to be able to control the environment to some extent rather than having it run by someone else.

"We decided to get live chat to find new ways of meeting our customers. Then I found and tested Olark, and I liked it. We've been using Olark for some years now. We're really happy with it.
"We've sold quite a lot through Olark. I like its simplicity. It lets us have direct contact, with no filters in between."
"A typical thing is that someone asks about a product. And if they get a response quickly, they're likely to move forward. We've seen that happen a lot. The quick way we can relay answers with live chat brings along sales in the end. It's a great tool to have a first contact, or a second. We also have some guys that come back to us on a regular basis asking questions.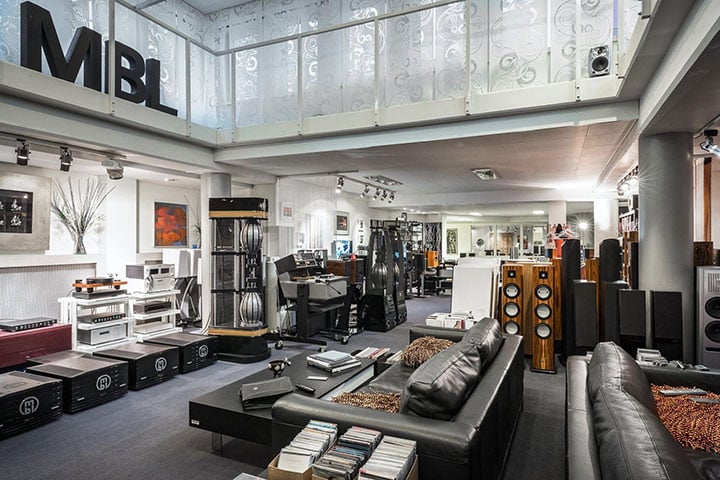 "Also, what we sell is sometimes expensive. It takes a few visits before you invest. It's not like selling a pair of shoes... you have to get to know the product a bit more.

"In the end, selling things that cost a lot is about building trust. Olark is that first contact and first point of trust."
Letter Jacket Envelopes: Supporting customer printing needs with WooCommerce and live chat
Letter Jacket Envelopes is a U.S.-based custom envelope printer with more than 100 years of combined experience. Karen Pieper, their digital marketing manager, described how Olark and WooCommerce make Letter Jacket's jobs easier.

"Previously we were on Shopify. We feel WooCommerce is a more robust platform to work with. We can design our site the way we want it to work, instead of a boxed site that I feel we received with Shopify.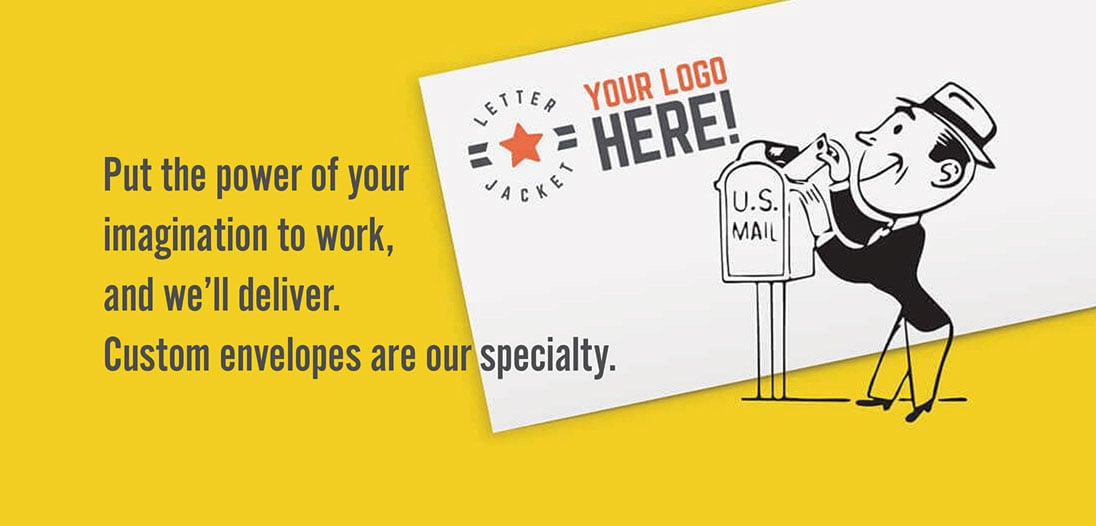 "We have used Olark since day one when we launched our site. We use our chat daily and love how it works.
"Emailed transcripts, reports, and design all work wonderfully for us. Olark is a great tool!"
"Our customers can contact us immediately. We have no worries with phone calls, messages, or returned calls."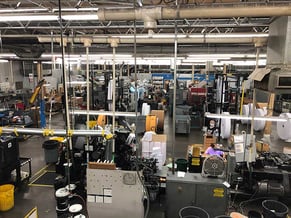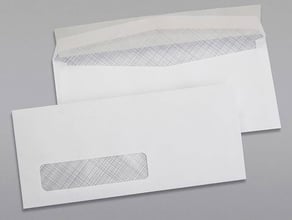 VPS Underfloor Heating: Supplying commercial and home heating
VPS Underfloor Heating is a Scotland-based ecommerce supplier of business and residential heating. Their lean team of 3 customer reps is very hands-on with orders, providing a more human touch than some larger suppliers. Davis James, Sales and Marketing Assistant, shared how Olark and WooCommerce streamline his work.



"The key advantage WooCommerce has is really its ease of use, whether that be the typical day-to-day use to the broader infrastructure it has access to, in terms of plugins that integrate with it and so on.

"We picked Olark mostly to provide an alternative to phone calls for small inquiries/questions that could be dealt with much more efficiently with just a few lines of text (rather than taking up someone's phone line). As well, our email inboxes were getting flooded sometimes with inquiries.

"Since we started using Olark, there's definitely a more manageable flow of inquiries. We have more time available to spend on the phone with complex/larger inquiries and a reduction in people phoning to ask something simple like the delivery charge or stock levels.
"We can put more time into closing an order for, say, £2500, rather than stuck on the phone with a few people making £50 orders."
"The instantaneous interaction is both useful for customers and us.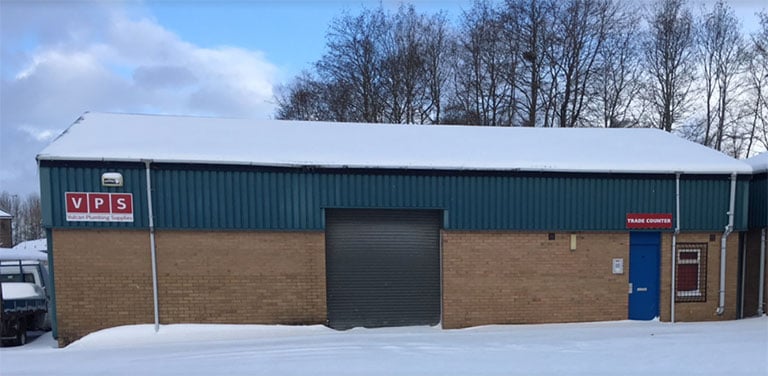 "The Cart Saver [an Olark feature that lets you see inside customer shopping carts] is our favorite feature. It can be really handy to see if someone is putting together a particularly large order. Often people will be putting a basket together and shopping around with competitors at the same time. So it can be useful for us to see them putting the order together, and begin a chat with them to see what we can do to help, maybe tempt them with a discount code or just our general pleasant helpfulness."
Keiphone: Offering homegrown smartphones and smartwatches to Chile
Keiphone is a Chilean smartphone and smartwatch company which became the first high-end smartphone brand to be originated in Chile. Max Burchardt, co-owner and original Olark user for the company, explained the value of WooCommerce and Olark live chat for his business.

"We think WooCommerce is a great platform for development. You can integrate so many new plugins and create a better user experience."

"We are ecommerce, and we don't have a physical space where we sell. So we have to have another type of connection with the customers. We started out with Olark and it's scaled with us.
"Before the pandemic, we had 6,500 average chats per month!"
"We still have a lot (about 4,800 monthly). I think it's a better experience than the phone.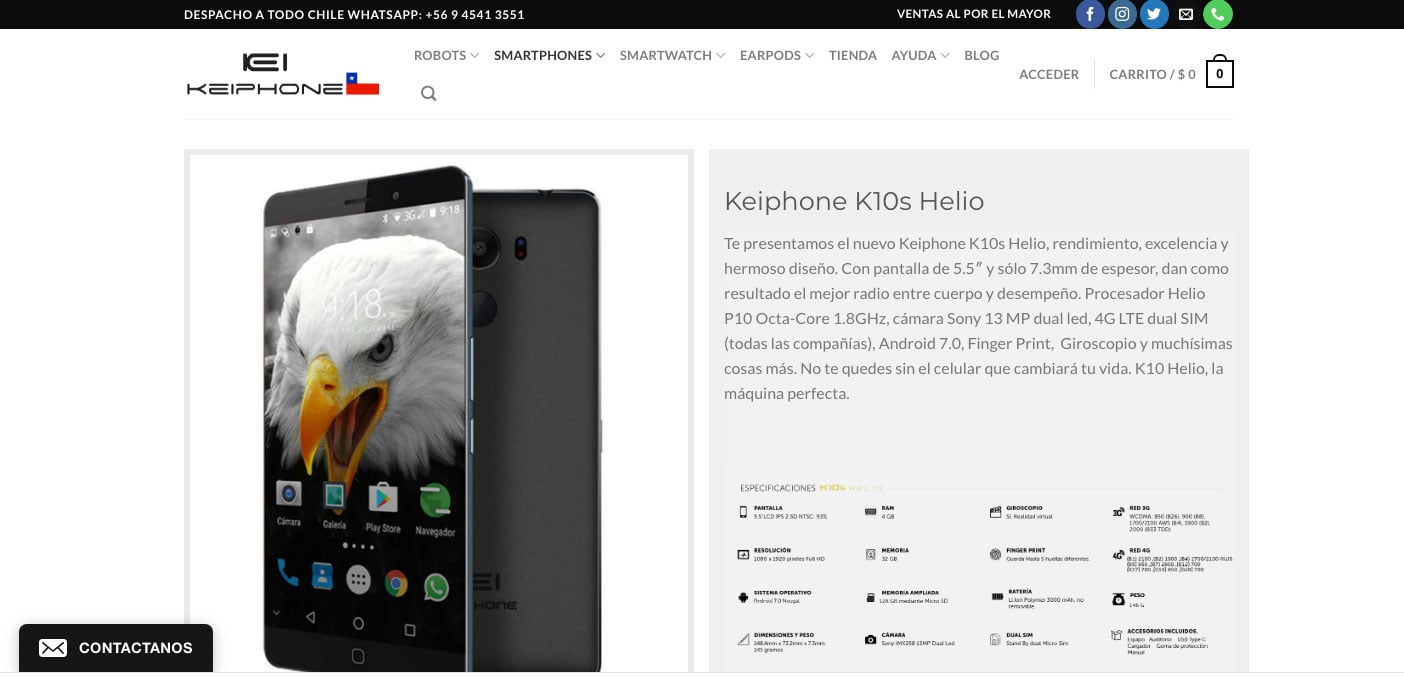 "We know that Olark helps a lot with conversions. When you solve people's problems in the moment, they don't have to wait 1, 2, 3 days to call. It's totally a plus for ecommerce to have live chat. It's like a salesman talking with the people in your shop. You have to know where people are in the process."
Portable Air: Selling climate control and power generation to businesses and institutions
Portable Air is a 33-year old U.S. supplier of temporary air conditioning, heat, and power generation. Christopher Dunkin, General Manager, discussed how WooCommerce plus Olark live chat has been important to sales and daily work.

"We chose WooCommerce due to its flexibility, abundance of add-ons, engaged community of users, and how well it plays with other applications. We chose Olark due to how easy it was to install and get my less than tech-savvy team effective at using it.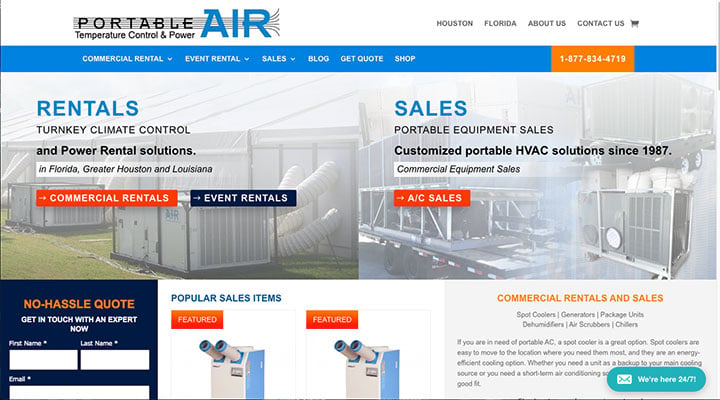 "We have won some very large opportunities through live chat. It's clear that there is a segment of customers we want to do business with that prefer live chat to the other forms of communication we make available to them."

Excited by these live chat success stories? Find out what Olark can do for your online store.