You've probably heard that Olark is a 100% remote company, and that we have some cool ways to connect virtually. Once a year, we get the whole crew (and families) together for an annual retreat. Retreat 2018 starts tomorrow, Saturday August 25.
What do we do at retreat? The primary focus is to plan for the year ahead, and learn from our founders about the current state of Olark and how our work in the last year has paid off. We spend most of our time in exuberant brainstorming sessions, thinking of all the possible ways we can make Olark better for you. Have you submitted a feature request or made a suggestion to our team in the last year? We'll be reading over those!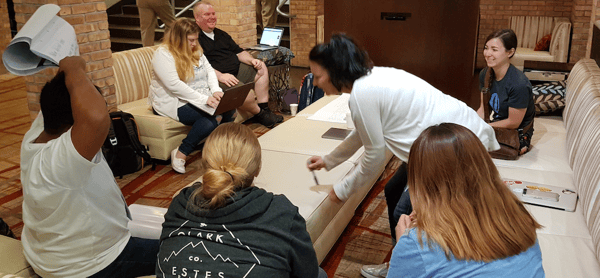 The CS team taking notes in a brainstorming session, Retreat 2017
We'll also be taking some time to celebrate achievements, as well as relaxing and enjoying each other's company.
Olarkers love everything from playing music, to karaoke, to beating each other at board games and finding the best food in town
Want to keep tabs on what we're getting up to? Follow us on Twitter, Instagram, and Facebook! We'll be sharing fun photos of Olarkers in the wild all week long.
But wait, I have a support question!
Never fear, Olarkians! We would never abandon you. In order to maximize our short week together, we won't be staffing live chat — but you can still submit a support ticket using our support form, email our support team directly, or leave a message for us by clicking the purple chat widget in the lower right corner of this very page. Our entire team will be checking email daily to ensure everyone gets the help they need. Please expect just a slight delay in responses, as compared to our usual speediness.
Dizzy the cat will not be allowed to answer emails
How can I find answers to urgent questions?
I'm glad you asked! We have a wealth of knowledge in our Olark Help Center. Answers to our most frequently asked questions can be found by searching that page. For general chat tips, just search here on the blog for tons of inspiration.
Popular help articles include:
If you're just getting started with Olark:
What about an outage?
We do not have any planned system outages or downtimes during retreat. If the unexpected happens and there is an outage, rest assured we will stick to our normal outage response process to get systems back up and running as quickly as possible. We will update our Status Page with any issues, should they arise.
When will you be back?
We'll return to our normal support hours on Tuesday September 4. Monday is a US holiday.
Thanks!
The Olark Team