When first starting with live chat for your website, there are a LOT of options for tools and platforms that you can use alongside chat to improve your customer experience.
I mean, this article from Appcues shows you 60 different tools that will improve your customer experience, and that's just one article!
In the fast-moving worlds of SaaS and ecommerce, it helps to focus on picking a CRM first. CRMs, Help Desks, and Knowledge Bases come in all shapes and sizes, so it's important to evaluate each option based on what will make make your business most successful. Doing so will make it easier for you to customize customer conversations, and analytically highlight the strengths and weaknesses of your communication channels.
How can a CRM help improve sales?
As VP of Growth at OnePageCRM, Alan O'Rourke recently went through this evaluation. OnePageCRM has Olark on its marketing site for potential customers, and in their app for existing customers.
While the team is committed to supporting existing customers on the channel they prefer (chat, email, phone), Alan wanted to know if they should remove chat from the marketing site and free up resources for the customer success team.
Alan and his team looked at new customers in their CRM (OnePageCRM of course) and manually tracked them back to Olark logs to see who talked to customer success before signing up. Alan and his team also noticed that new customers who chatted to customer success before signing up were almost twice the size of our average customer.
They determined that larger accounts seem to want more reassurance they would be cared for after signing up, and chat was a great channel for this.

To Alan's surprise, his two person live chat team brought in an additional $24,000 in new business in over 12 months (not including renewals). That equates to 240 hours on chat, earning $100 every hour they're online, an average that out performed most of their other marketing channels.
Based on this data, Alan made the decision that same day to hire another person to staff chat on OnePageCRM's marketing site in a timezone they weren't already covering. Alan also says they're already planning to expand coverage again.
How can you tell if chat is valuable to your team?
If you have a CRM platform linked to your Olark account, you should be able to go through and look at your list of new customers over time and evaluate the value of live chat.

[If you don't already have a CRM linked to your Olark account, we recently made it even easier to integrate a CRM. Login to your new integrations page here.]
In addition to manually reviewing your new customer entries, here are some other ways to tell if chat is valuable for your team:
1. Review your Olark transcripts. Not all data is numerical. The qualitative data contained within your chat transcripts can be a treasure chest of insight. Not only will it give you a sense of what's selling and what's not, it will also reveal customer sentiment, and commonly used verbiage.
All of this should help you hone your sales and marketing collateral and/or website copy, which should impact future sales. In this blog article, our friend Giles Adam Thomas provides an easy-to-follow method for analytically evaluating live chat transcripts.
2. Use a CRM like OnePageCRM to connect Olark Live Chat to sales pipeline reports. Using either our API or pre-chat survey, you can link the information you already have about potential sales into the direct conversations they've had with your team. As you find your most desired leads, you can target chat to them specifically.
Using the transcript evaluation method above, you can identify who is buying or not, see their conversions in your CRM, then set targeted chat rules to reach out to similar users to bolster your success.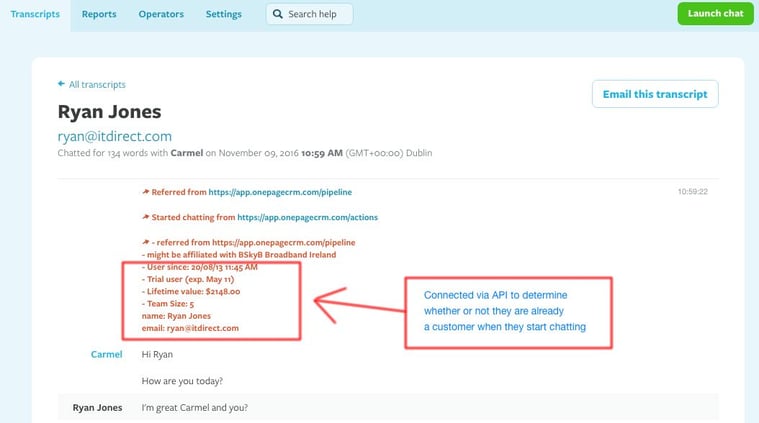 3. Use Google Analytics to connect your chat activity to your existing reports. Tools like this are especially useful for ecommerce, as they will help you improve the points in your sales pipeline where you are most likely to lose a customer.
You can even create a 'revenue report' in Google Analytics to get a sense of how many sales came in over chat. (Alan says his team plans to use integrate these reports for future measurement.)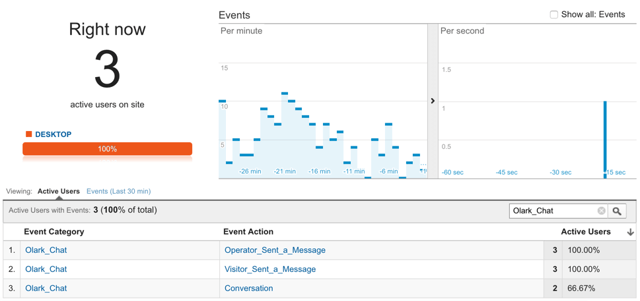 4. Tag your live chats with the !tag command. Can't wait to see the questions your customers will ask? Start with some core goals like !tag sales or !tag won. From here, you can review your live chat reports to track which tags are most common and update the list.
Now that you know how to determine if live chat is working for your business, it will be easier to jump in and give it a serious try. Invite your team and give it a month. If it works, it works. And if it doesn't, let us know and we'll help you out. How do you measure the value of chat?