We may not always use live chat here at Appcues. But it sure has been helpful in onboarding new users throughout the early days of growing our SaaS business.
Live chat has been an ideal medium to help us garner product feedback and onboard new users, which has been crucital for our growth.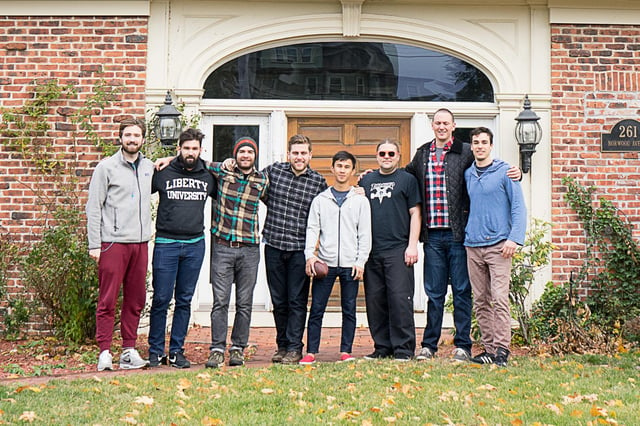 As a startup, we expect our customers to have feedback on—and frustrations with—our product. We believe that at this stage, a high-touch relationship is important for new user onboarding.
Live chat allows us to build these relationships with our customers and has aided our user onboarding in a number of ways.
Finding Their First WOW Moment
We often chat with new, free trial users to help them realize value from our product. We call that first point of realized value the WOW moment in a user onboarding experience. Once a product's value is realized, new users are more motivated to convert to a paid account.
Sometimes we help new users reach their WOW moment by offering ideas or inspiration, while others may simply need help getting over any hurdles on their way. Here's a customer conversation as an example: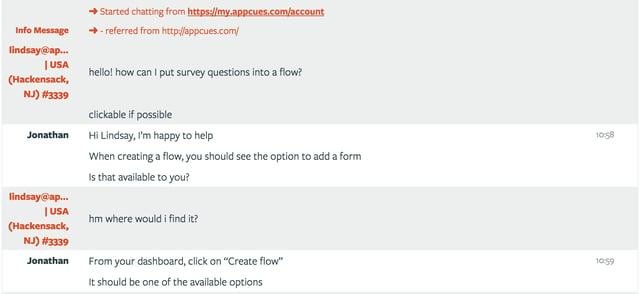 In this case, it took us about 1 minute to to point this customer in the direction of a solution. The sooner they can check all items off their "How do I...?" list, the more likely they are to stick around with your product.
During Technical Setup
We market our user onboarding software to non-technical product-people who often need help installing our embed script into their webapps. This can create a point of friction that requires a bit of our support.
In these cases, live chat also allows us to answer technical questions about compatibility that are key to keeping user momentum going. For example:
When we're able to help free trial users with questions like this, it builds user confidence, and helps them move on to more advanced features in the platform.
The ability to chat and instantly answer questions at this point in the user experience is then vital to our sales: over 50% of the users who successfully install our platform will convert to paid customers.
That's a very high ROI on our use of the software, and our time spent talking to customers.
Engaging New Users for Product Feedback
We also use live chat to prompt users for feedback on new features or product adjustments. This technique challenges users to think about how our product can meet their needs.
Asking for feedback also reinforces our commitment to the customer relationship: we really want their feedback, and we're there to listen when they provie it.
To do this, we use Olark's Greeter function to ask for feedback on new features. It's super simple to set it up:
When visitors spend more than 30 seconds on our site, they automatically receive a message about our new product. Not every customer takes the time to respond, but the ones who do typically leave helpful feedback. Here's a transcript from one such conversation:

Expressing Our Personality
It's a lot easier to build relationships through chat than it is through email. In a chat conversation, there's a camaraderie that exists when you're solving a problem together. There's a more 'human' feeling in the exchange.
We build relationships this way. At Appcues, we have a very earnest team that is good at listening. And it's important to impress that characteristic on our customers so that when they hit any point of friction, we're there—genuinely—to hear them out and take action.
Because we're able to build such a personable relationship within a chat, we get much more in-depth feedback from our users. This level of feedback helps us uncover user patterns, which we can act on it to make it easier for the next wave of users.
Most of what we learn about our users personas—what they want out of the product and how to get them there faster—comes through our Olark console.
Eventually we hope to get to a point where we no longer need to chat with most new users to onboard them. We hope to automate this almost entirely with our own product. But as long as we feel we're getting value out of the time we invest in chat, we'll stick with it as an effective medium.