Question: Help! What should I do when I get an issue I can't resolve in chat?
Answer:
So - you've got a visitor with an issue you can't solve. You've used every troubleshooting technique you know. You've asked your team and no definite solution has appeared. What do you tell the visitor so you set reasonable expectations but still do everything you can to ensure the best possible experience?

How you do this depends a lot on your team and company policies, but here's how I like to do it in chat:

1) I let the visitor know that I'm escalating them to the engineering team for further investigation and ask for the best email address for the team to contact them at. Asking for an email address sets the expectation that engineering will be emailing them, so you can avoid the "so, should I just wait here for them to chat with me? will they call?" questions that will come next.
Ex: "Thank you for [troubleshooting with me, sending me all of this info, etc]. I'm sending your question to the engineering team so they can take a deeper look. What's the best email address for them to contact you at?"
2) After they provide their contact email address I update the chat (if needed) with
!email email@theiraddress.com
!tag triage
so we can keep track of how many escalations we make and so I can find it in our CRM and then
to send the chat to Help Scout, the CRM we've integrated with our Olark account. Don't use Help Scout? That's a-ok - Olark integrates with most popular CRMs. Sending a chat to a CRM will return their case number - you can give them this case # so they can follow up easily. A number shows them that you have legitimately escalated their issue and opened a ticket for them so your users are less likely to feel like they're being blown off or ignored. This case number also makes it easier for you to find the case if they check in for an update.
Ex: "Excellent, thanks for your email address! I've sent your info to our engineering team, as an FYI your case # is ------"
3) Send them the transcript! No reason to make them jot down the info and case # somewhere or try to remember what was discussed. You have their preferred email address - send 'em the chat.
!send email@theiraddress.com
And then let them know that you've sent it
Ex: "I've also sent you a transcript of this chat so you have all of the info and the case #"
4) End the chat. In your mind the issue has gone as far as it can with you, which puts you at a bit of an awkward spot. You, as the agent, can't help any more with this specific issue - it's now in the hands of the engineering team. But the visitor isn't done - you want to end the chat but you don't want the visitor feel like they're being blown off. I like to ask if they have any other questions so they know I'm done with the last question, but I'm still available for other help.
Ex: "While you've got me - is there anything else I can help you with?"
5) Once the visitor is squared away, you'll probably want to open the case in your CRM and add notes for your engineering team. Descriptions of the issue, troubleshooting steps, things that helped, things that didn't help, etc. Summarize the interaction so your engineers can put their effort into solving the problem and not waste time trying to figure out what your chat was all about.
This is what this looks like: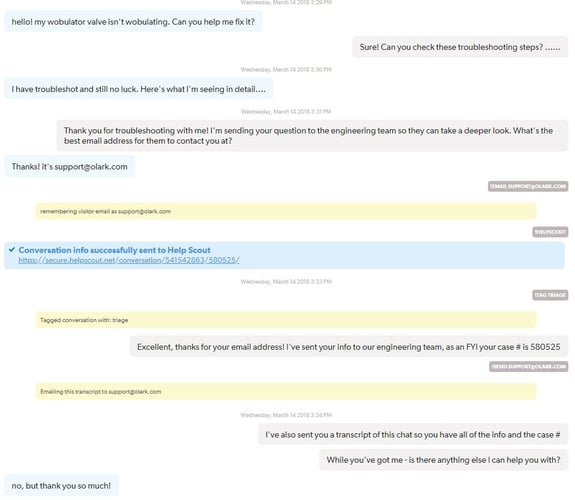 Make sure you check on the case after it's been resolved to see what the cause of the issue was. You may learn some new troubleshooting tactics and you'll definitely be better prepared the next time you get a similar question.
And know that we've all been there. As support folks we REALLY want to find solutions to user problems and it can be a bit of a bummer when that's just not possible. Knowing that you've done everything you can to get your user and your team all of the information possible is sometimes the best end result.
Got a chat question you want answered? Ask away!