Sergio Aicardi is the proud owner of The Miami SEO Company and Mobility Scooters Direct. He has been an active blogger for several well-known marketing publications and was short listed in the US Search Awards 2 years in a row for Best PPC Campaign & Best SEO Campaign. In today's post, he talks about how he's used Olark Live Chat to improve conversion rates on the Mobility Scooters Direct website.
As a search engine marketer and owner of a marketing agency, I'm always looking for ways to improve conversion rates and cost-per-transaction for myself and for my clients. I've learned over the years that you need to rely on many tools to move these metrics — there's no single solution. However, I now believe that for most online businesses, live chat is a crucial feature.
Here's a little background on how I came to that conclusion…
Proving the value of live chat
In 2015, I founded my own online ecommerce business, Mobility Scooters Direct, selling mobility scooters and power wheelchairs. We started out with a relatively low transaction (conversion) rate for the Mobility Scooters Direct website, and when it hadn't improved significantly by the end of our second year in business, I knew that we needed to experiment with new tools to move that metric. So, we decided to try adding live chat.
I already had experience with a number of live chat providers from my work as an agency consultant. For my own business website, I decided on Olark because I knew they offered a complete suite of basic tools (canned responses, automated messages, etc.), integrated Google Analytics reporting, and great customer service.
After adding live chat, we realized we had been missing out on a ton of opportunities for sales for a simple reason we hadn't considered — a lot of our customers were enjoy shopping while they were at work, and they wanted to be discreet. They weren't going to pick up the phone when they had a question about a product, but once we added chat, we were able to engage them, answer those questions, and get them to the point where they were ready to make a purchase. As a result, our transaction rate started to improve.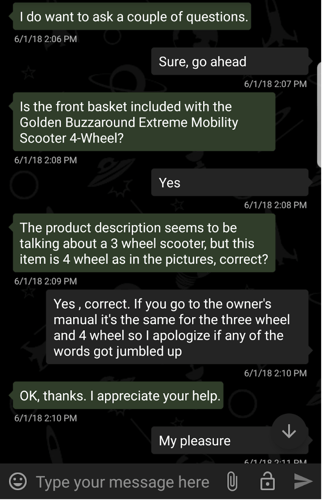 Example of a live chat interaction on the Mobility Scooters Direct website
Since we added chat, Mobility Scooters Direct has grown to an 11-person business, with a website that generates over $150,000 per month in revenue. We've also learned a lot about how to use live chat effectively. Recently, for example, we had a minor breakthrough in the way we use Olark's targeted chat feature.
Using targeted chat to offer a discount
Our first step with targeted chat was to send a simple message to greet visitors to our website based on the page they were on. For example, if the Page URL contained the word "wheelchair" I used a message tailored for visitors who were interested in wheelchairs. This worked fine, but the message was really serving a pretty simple purpose — just letting the visitor know that we were available to answer questions about a particular type of product.
Earlier this year, however, we decided to add a twist to the template message — we turned the message into a question. Specifically, since we often open product samples to shoot custom videos, we decided to use our targeted chat message to ask visitors if they would be interested in purchasing an "unboxed" item at a lower price. The day that we started using this strategy, our chat engagement rate tripled. We also gained an important piece of information about our market — we learned that our customers are definitely interested in a lower price on an open-box item, or on a returned item that was barely used.
Combining automated messages with mobile replies
The benefits of our new targeted chat strategy have been amplified by the fact that we now have everyone on our staff using Olark on their mobile phones (we use the Xabber integration to chat from mobile). Being available on mobile means that we're able to respond with a quick quote whenever anyone responds to the open-box quote offer — we've actually been able to close many more sales off-hours, without demanding significant off-hours time from our sales team.

If you'd like to learn a little more about how I've used Olark to grow my business, I've written up some additional tips — along with a tutorial for setting up Olark as a new user — on my blog. Thanks for reading!