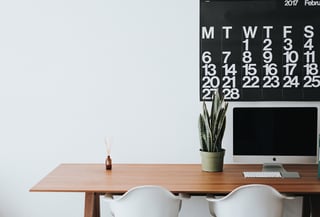 What's a CRM? When we use the term it typically means a customer relationship management (CRM) platform - a piece of software that makes it easy to get an at-a-glance view of every interaction a customer has with your business.
Here are 5 benefits of using a CRM for customer data
1. Store customer data automatically
Having a CRM in place provides a simple solution to an age-old problem of knowledge sharing.
Think about your best salesperson. They're your best salesperson not because they can sell ice to an eskimo, but because they understand your customers so well they're able to anticipate their needs. They know how to sell and when to sell.
But what if that salesperson goes away on vacation. Or worse - what happens if they leave your organization. What happens to all of that knowledge about your customers that salesperson possessed?
Well, if you have their insight stored in a CRM, then nothing happens. You can share it with the person covering while the salesperson is out on vacation, or the person taking over those accounts.
The last thing you want is for knowledge about your customers to become siloed. By integrating live chat and a simple CRM, you can ensure that all of your vital sales insights are easily shareable so your sales team never misses a beat.
2. Find important information fast
Sometimes finding information isn't easy. One salesperson uses a different tool than another; another salesperson uses the same tool as you but in a different fashion -- and all of a sudden, a huge communication divide begins to form.
Integrating with a simple CRM gives your entire team an easy tool for tracking chats, emails, phone calls, social media interactions, and much more. On top of tracking those interactions, you can add notes to customer records so other members of your team have added context about a particular conversation.
With these records in an integrated database, Olark can grab a link to that customer record as soon as a chat starts. With just one click, your live chat agents can see all the noted interactions your team had with the contact.
For example, in a platform such as amoCRM, you'll can see all the lead nurturing tasks that have been completed (or left incomplete) by your teammates, as well as information such as the Mailchimp mailing lists they are on, any Dropbox files associated with them, Zendesk tickets, and much more.
3. Organize customer data
Your sales team needs access to a variety of online services like CRM, email marketing, payment processing and others to keep moving forward. With various service plans, payment options, user names, passwords and other limits, team members start losing track of information they need to know.
A CRM platform for a small- to mid-sized business (SMB) should make it easy for you to connect with affordable online services that you already use.
At the end of the day, a customer management platform is only as good as the sales team using it. If they're properly grooming customer records in the database then that data will benefit everyone in the company - not just the sales team - and can be the central intelligence hub of all your customer relations.
4. Keep track of customers in your sales funnel
Whether you have a short sales cycle, or long, highly complex sales cycle, a CRM needs to be capable of keeping up with all activity in your sales funnel.
Whichever CRM you choose, it should have a highly customized model for managing your sales process. Every business is different, and there is no one right way to do it, so a CRM shouldn't force a process on you.
Not only that, it should make managing your entire sales process easier by simplifying steps. For example, certain platforms allow you to have as many lead statuses as you need, so you can rearrange, modify, and organize your sales leads based on your terms. And table settings let you add only the columns you want to see in your lists and user management settings give access only to specific data on a per user basis.
Before you make a CRM decision, be sure you understand what customization options are available.
5. Improve your sales process
The most important benefit a CRM provides is a way to understand your trouble spots.
When you are adding and manipulating sales data, you are creating valuable knowledge that can be interpreted in many ways. For example, we created three different types of reports that let our users and administrators better understand their process, their sales bottlenecks, and individual performance.
A simple CRM doesn't overload you with reports that are difficult to read, but rather give you a new perspective on what you have been doing, and a way to improve in the future.
Bonus benefit - Using a CRM with Olark live chat
As a standalone live chat widget, Olark gives you access to chat transcripts, real-time reports, and other features that help you better understand your customer's needs.
However, when you use a CRM integration send your live chat data to another customer database, you make it easier to customize future conversations. Now each customer record in your CRM has the added context from those chats on your website, and each customer support agent can quickly see what the customer issue was.
If you're using live chat software on your website, start by integrating it with a simple CRM. This is the easiest way to ensure customer conversations are shared across your entire organization, and to understand what features you actually need.
Want more information about CRMs?
See available Olark CRM integrations