Introducing Support Driven Exposition (SDX)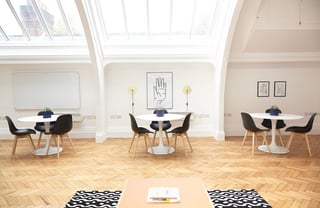 We've talked before about how ongoing education is a pillar here at Olark. We've set a number of ways to enable teaching within our teams - onboarding, presentations, newsletters, retreats. We really want colleagues to share what they've learned with others.
They get that new knowledge by being active the communities that influence their profession. We attend events such as ConversionlXL Live, KubeCon, and SUPCONF because we want to learn and share with our counterparts, the goal being to advance our own careers, as well as the knowledge levels of everyone on our team.
It should be no surprise then that we're official partners of Support Driven's newest initiative: the Support Driven Exposition (SDX). It's a one day conference dedicated to actionable, educational sessions, aimed at giving every attendee the skills they need can use in their jobs and to advance their career.
Here's a little bit about what to expect during the exposition. At the bottom you'll find details on how to get tickets (we'd love to meet you there!) and also how to win a special Olark gift pack.
What is SDX
If you're unfamiliar with the Support Driven community, it was started a few years ago by Scott Tran as a way for Customer Support professionals to share knowledge.
What started as a newsletter and podcast, soon became Slack community, and eventually Scott worked with our Kimberly Bringas to turn that online community into a real life event. The first SUPCONF took place in San Francisco in spring 2016. It was a way for Support and Service specialists to come together and share best practices, as well as the joys and challenges of supporting customers.
SDX is a brand new event designed to work for everyone in support - from folks on the front lines to their managers and up. It's focused on learning and applying work related skills that you can use right away.
Why should you attend SDX
As Scott says, "Folks leading a session at SDX know that everyone in the audience is in support, and will tailor their stories and content accordingly. Instead of working with random examples that could appeal to anyone, the examples given at SDX will be focused on challenges commonly found in support."
Topics will include a mixture of 'tangible' and 'intangible' skills including:
How to better advocate for support within your organization
How to address a team or organization in a public setting
How to grow a support team
How to learn new skills outside of Support, like programming

On top of that, we're very proud to announce that, in addition to sponsoring SDX, our very own Sarah Betts is going to be teaching a class at SDX on dealing with the difficult people you meet in Support.
Her workshop is titled, "Villains, Trolls and Grumps: surviving the worst of support" and will shed some light on how to handle visitors who just like to cause trouble.
Why ongoing education is important to Customer Support
Changes in Customer Support best practices are coming faster and faster. Three years ago when I started with Olark, we were still convincing businesses that needed live chat in addition to phone and email support. Now, data from Forrester and eMarketer indicate that chat is an expected - even preferred - communication channel within the customer experience.
To underscore that point, Forrester data shows that, "customers of all ages are moving away from using the phone to using self-service." Consumers don't want to get stuck in a sales pitch - they want to find the information they need on their own. This means adjusting the tools we use to educate customers; adjusting the methods for talking to customers in a digital world; and learning how to best use automation and chatbots in a helpful way.
Also, Support personnel are increasingly asked to fill the role of Sales staff too, answering pre-sales questions in addition to straightforward Support questions.
These trends have meant rapid change for the Support community. Staying on top of new platforms, skills, and solutions means connecting with experts in the community more regularly.
How can you attend SDX
We'd love to see you in Portland!
Tickets are priced under $300 to make this show accessible for everyone who wants to attend. And starting today (April 4) and we're launching a Kickstarter where you can find tickets starting at $200!
Special Bonus
As part of our support for SDX (no pun intended) we're giving away three gift packs to anyone who shares the Kickstarter page on Twitter.
Simply share this message (Click to Tweet):
Join @Olark and others at @SupportDriven #SDX this summer and learn how to advance your #CustServ career. More info: https://www.kickstarter.com/projects/supportdriven/246596484?token=e27c1923
At the end of the week (Friday, April 7) we'll choose three lucky winners to receive a gift pack consisting of:
1 Olark All Hands Support t-shirt
1 Olark tote bag
2 Olark notebooks
1 Olark sticker
Good luck and hopefully we'll see you in Portland this summer!