"When I feel overloaded, I get tunnel vision. It becomes harder and harder to jump between tasks quickly and, more importantly, continue to provide quality service."
In the run-up to the holiday shopping season, we're offering some insight on what things are like when live chat gets really, really busy.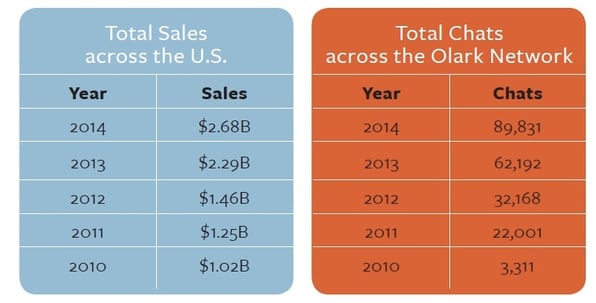 Last week Olark customers Man Crates and Bonobos recalled their experiences on the busiest online shopping day of the year, Cyber Monday.
This week I decided to dial up my colleague Ryan LaBarge in Ann Arbor to ask him a few questions. Ryan's been providing customer support over live chat for more than five years now. Sometimes it's slow and sometimes it's hectic - it all depends on the Internet. (that dang Internet!)
Here's the short conversation we had:
Here are a few highlights from that conversation:
Sometimes you'll get a customer who needs live debugging. While that's easy to do when you've only got one chat open, when you've got more than one of these conversations open it can start to feel really busy. (As opposed to having one or two quick sales-related conversations open.)
To identify these customer interactions early in the conversation, make sure you're asking the right question. If someone comes to you and says, "Hey, Olark's not working!" that could mean a number of different things. Start by asking the right questions before you start trying to think of solutions.
When you do get busy, set yourself 'Away' in Olark so you don't get any new chats and you can finish the ones you have open.
You can also adjust your chat limits, the max number of conversations you can have open at any one time.
Have other people ready, or at least trained, to jump on chat should the need arise. This will help on days when you're anticipating big crowds (like Cyber Monday.)
Confusion will ultimately lead to feeling overwhelmed. To remove doubt and confusion, review common questions with your entire team well in advance of busy days, like shipping dates, pricing, return policies, etc.
Ryan likes to start busy days with COFFEE and a stretching routine. Stretching helps him focus and prepares him for sitting in a chair or standing at a desk for a majority of the day.
Further Reading:
Olark New Operator Training Guide - Ryan mentioned this in his interview, but this guide covers all Olark features that users should be proficient with.
Olark Shortcuts - Olark's built-in text expander feature, this is a HUGE time saver when things get busy.
Olark Commands - Always good to review helpful commands like !transfer and !tag, which can make your team more efficient even in a rush.