[editor's note] The Olark team just got back from SupConf Seattle where we spent the days learning and the evenings hanging with our Support sisters and brothers. It was a lot - from the great food of Seattle, to the inspiring talks, the workshops, the coffee, the coffee, the coffee, the cof...you get it. They have good coffee in Seattle. As we start to mentally unpack it, we want to share what we learned. Peter shared a transcribed version of his AI talk on Medium. And today, Sarah a.k.a. "Betts" shares her key takeaways from SupConf...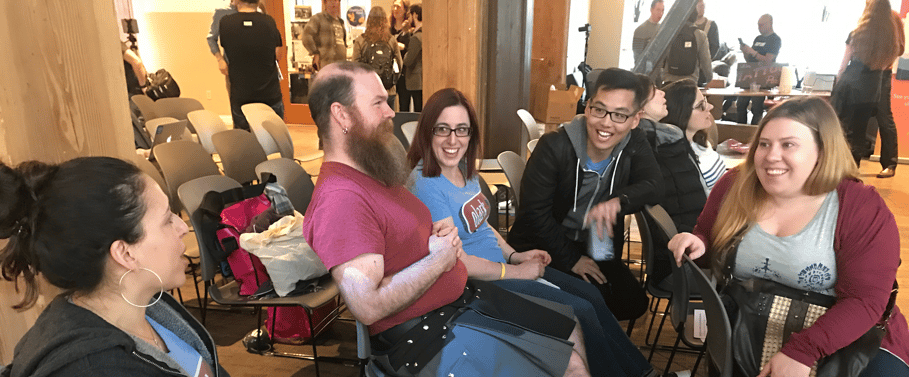 Oh....Kimberly's got jokes. Better believe that.
Relationships
The theme of SUPCONF Seattle was Relationships. How fitting then that this was also my first SUPCONF, and only my second support conference.
I joined the Support Driven chat in 2015 and immediately felt welcomed. Over the course of two years, I have made friendships, discovered that support can be my career, and learned more support tips than I could ever quantify.
In Seattle, I was able to meet these dear people in person, where I could laugh, eat, learn, and spend hours chatting with them without my fingers getting tired!
The SupConf Talks
Support Driven approaches speakers and their role differently. Each talk is chosen by a panel, with no information about the person submitting the talk. Speakers are assigned a coach who supports them throughout their talk development. Everyone has firm deadlines, constant feedback, and plenty of opportunity to practice. When the audience claps to welcome a speaker to the stage, they know this talk won't be given off the cuff, drone on into boring details, or fumble through guesses at supporting data.
After each talk, there is time reserved to turn to your neighbor to discuss a suggestion question. "How did your company deal with this challenge?" "What have you seen from your customers regarding this approach?"
I found this to solidify my thoughts on each topic, as well as spark more questions around it to bring back to my team. Sometimes the conversations reminded me how well-prepared we are for some situations!
The Connections
Yes, I went to SUPCONF for the talks. But that isn't all. In support we are fully engaged in our product. We talk to our customers all day, every day which tells us how every part of the product affects them. From the overall software design to the way a small "continue" button is placed on the site, we get an intimate view of what goes on in every corner of our product.
That is a lot to juggle. While we can know a tremendous amount about our products, and understand how to help our customers, we need to have resources to pull it off with style.
By listening to the talks, chatting with my seat-neighbors, and all the talking in-between, I made connections. I learned who is focused on improving their hiring flow. I learned who faces challenges because they often see support tickets 2nd hand through a vendor. I discovered folks who feel a bit unsupported in their current roles. And I found about 200 people with unique skills who quite enjoy helping.
In the months and even years following the conference, I will use this knowledge. I have introduced people who are working on different pieces of what is clearly a full puzzle. Job postings that come across my various feeds have been distributed. And as I face new challenges in my own role, I know where to go to ask questions.
Seeing people in real life, hearing my name called from across a room, I also gained confidence in my own place in the community. I'm inspired to offer up my own experiences and maybe even start writing them down somewhere. Who knows!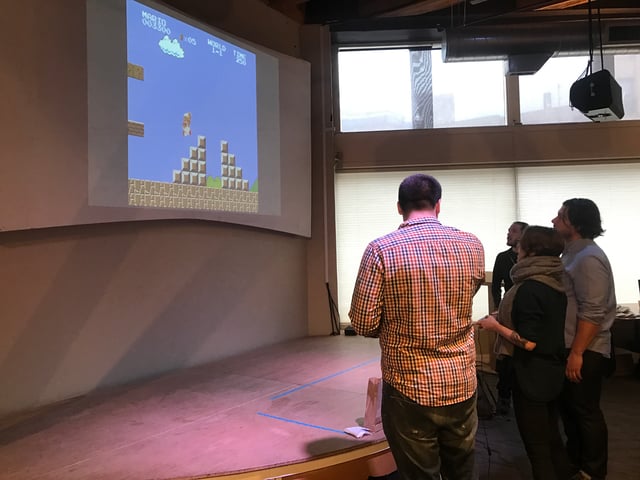 Remember that time we got together in Seattle to play Super Mario Bros.? That was cool.
I am eager for the next conference and look forward to contributing to the community so others have a chance to build these support relationships.