If you work in sales, you already understand the importance of doing your homework. A quick LinkedIn search, or a little browsing on a company website, can tell you so much about what someone's interested in and how they might benefit from your product.
But if you're using live chat for sales, you're usually too busy answering questions to research every new prospect on Google, Facebook, and LinkedIn. Wouldn't it be nice if you had a way to grab their information automatically, and fast, without ever leaving the chat console?
Well, now you do! Our new Visitor Insights PowerUps give you quick and easy access to a ton of relevant information about the visitor you're chatting with, including their job title, interests, and links to their social profiles. It's all collected from public online sources and displayed in real time in the chat console, right alongside your active chat.
Want to learn more? Read on...
Define 'Visitor Insights' — what information is included?
We currently have two Visitor Insights PowerUps available:
Visitor Insights: Social — provides links to your visitor's social media profiles (Facebook, Twitter, LinkedIn, and more), along with a summary of their interests as listed on those profiles
Visitor Insights: Social + Professional — provides everything included with Visitor Insights: Social, plus your visitor's industry, company, job title, and basic demographics (gender and age bracket)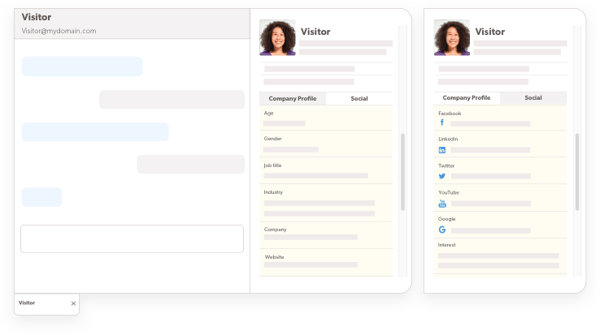 In general, when we say "Visitor Insights", we mean information about your visitor that might help you improve your live chat sales and support interactions. We'll very likely evolve the exact data shown over time, as we learn more about how our customers use the PowerUps and which data fields you're finding most valuable.
How will Visitor Insights help me sell more with live chat?
When it comes to using the data from your Visitor Insights PowerUp, the sky's really the limit. Here are a few ideas to get you started:
Establish a rapport: If you work in the same industry as your visitor, or happen to share their favorite movie, let them know! The connection might seem trivial, but it'll make them just that little bit more receptive to your input on their purchase.
Offer personalized product recommendations: When you know more about your visitors, you're better equipped to point them toward products that meet their needs. You might even be able to recommend a product they didn't know existed!
Prioritize chats: Trying to juggle three chats at once? Check to see which one is from a VP at that company you're dying to land as a client...and which is from a spooky ghost with a blank LinkedIn profile.
Score leads: If the visitor you're chatting with is squarely in your target market, tag the chat with a lead score and a reminder to follow up. For extra credit, connect your CRM to Olark so you can attach the chat transcript to a new lead with a single command.
Improve your social media marketing: Note the demographics and affinity groups that your visitors tend to belong to, and the social media sites they're most active on. Use that information to target your paid and organic social media campaigns.
Inform your product strategy: Do many of your visitors work in an industry or represent a demographic that you're not currently serving? You might want to consider new features to attract customers from that group.
Protect your chat team: Got trolls? We all do. Fortunately, Visitor Insights data can help your chat agents distinguish grouchy-but-legitimate prospective buyers from trolls with no real interest in your product, so they can use that !block command with speed and authority.
Wait, how does this actually work? Did Olark morph into a spy agency?
Yikes, no! All of this data is already public; no creepy spy drones, we promise.
To create these PowerUps, we worked with leading contact management company FullContact. FullContact matches your visitor's email address with social media profiles and corporate sites across the web, and we display information from those sites in your agent console.
Note that this means that in order to use these PowerUps, you'll need to ask your visitors to provide a valid email. We recommend handling that with a pre-chat survey.
I still have questions!
Awesome, we love questions! Read up on Visitor Insights in our Help Center, or find us on chat and ask away.