Today's post comes from our friends at BigCommerce, the all-in-one shopping cart software that helps you accept payments, grow sales, and builld a gorgeous website (and bonus: integrates with Olark Live Chat!). Check out our integration and learn more about BigCommerce here.
Are you still recovering from the whirlwind of 2016's end-of-year holiday shopping sprees? Ready or not, here Valentine's Day comes, and though it may not be as monumental in terms of driving revenue as Black Friday is, it's still a huge opportunity for your online store.
Valentine's Day is a prime occasion for attracting new customers and turning them into repeat customers, even if you're not selling chocolates, flowers or diamonds. Here are a few tips for attracting new customers shopping for Valentine's Day gifts and strategies to keep them coming back all year round.
Harness the power of love in decision-making
Psychologists have proven that most decisions are made based on emotions rather than logic, and five emotions hold power above all others when it comes to making purchases: pride, greed, fear, guilt and love. Your choices in ad and product copy, the colors you use, your brand's imagery (like the Valentine's themes from Olark) and videos can all work together to target one or more of these core emotions, inspiring visitors to make a purchase.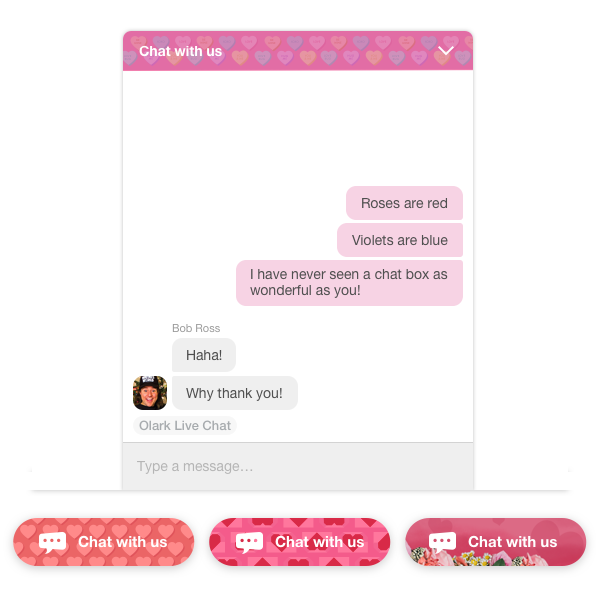 Love, of course, is the most obvious emotion you can choose to evoke during this time of year. The emotions you evoke from a potential buyer also shape how they perceive your brand, and positive emotions can boost your brand's likeability, which studies show also makes your product more memorable.
Cultivate your relationships for the best return on investment
Sure, the increased sales and web traffic that come with a major holiday are nice, but holidays also present opportunities for your business that extend well past the day of celebration. If you can figure out how to impress holiday shoppers so much that they return to buy more from you during other times of the year, you are saving yourself time and money by lowering your cost of customer acquisition.
In fact, earning new customers can be five times as expensive as selling to an existing customer because it takes a great deal of advertising strategy and dollars to convince a new customer to trust your brand. Additionally, BigCommerce has found that a seemingly small increase of just five percent in customer retention can increase your business's profitability by 75%.
It's clear that retaining customers is a more profitable business move than constantly searching for and proving yourself to new buyers. But how can you know for certain if you are keeping customers engaged with your brand? There is a colossal amount of data available to online retailers about their customers that can be leveraged for this precise objective.
Set up conversion goals for every piece of collateral you create for your Valentine's Day campaign, including landing pages, email series and social media ads, that will track clicks and purchases in Google Analytics. This will help you learn what specific content is working to attract and convert customers, as well as where you may be losing them in your sales funnel so you can tweak accordingly.
Make customer loyalty a key performance indicator (KPI) for your business, so that you can ensure you are setting specific goals and tracking metrics centered around retaining customers. Continue to update your content and product offerings based on the data you gain through setting up these goals and analyzing your data on a regular basis.
Tips for retaining customers beyond Valentine's Day
Now that you have the proper tracking measures in place, here's a few tips for getting your share of Valentine's Day sales. Like with any other major holiday, competition is fierce but opportunity is also abundant — it all comes down to having a fully prepared and creative marketing strategy in place ahead of time.
Rely on the psychological factors discussed earlier in both ad and product copy, and when possible, incorporate storytelling aspects to elicit an emotional response and stand out from your competitors. For example, tell the story of how the product is made to support fair trade workers in a village overcome by poverty (only if this is true of course), or use imagery of a partner surprising their spouse with your product to a loving response.
Valentine's Day, or any other major holiday, is also a great time to consider launching a customer loyalty program. This is one of the best ways to cater your business to returning customers, by not only providing offers that make them feel valued and keep them coming back for more, but also by setting up a way for you to notice and re-engage customers who haven't shopped with you in a while. Loyalty programs provide a whole new suite of data to help you make educated decisions on what is and isn't working for your business in terms of customer service and advertising.
If you've missed the boat for Valentine's Day, don't worry. These tips and strategies can be applied during any major holiday when online shoppers are flocking to ecommerce sites like yours. Plan ahead to make sure you can fully implement your holiday strategy and track the results you need to make an informed decision the next time around. Valentine's may be the holiday of love, but it's one of many opportunities to take your customer relationships to the next level.
Turn on Valentine's Day themes in your Olark chat box,
and get started with chatting to your visitors today: