It's okay to be selfish with your live chat data. Yes, it's great to help your customers, but you should be asking, "What can these customer conversations do for me?"
That's what we started doing about six months ago and it's been a huge benefit to our company in the way we're developing strategic partnerships.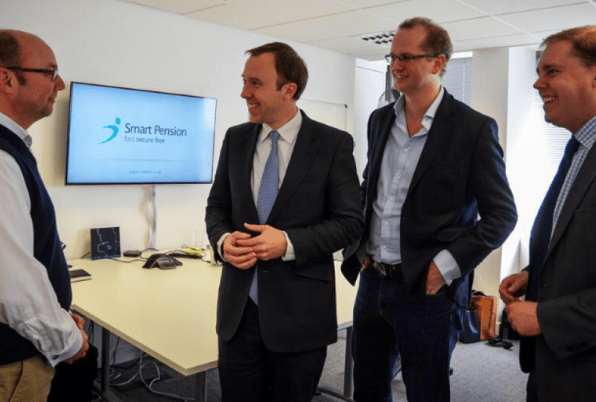 Smart Pension is a London-based pension provider. As the population of the UK is aging, the UK government has mandated 'auto enrolment' to ensure that everyone has enough money when they retire. Employers must now set up workplace pension schemes in which eligible employees are automatically enroled (unless they opt out). Each employer, and the government, is then obliged to contribute to the employee's pension scheme. We make it easier for businesses to create these schemes.
We started with Olark just over a year ago. Originally we simply wanted customers to know we were online and ready to help. Yes, we offered support over the phone and on email too, but we also wanted a way to talk customers through their problems while they were still on our site. So, we put chat on nearly every page, so our customers wouldn't have to hunt for a phone number or email address to contact us.
Helping an entire country
Support is crucial for auto enrolment because it's is a new concept for nearly everyone, and every employer in the UK has a responsibility to comply. As a result, many employers are unclear what their responsibilities are with regards to providing a workplace pension.
Chat makes it easier for our operators, who have auto enrolment experience and are trained in the latest Pensions Regulator guidelines, to talk to employers with questions like what's being offered, what are the important deadlines, and what to do if a business misses a staging date.
More than getting answers from a certified expert on chat, customers can also chat with our experts while they're uploading the employee details necessary to create the pension scheme. This helps customers complete their enrolment faster than if they had submitted a query over email.
Chat also helps our support team work more efficiently. One in every three conversations involves an operator sending a link to a customer. The ability to send a link to someone over chat, as opposed to spelling out a URL over the phone, is a considerable time savings.
And our chat operators are instructed to answer questions only - no sales pitches. We want the customer to feel comfortable using the chat window and not feel we are going to try and sell them something.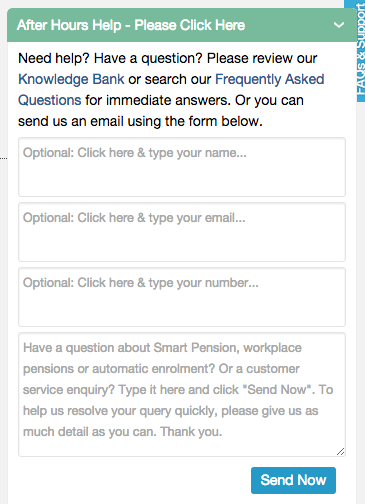 The after hours chat tab on Smart Pension's website
Stronger partnerships and products with live chat data
Smart Pension requires each customer to upload its employees' salary information at the end of every payroll period. A time consuming task to say the least.
As might be expected, our customers started asking if we were compatible with their payroll provider. Being compatible would mean our customers could complete their auto enrolment duties automatically instead of manually inputting information in our system too.
Like every company we have finite dev resources, so making sure we use them efficiently is key. While we wanted to start building integrations to make our customers happy, we had to make sure we were picking the right payroll providers first so we would get the best return on our devs time spent creating the integrations.
We realized that, since Olark conversations are recorded, we had a lot of data at our fingertips already. We started by analyzing our chat transcripts to see which providers were being asked about most. Each time a provider was mentioned in a transcript, we then looked at the size of the company that was asking, giving added weight to companies with more employees.
Armed with that knowledge, we started pursuing partnerships in a much more efficient and effective manner. Knowing how many companies had been requesting an integration made our conversations with those providers much easier too. As a result we are now in multiple partnership discussions, some of which we plan to roll out soon.
This insight has now found its way into our product roadmap too. As we continued analyzing transcripts, we could see that people were continuing to frequently mention payroll integrations. So we're now in the process of building our own payroll platform that will seamlessly link with our pension platform.
All this activity and insight links back to our ability to ascertain the needs of our customers through the Olark chat window. This proximity with the voices of our customers allows our business to stay connected to our customers and to make sure that we grow in a way that our customers demand, which means happier Smart Pension customers.