Do you have enough staff to handle customer service?
Are you letting customers fall through the cracks because you can't respond to their questions fast enough?
Are you holding back from fully staffing live chat because you need all hands to focus on email or phone?
What are the benefits of outsourcing?
Whether you're staffing up for the big holiday rush, or just considering how you can build capacity in your customer service team, hiring outsourced customer service agents may be your solution.
Consider that the faster you can respond to a customer when they need help, the more likely you are to keep them. You can close that sale and convince customers to come back with fast, effective customer service.
Outsourcing may be a different process to learn to add talent to your team, but it limits your risk and increases your capabilities.
1. Hire fast. According to Upwork, hiring online takes an average of 2.7 days versus the 43 days it takes to make a traditional hire. Why? Outsourcing saves time by finding candidates already screened and qualified by agency management or through ratings and reviews by other clients.
2. Access a world of talent. Outsourcing lets you go far beyond your local talent pool to find support experts around the world with the channel-specific skills you need.
3. Provide 24/7/365 customer service across multiple languages. Customers often want to buy outside of business hours. Outsourcing lets you hire people around the world, so you're available in any time zone. You can also hire people who speak different languages.
4. Reduce costs. In raw terms, it's often less costly to outsource customer service. First, when you hire globally, you pay in local rates. Moreover, you don't have overhead like office space nor benefits. And you can staff flexibly to match the number of hours you need.
How much does outsourcing customer service cost?
Agents can vary in cost depending on your solution from $3.50/hour for flexible freelancers to $3500/month for full-time professionally managed, college-educated agents from the United States. Decide what you can afford. That will determine what services you will hire from.
Here is a s
tep-by-step guide to outsourcing live chat customer service agents
1. How to hire an outsourced customer service agent
Hiring an outsourced agent is not too different than hiring a full-time employee. First, write your job description. The more specific you can be, the more specific the applicants will be. That will make for a higher quality recruiting pipeline. In the description:
Explain your business's purpose. What do you do? What's your mission and vision? What's your brand and style? What do you sell? What customers are you going after? Why do they buy from you?
Name the skills required. Identify the software you use. Enumerate the skills you think are necessary to sell to and support your customers.
State the times and languages required. What availability do you need from the agents? If you're looking for or hoping for multilingual support, say explicitly what languages you need.
2. Where to find outsourced customer service agents
You can find agents from a number of services. The each have different pros and cons. Some good options:
CoSupport

focuses on developing support teams for startups.
SupportZebra

provides full-time, professionally managed, high-quality talent at scale based in the Phillipines.
Upwork

(formerly Elance & Odesk) is the most common place to hire and work with outsourced customer service agents for good reason. Upwork takes the pain out of outsourcing by providing access to a large talent pool, agent ratings and reviews, and collaboration tools to make working with agents smoother.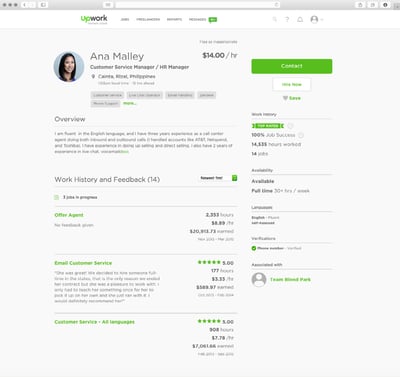 Upwork
is a well-developed and sizeable marketplace of outsourced talent, complete with ratings and reviews.
3. How to interview outsourced customer service agents
You're still hiring a staff member. You can and should interview agents and find the best fit for your team.
A managed outsourcing agency should give you a short list of candidates to interview. You will probably only get one interview with each candidate. Don't worry. New agents are on a probation period. If it doesn't work out, you'll get to hire again from their pool.
If you use a marketplace like Upwork, you could expect more applicants than normal. In that case, prepare to pre-screen applications with an online interview. Consider in the job description, asking the applicant to answer questions such as:
Describe your customer service experience (offline and online).
Give an example of a customer whose unhappiness you turned around.
What software have you used before for customer service and team collaboration?
What is your contingency plan in case of power and internet outages?
You might follow up with qualified candidates with a few example support tickets to see how they might respond. For instance, you might ask them how they would answer:
Hey, I haven't received my package yet. You said it would take 4-6 weeks to deliver. It's been a month! I need it.
4. How to onboard an outsourced customer service agent
These agents will represent your company in front of customers. You have to onboard them like any other team member:
Give a broad overview. Train them on the company mission, vision, brand and style. Train them on what you're selling and who the customers are.
Set expectations clearly. State the hours, the scope of what they will answer, and how to escalate problems to your team.
Use the buddy system. Give them a dedicated buddy to answer their questions while they are learning your customers and your company. Also, you can ask the buddy to review their support responses for quality and tone.
Start slow and low risk. Build up your agents. Start with email, then live chat, and finally phone.
5. How to work remotely with outsourced customer service agents
If you already have a remote work culture, adding an outsourced customer service agent is pretty much the same as adding a new team member. If you don't have a remote work culture, you will need a plan.
First, you need a means to stay in touch throughout the day. I would suggest keeping it simple and using either Slack, HipChat, or Skype Groups for instant messaging and video chat. If you're using Upwork, you can use the built in collaboration messaging tools.
Second, you should make them feel part of your team. It's easy to manage remote workers as "out of sight, out of mind," but that's just setting both of you up for failure. Instead, schedule regularly one-on-one meetings, or consider having a daily meeting in the morning to synchronize your whole team.
6. How to manage outsourced customer service agents
Providing regular feedback to outsourced agents will help them improve, not to mention keep them in the loop and engaged with your brand over time.
As with your full-time staff, do regular reviews and check-ins of how they talk with customers. Look at their support ticket replies and Olark live chat transcripts. Keep an eye on their activity reports in Olark. Enable Olark's chat ratings and make sure their chat ratings stay in keeping with the rest of your team.
Take action
If you want to give outsourcing a try, the easiest way is to start with Upwork. Once you sign up, you can start exploring their marketplace of talent.
Click here to sign up for Upwork
So...what else is stopping you?
Are you still holding back from trying outsourced agents? If so, please leave a comment and tell me why. Hopefully we can not only address your concerns, but also improve this article for the future.