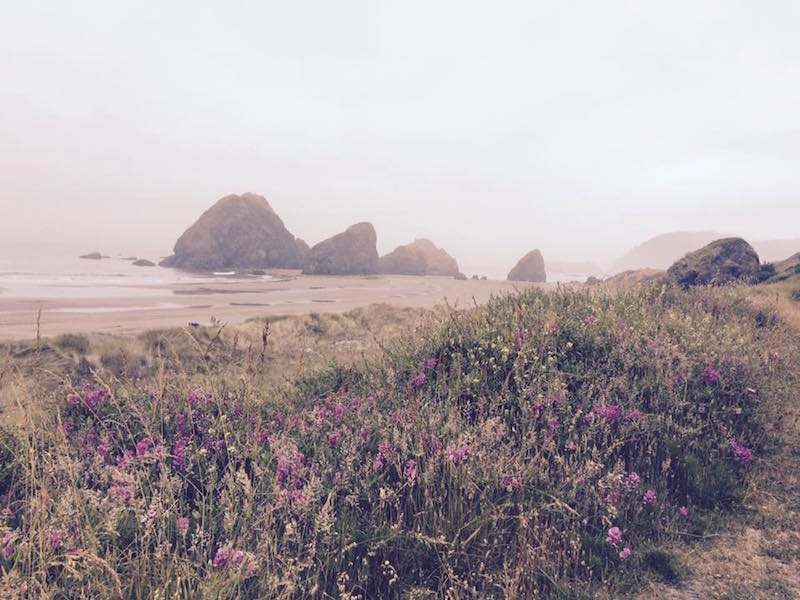 Recently some of our support team made a road trip from San Francisco to Portland, OR for UserConf 2015. Channeling my inner Jack Kerouac, I kept a short journal on the trip. Ride along with us...
June 20: Day one, Saturday morning, the Summer solstice -
On a pitch perfect SF Bay morning, I picked up the Olark CS brain trust, NickO and RyanL plus sys-admin/operations Guru NickH at their accommodations in Oakland.
Plan A had been to collect them on Friday night and take them to some world class Oakland BBQ, being Michiganders who've never experienced the glory of West Coast BBQ, but they managed to land in SFO and head to Oakland on a.) the day of the Golden State Warriors' NBA championship parade, wherein about 500,000 fans were streaming into Oaktown and most of the downtown was shut down, and b.) President Obama landing in Air Force 1 just prior to their arrival and in Presidential fashion blocked out a hunk of the freeway between SFO and SF downtown. Hilarity ensued.
So, our BBQ at Everett and Jones will have to wait for a more opportune moment.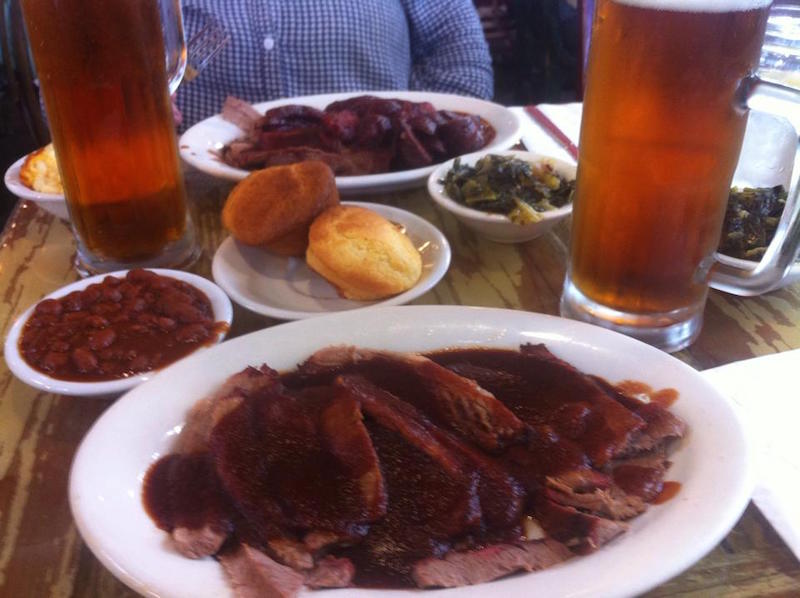 (The breakfast of champions at Everett and Jones that never was.)
Instead we met up first thing Saturday morning, took a quick trip to Canyon CA, to see my 'Hobbit' shack, soaked in some authentic old school California hippie vibes and then started our two day trip north to Userconf in Portland, through the California wine country, the Redwood empire, over to the coast and up north to Oregon.
(Bill's 'Hobbit' shack.)
Day one highlight: Hopland Brewery brewpub for lunch at the top of the wine country. An excellent meal in the courtyard wherein bonding commenced.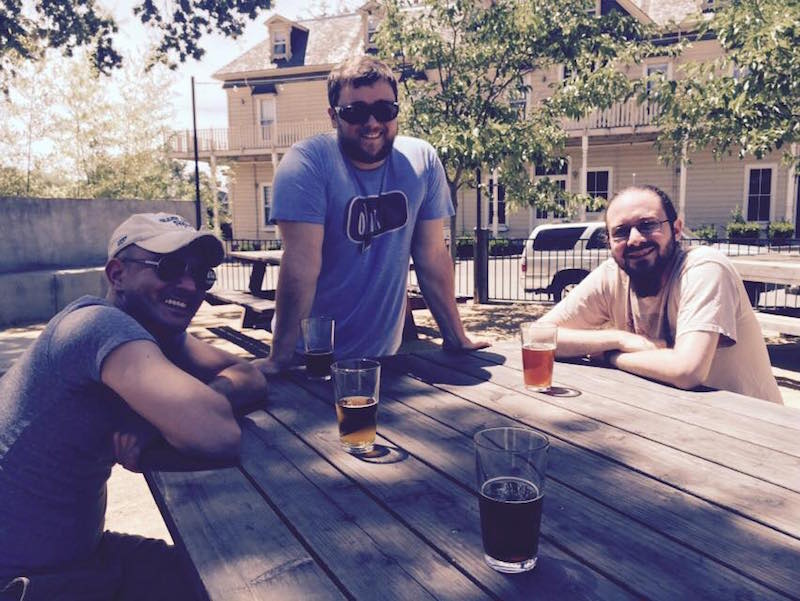 (Lunchtime bonding.)
Next up was through WEEDS country and into the Redwood empire. We hit the Avenue of the Giants, a 30 mile or so loop through fantastical redwood groves which still have first growth, 1,000 year old and nearly 300 foot Sequoia Semperviren growing so thick they block out the sun and making it so we can barely see more than a few yards into the forest from the road.
The pic below is of The Immortal Tree, nearly 1,000 years old, 245+ feet tall, and it's survived floods, fires and lightning strikes. A huge badass thug of a tree; sobering to stand next to a life form that was alive during such interesting times.
(Ryan vs. the Tree.)
We ended the day in Crescent City at the top of California in a restaurant on the harbor eating fresh fish off the boats.
CS team bonding at its finest.
June 21: Day two, Sunday, into the mist -
After a hearty Econo Lodge breakfast, day two found us heading out of California and immediately into the coastal fog. Grey and forboding, but quite lovely to be out of the California heat and the onto the rugged, flat line beaches of Oregon.

(The long, flat beaches of the Oregon coast.)
Crescent city to Newport, whatcha get: stunning beaches with giant rocks, miles and miles of dark, misty, brooding forests with towering Redwoods, sudden meadows, rain forests, and the Oregon dune country. Dang, 30 miles of dune country! We felt like Hobbits on a mythic journey. It's one thing to see something so beautiful it takes our breath away, then again another thing when that breath is relentlessly held for six hours. Sensory overload of a type we won't soon forget.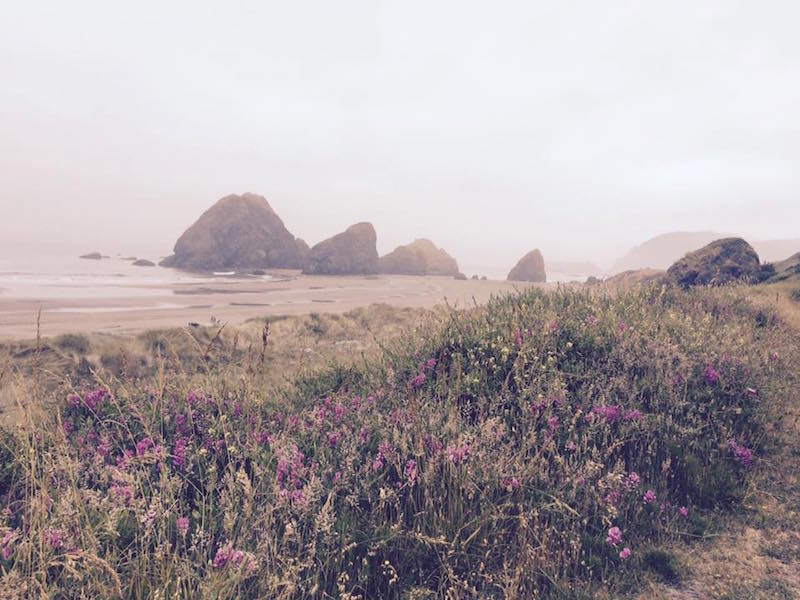 (A coast that won't quit.)
What an altogether lovely day powered largely by Ryan's playlist of emo/orchestral/metal (I just made up that category) which perfectly fit the great/lush beauty of the Drive. Ryan can sing along like a boss, too. (The things you learn about people on 7 hour car rides!) The Irish pub we hit for lunch in Bandon didn't hurt much either: super fresh seafood and a local brew called Sinister Black Ale.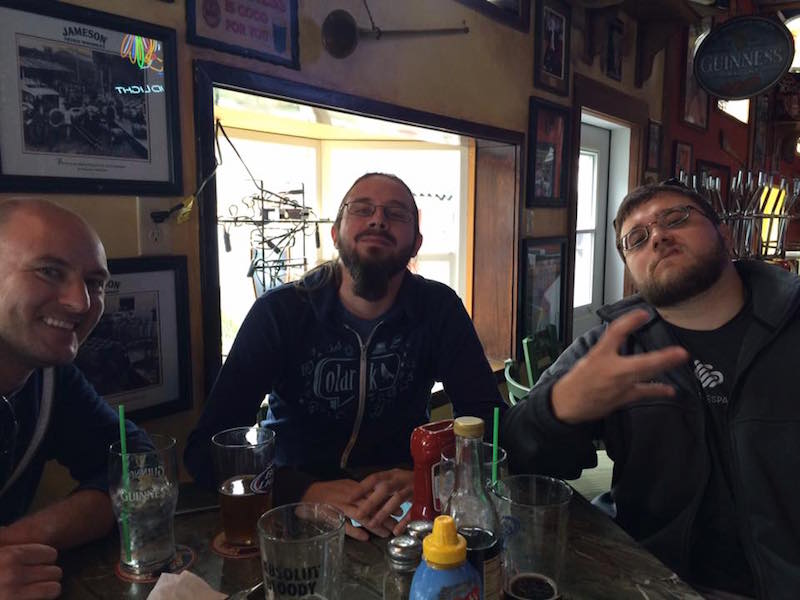 (Post-sinister black ale.)
Chilling in Newport tonight, then onwards to Portland in the morning.
June 22: Day three, Monday, Portlandia -
Day three finds us heading east through the Williamette Valley wine country. In the same way the topography changed to wide open fields and rolling hills, we changed from Ryan's playlist to mine. (Afro Celt Sound System, Jimi, Peter Gabriel, blues.)
As we get closer to Portland, the towns we blow by get cleaner and just a hair more twee. Lunch is barbacoa tacos in handmade corn tortillas with artisanal lime, empanadas and mango ice tea in some small town in the heart of the Oregon wine country.
By mid afternoon we are ensconced on our porch in Portland, happy and relaxed and ready to contemplate doing some actual work.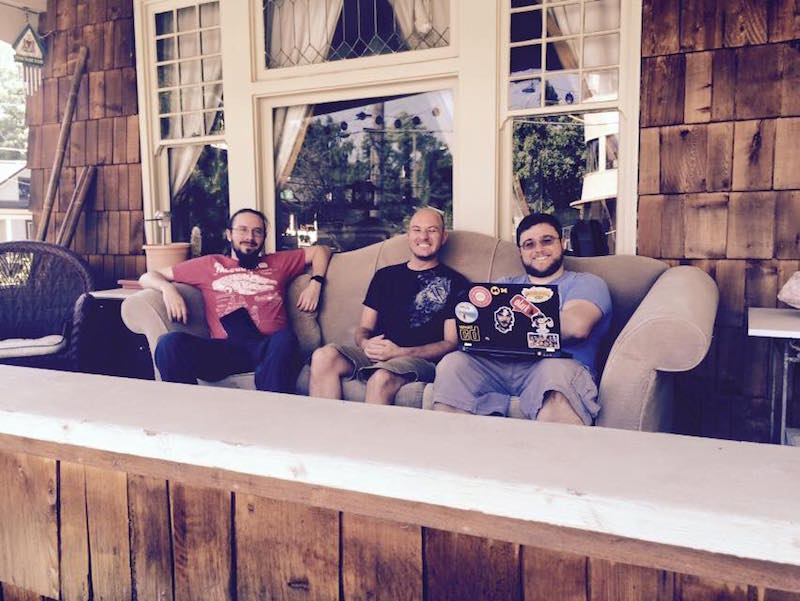 (Portland porch time.)
Day three brings success to our three-day journey - no arguments about being stuck sitting in the middle, no sarcastic comments about another person's playlist, no whining about stopping at the pony rides. (In the Williamette valley, I really did want to stop, but refrained from excessive whining). All is calm and zen - I like these guys even more after spending a few days in confined quarters.
More to come on Userconf PDX...but I'm curious - what's the best roadtrip you've ever taken with your colleagues?