How live chat helped this British company extend from manufacturing into eCommerce
Blue Spot had been manufacturing for years. They made office furniture, sold it to retailers, and had a deep understanding of their competitive landscape.
So when they decided to transform their company and create an ecommerce site that sold directly to customers, they knew how to separate themselves from the competition – use live chat.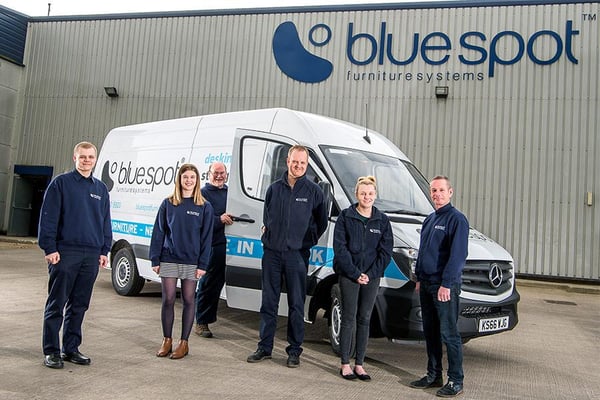 That ecommerce site is called Kit Out My Office and its the online arm of office furniture manufacturer Bluespot Furniture. Based in Dewsbury, West Yorkshire, the company has been designing and building furniture for over 15 years and is one of the leading office furniture manufacturers in the UK. Through its Kit Out My Office website, the company can now offer next day delivery of high quality products to its customers.
Gareth Jones, Kit Out My Office's Digital Marketing Manager, explains live chat's importance. "Our competitors are all B2B-led, so their customers are fluent in industry lingo. We knew we could fill a hole in the market by selling direct to consumers – but in order to do that we had to be more approachable and cut the obscure jargon.
"Right off the bat, live chat let us talk one-on-one with our customers, guide them through the buying process, and keep them comfortable every step of the way. To this day, most other online office furniture retailers don't use chat, so we've kept the competitive advantage."
Transactional Ecommerce Sales on Live Chat
Because of their innovative combination of direct-from-the-factory manufacturing, pricing, and color combinations; complemented by their speedy ordering and delivering process, Kit Out My Office can be flexible to whatever a customer needs.
"We're always reactive to the customer," says Gareth. "If they have presale questions about sizes or delivery or even discounts, we answer to whatever questions we get. For us, delivery is an important issue, so it's good to get as much information about time frames and office locations as we possibly can."
Often the salespeople at Kit Out My Office find themselves jumping in to save the day at the last minute.
Gareth says, "An accommodation company was working on a student hall, but their supplier let them down. Suddenly, they didn't have the 150 desks they needed, and the job was supposed to be finished the very next day.
"They reached out to us on Olark, then got on the phone with our sales team. 24 hours later, we had delivered all 150 desks to the student hall, and we did it at a lower price than the original supplier!"
Another business needed fifty pedestal drawers ASAP. Their office manager found Kit Out My Office in an online search, placed an order, and received the pedestal drawers within 24 hours, just in time for their staff's move-in. After the job was done, the office manager called Kit Out My Office to let them know that the company's directors had given rave reviews to the new drawers.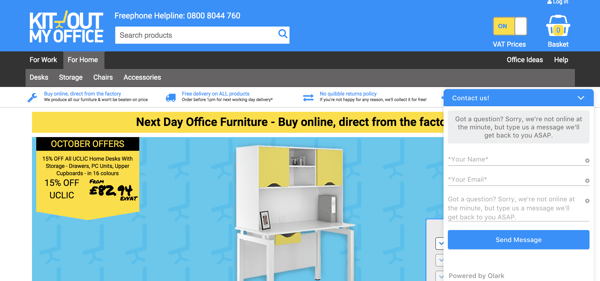 B2B Relationship Building Sales
Not every sale that comes in over chat is that 'easy.'
When B2B customers use chat, their orders tend to be larger and more intricate. As Gareth explains, "If a business is kitting out an office block, they might have three floors of desks, storage, and chairs. Even though their initial inquiry might come in over chat, we work to nurture larger orders by working directly with the customer offline."
According to Gareth, B2B customers are a bit more knowledgeable about chat. Often times a company will assign an associate to vet the vendors they're considering, so they'll start by having a chat during business hours to ask basic questions. "The best thing about live chat is that you can ask a lot of questions in a short space of time. With email it takes so much longer to get what you need."
For customers making smaller orders, sales conversations usually stay on chat. But when a customer wants to furnish an entire office, Gareth's chat staff takes as much info as possible— names, emails, business names. They then input that data in a shared database that ensures a seamless handoff to the sales team. The sales team then invites the potential customer into the showroom for an in-person look.
"Communication is paramount," says Gareth. "We assure the customers that if they let us help them offline we can offer better service from our team of experts — project managers, architects, etc. — as well as better attention to their project, and most of all, better prices. If they agree, then we have a sales team in-house ready to help, and another team on the road that can go to the customer's office and measure up or do a quote. We do whatever it takes to make the most of a customer's time onsite."
If the Kit Out My Office team can't get a chat prospect to convert to an in-person meeting, they use the Olark live chat integration for Mailchimp to send a next-day and then a four-day follow-up email. Their next day follow-up asks, "Did you find everything you needed?" and their four-day follow-up offers a discount.
Does live chat produce results?
50% of Kit Out My Office's offline orders are triggered in chat. And offline orders are much larger than online purchases. According to Gareth, "Our average ticket price online is maybe £350 but offline it could be £10,000."
Overall, the results have been substantial. Potential customers on chat convert at a rate that's 13.86% higher than the average site visitor – and chat customers' average order value jumps 74%.

"Our People are our Biggest Asset"
On live chat and in-person, Kit Out My Office is working to make its business human. Perhaps nothing sums it up better than the Kit Out My Office website which reads, "Our people are our biggest asset."
Day in and day out, the more than 50 full-time staff of factory machine specialists, customer service helpers, and product designers all pull together to provide customers with World Class sales and service.
It's no wonder then that they have many staff who have been with the company since the beginning - over 15 years now. With such attention to the human element of the business, it won't be a surprise if we see them in business for another 15, and many more.