A few years ago, while chauffeuring me to the airport the Sunday after Thanksgiving, my mom casually suggested that I start a food blog. "You'd be such a hit!" she gushed. "We all loved your Piecaken!"
At my age, I like to think I'm immune to parental flattery, but I never did outgrow the longing for internet fame. So, I started exploring blog platforms. I didn't need much—a rich text editor, simple photo formatting, and basic analytics so I could chart my rise to stardom.
Bet you can guess what happened next: I got sucked in by a couple of "user friendly" tools and ended up staring blankly at a screenful of CSS. But moments before I resigned myself to stuffing my face with pie in lieu of writing about it, I landed on Squarespace.
If you've used Squarespace, you know that their platform works for pretty much anyone, from an experienced front-end developer down to a pie-craving wannabe blogger. You can do some incredible things with it if you have the chops—but if you're just looking for something to power your small business website, portfolio, or personal blog, you can get comfortable with the core product in less than an hour, and rely on it for years.
Sound familiar? Yep, occurred to me, too...Squarespace is a little like Olark! Even better, adding Olark to your Squarespace site is as easy as, er, pie. You can find the steps (all 5 of them, one line each) in our Squarespace integration guide.
It probably won't surprise you to hear that lots of small (and big) businesses use Olark as their Squarespace chat solution. But when I took a look at their websites, I was blown away by the creativity with which some of those businesses have combined awesome products, slick web design, and live chat heroism to boost sales and provide amazing support.
Let's meet them, shall we? I give you—Squarespace Live Chat Champions!
Transitions Group: Selling hospitality services with live chat
Transitions Group is an employee-owned umbrella company that manages several businesses in the corporate housing, temporary housing, and furniture rental industries. They currently have Olark Live Chat up and running on Squarespace websites for two of those businesses: FurnitureOptions and ExecuStay Midwest.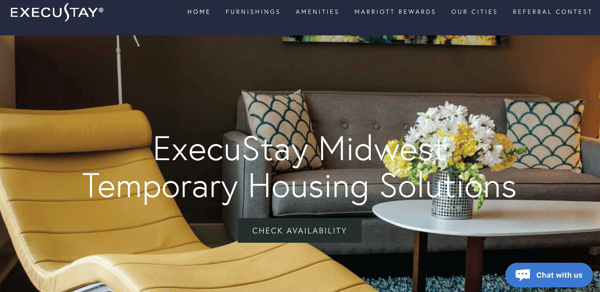 Karen Cundiff, Transitions Group Marketing & Creative Director, told me a bit about her reasons for choosing Squarespace and Olark: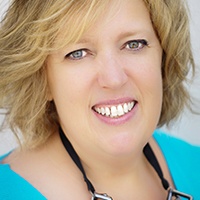 We chose Squarespace for the ease and convenience—I can go in and make changes at any time without having to call a programmer, and our site looks great!
Similarly, the ease of working with Olark has allowed us not only to provide quick responses to our guests, but also allowed us to train our employees on live chat with one quick conference call. When I started researching live chat platforms, I looked at the ones I liked using as a consumer, and Olark was at the top of that list. The integrations with Squarespace and Mailchimp also played a role in making Olark our first choice.
Debbie Vaught, Transition Group's primary chat representative, was also able to speak to the impact that live chat has had on the business: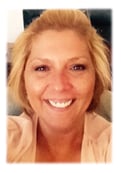 Since we started with Olark, chat has brought in leads that we might not have received otherwise! It's been great as a tool to talk to people and explain our product before they commit to discussing a quote.
Bennett Awards: Engaging high-value ecommerce customers
Bennett Awards is a family business, managed by husband and wife Bob and Alice Bennett, that provides unique, high-quality, handcrafted awards to customers across the globe. The Bennetts have been using Olark since 2014, and showcase their beautiful work on a clean, elegant Squarespace website.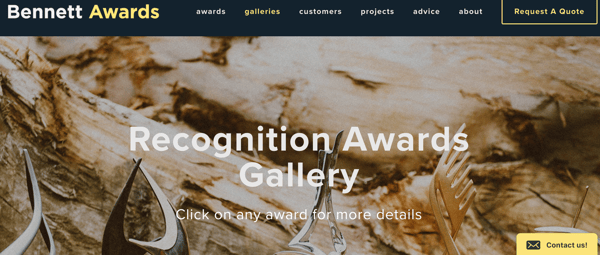 I chatted with co-founder Bob Bennett about his company's experience with Olark Live Chat and Squarespace: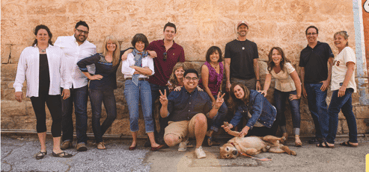 We evaluated a number of different CMS applications, and Squarespace had the best balance of ease of use, feature set, and a modern, professional look. We also really liked the broad range of templates offered, and the e-commerce functionality.
Likewise, we evaluated a few different live chat platforms, and Olark had a great balance of user-friendliness and functionality. We are an art-based business, hence right-brained oriented, so ease of adoption and use was critical for us. We were up and running with Olark in no time.
We've found a huge correlation between response time to customer inquiries and close rate. The longer an email sits in our inbox unanswered, the less likely it is that we will close the sale—and the quicker we can engage with a prospect, the better our odds are of converting them to a customer. Live chat is a great way to get the conversation rolling.
Soundstripe.com: Scaling sales and support at a young startup
Soundstripe.com, a young Nashville-based startup, offers easy-access music downloads and licensing for creative professionals such as filmmakers and marketers. The company uses Squarespace for their marketing website, and offers live chat support via the Olark-Groove integration both on the marketing site and within their app.

Soundstripe Customer Care Concierge Director Danielle Summers explained how the company landed on Olark as a live chat solution, and how live chat has helped her team succeed: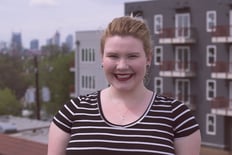 Our founders decided from the very beginning that customers would be a high priority at our company.We had tried out several live chat software systems before finding Olark, and it was the only software that not only fit the functionality for our Customer Care Concierge, but also provided a great user interface for our customers.
Olark has proven to be a fantastic tool. It's allowed us to integrate with other systems like Groove, and to save time by using shortcuts and commands. While current and potential members can also reach us via email, being available on chat has cut out a time delay that may deter potential members from reaching out with their questions.
I appreciate that Olark will scale with us as our customer care department grows. We will not need to find new software, and we will be able to utilize the agent activity report to help ensure that the team is always as effective as it can be.
Flytographer: Personalizing vacation photo experiences
Flytographer is a first-of-its-kind company that connects travellers with a community of hundreds of local photographers in 200 destinations around the world for fun, candid vacation photo shoots.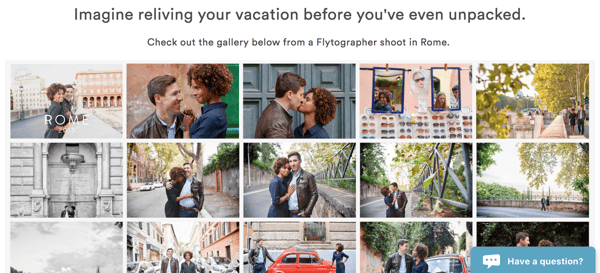 The Flytographer Shoot Concierge team talked with me about why they chose Squarespace and Olark, and about how live chat has helped them connect with customers: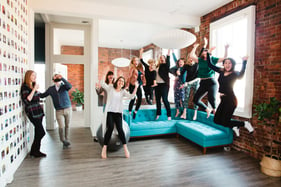 As a visual company, our website needs to work well with a combination of photos and text. With the limited design experience of our team, Squarespace allows us to easily edit and update our website while maintaining the overall aesthetic.
Since our product is the first of its kind in the marketplace, there can be a lot of questions from customers, such as finding out how the booking process works, what the service entails, and pricing. Having a live chat from the beginning of the customer's journey allows us to reassure users that there is a real person on the other side of the screen waiting to help them in real time. There have been many occasions when we have been able to chat with customers, help them through the inquiry process and send additional resources to help them make their purchase decision.
There's nothing better than learning more about a customer before they purchase—when our Concierge team knows this additional information, they can then truly customize the experience to be able to delight our customers all the way through their journey.
And more...
I didn't have anywhere near enough time to chat with all of our Olark+Squarespace customers—but I'd be remiss if I didn't share just a few more awesome snapshots of the Olark chatbox on Squarespace:
Alps & Meters: Selling high-end skiwear with a human touch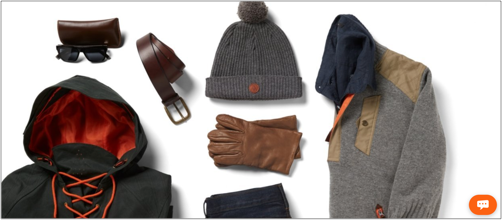 Simply Seattle: Sharing the love of an iconic Northwest city

SharePlanner: Helping anyone, anywhere control their financial future

Complete City Health: Providing holistic health services in Sydney, Australia

Inspired by these examples? Create an Olark account to start chatting with customers on your Squarespace website.