Here at Olark, we're committed to digital accessibility. Below, we wanted to share our story of getting audited and conforming to important accessibility standards. But first, let's discuss: why does live chat accessibility matter?

For starters, one in five Americans has some form of disability. Statistically speaking, we all probably know at least one person who has a physical, cognitive, or visual/hearing impairment. And of course, we all use the web!

Worldwide, we're becoming more aware of the need for web accessibility. But businesses are lagging behind in their practice of it.
We get why this is taking some time. For a business to be digitally accessible, it needs to build with accessible technologies from the ground up. This takes commitment, but the rewards are wide-ranging.
While it's hard to put a price tag on equitable access, organizations who do the work see numerous benefits, from greater employee satisfaction and retention to more website engagement, increased sales, and customer loyalty.
How Olark got to accessibility (with the help of A360!)
Olark had dabbled in improving accessibility in our products for many years. In 2019, we decided to get serious and bring in outside expertise, so we teamed up with the nation's leading firm, Accessible360, to complete an external audit of our product.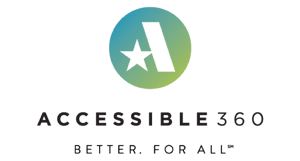 One of our auditors was Harrison Tu, a blind accessibility engineer at A360. When Tu first tested Olark, our chatbox didn't pass the accessibility requirements. The screen reader—a tool used by individuals with visual disabilities— couldn't read incoming messages. And there were other technical web component issues, like labeling and semantic markups.

Tu and other A360 auditors gave us thorough feedback... and high marks for responsiveness! Tu says, "[Olark] fixed things extremely quickly compared to what we usually see." Thanks to Accessible360 and Tu, our chatbox now conforms to WCAG 2.1 AA and Section 508! What are those? Well, WCAG is a set of formal guidelines for developing accessible web content. Section 508 requires meeting specific standards for individuals with disabilities who want to access government digital assets like websites.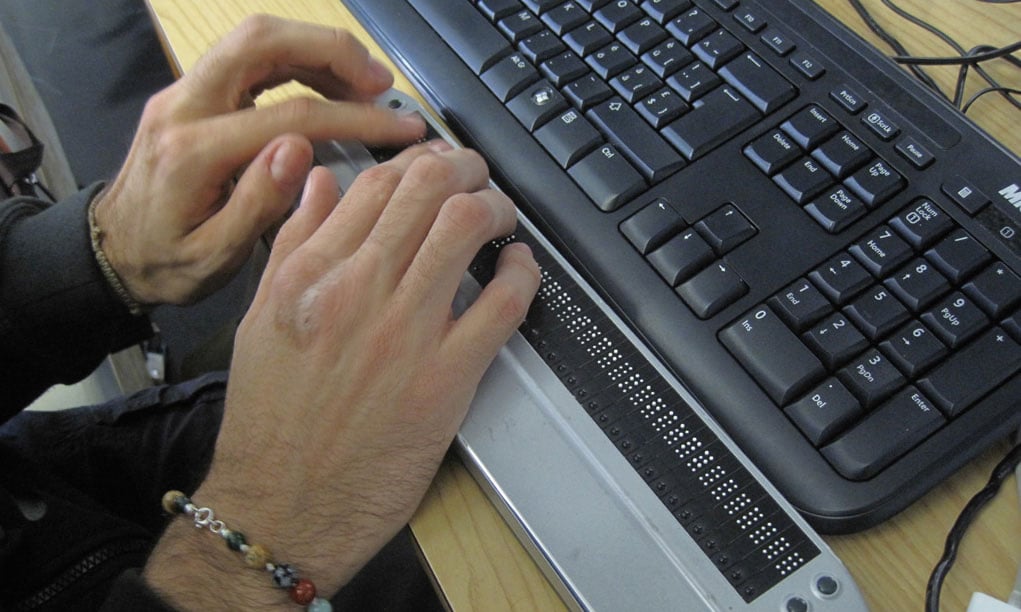 Braille display image by visualpun.ch, used under a CC BY-SA 2.0 license.
You may wonder what accessible live chat feels like. When we asked Tu what he would tell a new user about Olark, he said that our accessibility speaks for itself: "The mark of good accessibility is if I don't have to say anything." This matches perfectly with our value of keeping things simple for our users.
With A360's help, we were able to overcome an accessibility issue that is pervasive with live chat. Assistive technology—like screen readers—often runs into challenges picking up on chat messages that are flowing in real time. Because of this, Tu notes that A360's clients often don't know where to find an accessible live chat provider. We were super proud to hear his endorsement: "I'll always say, migrate to Olark! We've worked with them, they're extremely responsive to accessibility, and they've already done the groundwork."
Curious about accessibility for your business?
A few insights from the Accessible360 team:

Businesses often have a false sense that accessibility is expensive, will be impossible or they'll have to completely redesign or rebuild their site. "That's not remotely true," Ryan Wieland, VP of Sales & Marketing Operations at A360 says. "Leave the testing to the experts. We'll hold your hand and give you easy and accurate steps to make your site compliant."
Consumers with disabilities are savvy. They can tell when you're just claiming to care about accessibility versus actually "walking the walk." Don't try to cover this important business compliance issue with shortcuts that don't work, Instead, work with an auditor to properly test and help your team achieve genuine accessibility.
Ultimately, digital accessibility is a win for both individuals and businesses. Visitors get a great experience and businesses gain loyal, satisfied customers.
Live chat is a key way for people to connect with businesses and use any number of services and products. We're thrilled to offer equitable access to live chat for all your customers. We also couldn't agree more with Accessible360: investing in accessibility is the wise move for your business, so you can provide an excellent experience for every single customer.

Global Accessibility Awareness Day is around the corner, Thursday, May 20, 2021. Olark will be celebrating, and we hope others do as well!