One week every year I sit down to reflect on the state of the SMB SaaS market, and I thought I'd share my thoughts with you.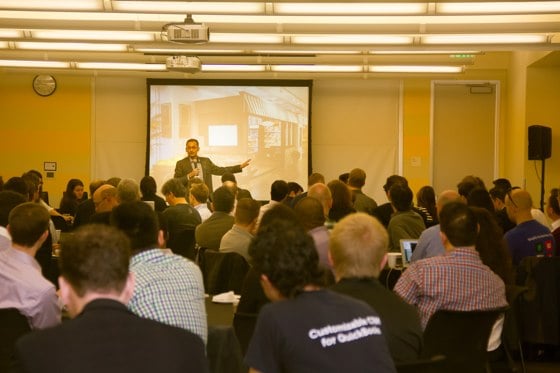 That's because once a year I help organize The Small Business Web Summit: a meeting where all the SMB SaaS revenue growth and partnership leaders can get together to talk about market issues.
The SMB SaaS market is tough
This year (2016) was the sixth year we've hosted the Summit and, let me tell you, I could share a lot of market statistics. But we had several people who presented to The Summit this year who have better data, like Dawn Poulos from Mattermark, Sam Levan from MadKudu, and Sam Laber from Datanyze.
What I want to share with you is the sentiment I get after talking to hundreds of companies putting together this event.
Selling SaaS to small businesses is tough. There, I said it. It's out there.
As anyone who has done it knows, it's a hard crawl to 10,000 subscribers. Few make it to 100,000. Not many products, if any, have over 1 million subscribers. Even Constant Contact, a company I admire for its relentless approach to building a machine to target, reach, and acquire small business customers, exited to Endurance around the impressive 650,000 mark.
Compare that to the PC revolution. This fantastic article from Ars Technica (Total share: 30 years of personal computer market share figures) shows how it took only 8 years - from 1975 at the beginning of the market to 1983 - for million unit PC businesses to flourish. SaaS is now 17 years old.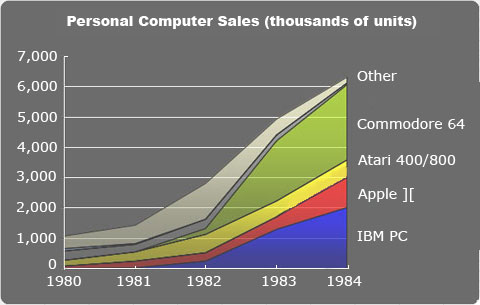 We're building the plane while we fly it
Ok, is the PC revolution a fair comparison?
No. Computers obviously will outsell applications, but it's illustrative.
Unlike the personal computer revolution, there were no existing distribution channels when SaaS began. There was no equivalent to mainframe resellers, to Radio Shacks in shopping malls, nor really even to magazines.
Instead, we've been building distributors as we go. We rely on a complex mix of:
App stores like iTunes, Google Apps Marketplace, Salesforce AppExchange
Ad exchanges like Google Adwords, Facebook ads, and LinkedIn ads
Communications including inbound marketing, social media, and events
SEO, SEM, affiliates
Customer engagement, advocacy, and word of mouth
But none of them reach millions of buyers...yet.
So, instead most of us slog the hard way. Building our own sales funnel directly and therefore expensively.
We make it tough on ourselves
With the Internet, it feels easier to sell direct. But I always like to say, "The first law of sales is get someone else to do it for you."
Yet, where are the distributors? Now, it's easy to blame the distributors for not doing their part, but let me give you an alternative view.
There's a real economic reason why distributors and resellers have been slow to grow: most SaaS vendors don't let resellers make enough money selling our software.
Because our core revenue comes from selling direct, we guard the customer relationship. We want to do our own customer support and our own billing. We treat resellers as second class marketers.
But if we revisit the PC revolution, mainframe and PC manufacturers relied heavily on resellers. Microsoft used the hardware resellers, who were of course selling their operating systems, to build their software reseller channel.
An IDC study showed that in 2010, when Microsoft earned $66.7 billion itself, resellers earned 8 times as much as Microsoft, earning $580 billion.
Major cloud resellers like Ingram Micro, AppDirect, Tech Data, SaaSMAX, and CompTIA understand there is money being left on the table. We as software providers just aren't working well with them yet.
The capital market is getting tighter
This will have to change. There are millions of customers not being served at all. Someone is going to take them. That's just how capitalism works.
Yet most capital sins can be forgiven with enough venture capital in your bank account.
Tomasz Tunguz from Redpoint can explain the capital market changes better, I'm sure. However, the capital environment is getting tighter, with an emphasis on quality and short-term profitability.
Over the past year, there has been a shift away from valuing companies solely on revenue growth, despite the (often unsustainable) costs, to metrics that hew closer to profitability. Metrics like lifetime value over customer acquisition cost (LTV/CAC) put a tight squeeze on SaaS businesses that don't know yet how to reach customers efficiently and at scale.
When we're selling to small businesses whose lifetime values are low, our cost per acquisition has to be really low. That means the low volume, high touch, prospect-to-pipeline enterprise sales model does not scale well for the SMB SaaS market.
We are all forced to look for high volume, low touch channels.
It doesn't have to be this tough
An ideal market would sell small businesses the software they need to be competitive on the Internet, cheaply, effectively, and safely.
An ideal market would have distribution, search, and fulfillment at scale.
An ideal market has an increasingly diverse set of market actors to make it robust and competitive. An ideal market is negotiating with itself to make itself more efficient. An ideal market learns from the past.
The good news is that there are people working on all of these problems. The better news is that we're teaching each other as a market what we're learning about these problems because we all hope it can be solved.
For example, at this year's Summit:
If you're facing these challenges, you're not alone. The Small Business Web is the association of people in the same shoes.
So, do you agree? Is the market tough? How can the future of the SMB SaaS industry get brighter? Comment below and I'll do my best to help. Or email me: sunir@olark.com