Clarence Bethea created Upsie because he wanted to make it easier for consumers to buy the right kind of warranty for their personal electronics. He also knows it's tricky to convince customers they need a warranty, so he started using Olark to address their sales objections at the right time...
With consumer electronics, the checkout is an important part of the customer experience. This is the point where the store gets one last upsell opportunity: the warranty.
"Customers always, ALWAYS have a question about warranties. They want to protect their new purchase, but don't want to be tricked into purchasing an overpriced warranty," says Clarence Bethea, founder of Upsie. "In brick-and-mortar stores, customers only get to ask warranty questiosn when they're checking out, which might seem like a logical point to have that discussion, but in reality it's tough for both the consumer and the store employee fielding the question. The store employee at check out has intructions to keep the line moving, or might not have been trained on warranty questions, so the interaction is often rushed and doesn't instill confidence in the consumer. We knew we could improve that customer experience."
So Clarence created Upsie, an app designed to get reasonably-priced warranties into the hands of consumers. Clarence and the Upsie team specialize in providing the right warranty for any device at the best price, while making sure they're available at any point to explain the 'pros' and 'cons' of each warranty type available.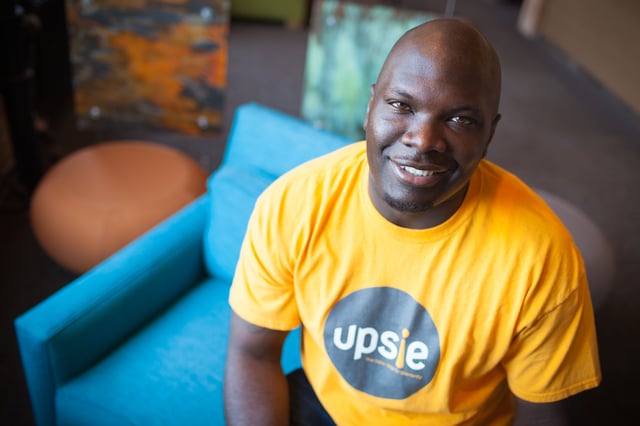 At Upsie, you can find the same warranties for big-ticket electronic items that you're offered at big box stores for a fraction of the cost. Outside insurance companies offer these warranties for a reasonable price, but certain national retailers like to mark up the cost by hundreds of dollars.
Recently, Clarence decided he wanted to add a chat feature to his website so he and the Upsie team could answer customer questions in real-time. Like many of his own customers, Clarence is a researcher - he looked into a variety of chat options while trying to find the right one. Ultimately, he was swayed by a recommendation for Olark from his friend Chad Capp, the entrepreneur behind Gym Phone.
Closing the first sale on Olark
Clarence gave Olark's free trial a whirl, putting the chat tool at the bottom of the Upsie homepage. On the very first day, the chat helped to save a sale, prompting Clarence to tweet a celebratory gif:
When a growth stack tool someone suggested to you pays itself off in one customer interaction. cc:@chadcapp pic.twitter.com/Fb4vlVVGmu

— Clarence Bethea (@Clarence_Bethea) June 3, 2016
What kind of interaction would inspire a Joel McHale happy clap? In this particular instance, Clarence chatted with a customer who was indecisive about purchasing a warranty. The customer had a bunch of questions, including some of the differences between Upsie and a rival company.
Sensing that the customer needed one more small push, Clarence quickly transitioned from question answerer to salesman. "I was able to say, 'Hey, if you purchase with us today, I can give you this code for 10% off.'" That was just the incentive the customer needed to pull the trigger, and he bought a warranty on the spot.
"We knew right then that this was a great tool for us to have," said Clarence.
The chat feature also improves Upsie's mission of transparency, which customers like because they can learn specifically what each warranty covers before they buy.
"At the big box stores, they tell you everything's covered, which is a lie," says Clarence. "We give customers the opportunity to become familiar with the warranty first, so they know exactly what they're buying. With Olark Live Chat, we have another way for customers to ask questions and feel confident that the warranties they're purchasing make sense for them."
Reducing email volume
The immediacy of chatting with customers has proved itself useful to Upsie ever since. As Clarence points out, when customers send emails to a company, the response time is slow and the back-and-forth of answering questions can take days. During that lag time, the potential customers could be reaching out to competitors.
Fortunately, Olark chat has helped Upsie cut down on emails altogether. Clarence says his team's email load is down 75% since he added Olark to the site. Clearly, people want to take advantage of an opportunity to chat directly with an employee at that precise moment.
Upsie prefers this way of interacting, too. Rather than engaging in drawn-out email exchanges, a single employee can tackle all of a visitor's questions in a matter of minutes, and then seamlessly transition into a sale.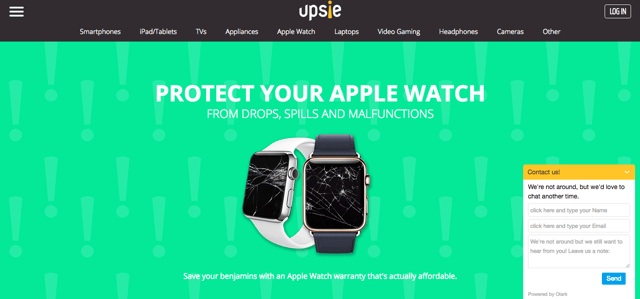 All hands sales training on Olark
As is the case with many small start-ups, employees at Upsie are expected to wear many hats.
No, not like that. Or probably not like that, I don't know Upsie's dress code. What I mean is that the employees play many roles simultaneously. Everybody on staff takes turns chatting with the customers via Olark, giving each person a chance to not only describe the products, but also refine his or her sales pitch.
Since his company is in a literal transitional period – Upsie is in the process of moving to a new office – Clarence hasn't yet done a full deep dive into all of the features Olark has available. "We know those tools are there and we are excited to try them out," Clarence said.
In the meantime, Upsie will continue to make those sales by chatting with their customers. Certainly, maintaining a $17 per month program is easy to justify when a single customer transaction demonstrates that it will cover the cost. That's just a good deal!
And you know that a company like Upsie that's devoted to saving its customers money is all about the good deal.