Today Richard Protheroe of Veeqo provides a few easy steps to optimize your Shopify store to capitalize on end of year sales.
From Thanksgiving right through to New Year's Eve, ecommerce retailers have as many as 10 big shopping days to prepare their store for. It's no surprise then that sales for retailers in the months of November and December can equate to up to 40% of overall sales for the year.
Understandably it can be a very stressful time for store owners, but ultimately very rewarding. This is especially true for Shopify users who have a plethora of apps and add ons at their disposal to help increase sales, as well as some general ways to increase traffic and sales over this holiday period.
Build Suspense
One of the best ways to generate sales on a particular day is to create some suspense. You can do this via social media or by emailing your current customer base.
A good example of this is Children's Place Canada. They emailed their customers explaining that their Boxing Day online sale would start on December 24th, whereas the in-store sale would start on December 26th.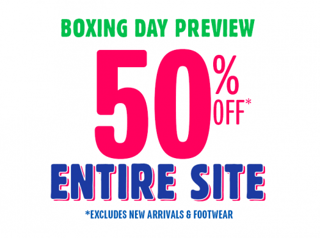 A 50% offer could seem quite drastic, but it led to some good publicity for the store. They were featured on a popular Canadian coupon site - Smart Canucks - four days before Christmas in 2014.
You can also grant early access to a deal for your most loyal customers. It's much easier to market to your current customers than acquiring new ones. This is especially true during the holidays as your competitors are likely pushing their own 'best deals.'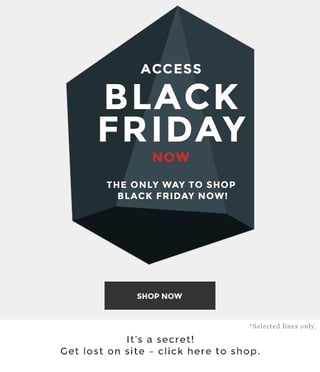 By creating that 'exclusive' feel with your email subject line, people will feel they are getting some special, which should ensure a good open rate.
With Shopify you can use an app like S Loyalty to create a loyalty program within your store, then email customers informing them how to join your 'loyalty club' and the benefits of doing so. People don't want to feel like they are missing out on something.
Create a Sense of Urgency
According to a recent survey by Business 2 Community 71% of shoppers said that the ability to view in-store inventory information was very important.
You can use this to your advantage by creating a sense of urgency on your product page to increase your sales. Marcus Taylor of Venture Beat explained how adding a 'time left' countdown, 'products bought' and 'status' information to his page increased sales by 332%.

This is a particularly good tactic when you have some slow moving stock that you are looking to move. Using phrases like 'Only X Left' and 'Likely to sell out soon' can do just that. It's also a good tactic to use time specific words such as 'today' and 'this week' rather than 'now'.
Preparation, Preparation, Preparation
On the subject of your store's slow movers, knowing your stock information before you offer discounts over the holiday season is vital. Have a few items that are selling particularly well? Perhaps you could bundle a few slow movers in with those best sellers.
Once you have people on your site you should always be looking to upsell. Shopify add on Product Upsell is perfect for this. With this you can can offer relevant add-on products based on the content of their carts, based on the total value in their cart, or a combination of the two.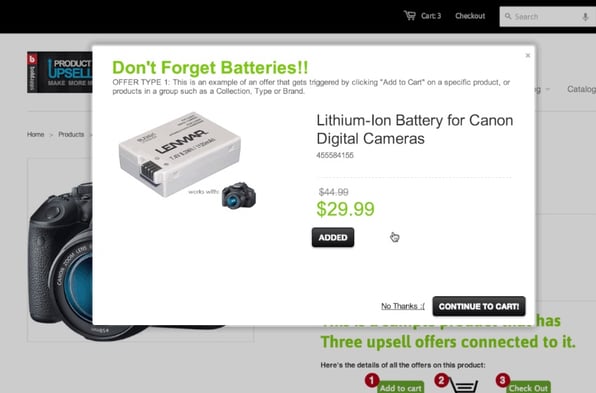 Another clever tactic is to inform customers during checkout how close (or far) they are from getting free delivery. As many as 83% of shoppers are happy to wait an extra two days if free shipping is available. This could be vitally important for you at this time of year when things are busy.
Don't Leave Sales Out There
The last thing you want to happen during this busy period is to be out of stock of an item. Multichannel selling has become increasingly popular for retailers. Smart companies are using sites like eBay, Amazon and etsy to generate more traffic and increase sales. However this can be difficult when you are managing your inventory.
On top of that, Shopify is the only eCommerce platform that allows merchants to sell across Twitter, Facebook and Pinterest.
If you are doing this then you should be looking to automate your stock with inventory management software. This will keep your stock automatically updated and you won't need to manually keep pace with the varying orders from different channels.
Having this at your disposal could be the difference between hiring an extra member of staff or not. Something like Veeqo not only manages your stock between your channels but also allows you to manage purchase orders, accounts, shipping and profit reports, in one centralised place. This could save you valuable time and money when looking to train up a temporary member of staff for the Christmas period.
Returns
Although there are ways to better handle your inventory, dealing with returns sometimes unavoidable. Faulty products aside, the item may not fit the customer, or they may have just changed their mind.
You may be thinking, what has this got to do with increasing my sales? Studies have shown that 82% of people would complete a purchase if there was a visible returns policy. A further 89% said they would shop again if they had a positive experience with returns.
Live chat is a great option to help you with returns. 60% of Millennials (people born between 1980-2000) said live chat is their preferred choice of communication in online shops, which is important when you consider Millienials account for nearly 80 million shoppers spending over $600 billion dollars every year! Therefore a service like Olark is a great way of sorting customer return queries.
Beyond the preference as a communication channel, live chat allows you to talk directly with customers who want to return something. Take the time to find out why they were unhappy, what they ACTUALLY wanted, and perhaps even move them to an exchange or a new purchase.
A Few Extras
As I mentioned previously there are many great apps available in the Shopify app store. Here are three of the best tools for increasing sales over busy shopping times:
Checkout Boost - Are customers abandoning their cart far too often? With Checkout Boost, if a user is about to leave the site whilst in the checkout area, they are prompted to share the item to one of their social media accounts. In return they receive either a free shipping, a discount or a free gift.
Limespot - Limespot promises up to 40% more sales on their app page. How is that then? Similar to Product Upsell, you can show your potential customers related, popular, recently viewed and trending products. What's more it is free of charge!
Product Reviews - Around 61% of people will refer to online reviews before making a purchasing decision with you. So asking for feedback from your customers is vital! Check out this free of charge App which is fully customizable with your theme.