[Editor's Note] Today's article comes from an Olark friend, Mr. John Dubock, a software specialist for BuildTools.com. John first wrote us to share some of the huge sales numbers he was getting from chat on his company's site, so we asked him to share what his sales day on chat is like. If you have questions about his setup, or specific tactics for selling, leave them in the comments and John will get back to you like he does on chat...ASAP! [-Karl]
Salespeople today have amazing selling tools to choose from, but they really only need two: a chat platform and their favorite CRM.
That's all I've needed for the last 18 months since I started using Olark. In that time, I've logged 17,000 chats, averaging about 30 to 130 a day. About one third of our monthly sales come through Olark.
They key though was integrating Olark with our CRMs - SalesForce Pro and Base. Any smart CRM will do really, as long as you realize that it will only work for you if you constantly feed it with information. Attaching an email or a chat transcript to every entry in your CRM is how you enable you and your team to move the sales needle in the right direction. It's work, paid by the "peck."
My goal each day is to add value to my business as a whole, and get smarter about our customers and how we sell. So I'd like to walk you through my day, as a salesperson on chat, and our chat to CRM integration in the hope that you'll find some inspiration that will boost your sales.
A day in the life

My sales day depends on Olark. I work remotely from home and deal in eight time zones worldwide, with a potential 24,000 contractors hitting BuildTools.com for project management software. There's really no telling what kind of day awaits - it might be a quiet morning or I could wake to a customer, usually a prospect, ready to talk.
I start each morning by chugging some coffee, facing some sun, and opening my mobile app (I have Olark integrated with the Jabber app on my Android device). When I reach my desk I typically have five main channels open:
Olark on the desktop;
Email open for new leads;
Phones - landline and mobile - for in and outgoing calls, last minute texting and backup sanity;
And Skype for my four demo teammates spread out from Chicago to Costa Rica.
How I sell on live chat
Engaging with a potential customer on chat is an art form. I think of it like fishing. One moment it's calm waters, then oh wow, look at all these hungry fish! DO NOT throw dynamite at them! That is to say, don't use generic responses and prompts to greet them one by one and try to sell them in bulk.
In each conversation you have to welcome your visitor, feed them knowledge, and be helpful without being pushy. If you do this, then on their second visit, these prospects are going to be ready to jump in your boat, so YOU have to be ready. Increasingly you have to be conscious of the fact that the potential customer might think you're a robot. Olark has worked with me to tweak some of my wording here and there to initiate a dialog. I like to start with, "Hi, if you have questions, I'm here - John Dubock."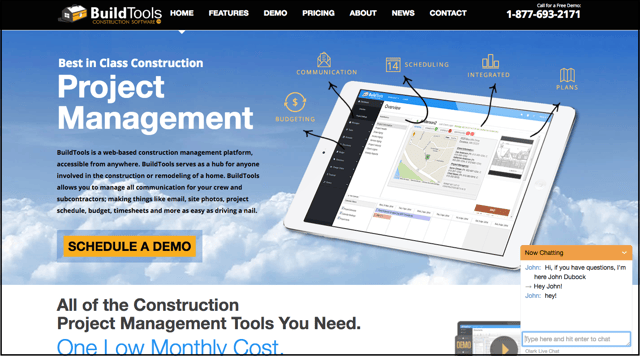 This process of just reaching out to say 'hi' to everyone who visits our site is priceless because it shortens our sales cycle.
Think about it - in a traditional model, to gain leads, you pay to run a Google AdWords campaign, or purchase leads or a sales directory, then manually follow-up with each lead to see if they want a demo. THEN spend months chasing that lead after the demo until they finally make up their mind.
Olark circumvents the traditional sales lead sourcing process for us. Olark shows me all of the visitors on BuildTools.com, which are really just leads floating around. I reach out and say 'hi' to everyone on our site. If we strike up a conversation, I listen to their questions, ask a few questions of my own, and if they seem like they would benefit from a demo, I send them a form to pick a date and time.
If for some reason I'm not available online, a visitor can send me an email through my offline chat form. I try to follow-up with an email or sometimes a call as quick as possible.
Both chats and emails from Olark go directly to my CRM, which help me better tailor my demos to my potential customers' needs. All of this saves me nearly a month's worth of time, from identifying leads to serving the right demo, to helping prospects make the right decision. The faster you get them to a decision, the less money/time you spend chasing a lead.
All-in-all, I book between 500 and 600 demos every year because I use smart software like Olark.
Our CRM integration
CRM is the vehicle to make sense of the best engagements. Some will give you their email and leave. Most will fill out a simple form if they feel you engaged on their terms, meaning you were fast to respond, actually listened to their requests and made an effort to reach out.
[Sidenote: Olark recently re-launched it's integrations portal, making it even easier to connect Olark and Salesforce, if you haven't already. Log-in and check it out in your dashboard now.]
Integrating our CRM with Olark means a salesperson can easily do the work of two to four people. We all deal with interruptions today, get used to it, expect it. The more you add to the CRM as to filling out key fields the more chances you have of making a sale a year later.
The bottom line
Any software that shortens the sales cycle is gold, and that's what Olark does for me. It mutiplies how many people I can talk to in a day, it saves us money on complex sales demos, and it gives me actionable data in my CRM after the conversation.
How are you doing sales on live chat? Let's connect and share best practices. Until next time... - John