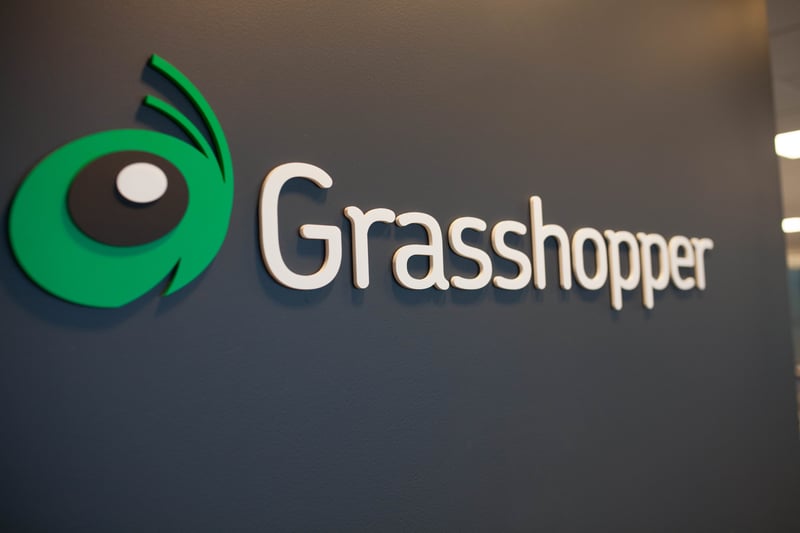 Grasshopper was founded by Siamak Taghaddos and David Hauser in 2003 with a vision of helping entrepreneurs and small businesses run their organizations completely via mobile phones.
Making sure that they are aligned with the needs of their customers has helped them create a number of initiatives intended to increase happiness and build relationships with customers. Taylor Aldredge, Grasshopper's Ambassador of Buzz, details some of these programs and shares what they learned.
Tell Us Your Story
We have a Tell Us Your Story program at Grasshopper to collect stories from our customers. These are the stories of their companies and entrepreneurial journeys so far. We have hundreds of these that we've collected over the years. We collect everything we can about them to get the entire picture. It's an icebreaker of sorts because we can connect a little deeper with customers, whether they're brand new or have been with us for years.
As the PR person, I'll take the information they provide and pitch bloggers/reporters I know looking for stories. My favorite moments with this program were getting customers noticed in the New York Times and Entrepreneur. I pitched BuzzStream to a New York Times reporter I knew looking for sources and the same went for NeedTo in Entrepreneur. This built up our relationship with our customers and let me build a better relationship with the reporters because I wasn't just promoting Grasshopper. I was paying it forward. It's a great way to start a conversation with those reporters.
Takeaway: Learn about your customers. Find the time to get their information. They're your best asset and when you know more about their stories and their needs as a company, you can help them out in all sorts of ways without spending a whole lot of money.
National Entrepreneurs' Day
National Entrepreneurs' Day is something we've worked on for a long time. We were thinking about our customers and how hard they work. It was like, how cool would it be if we could celebrate a holiday with them every year? We originally petitioned President Obama back in 2010 to make it a holiday. It worked, and he's proclaimed it every year to take place during Global Entrepreneurship Week in November.
This year we've been working with a number of organizations, Congress members, and the support of the Kauffman Foundation to make the holiday an official, federally recognized holiday like Mother's Day or Father's Day. No easy task because you have to get all of Congress on board. We don't have to do something like this, but we think it's important for entrepreneurs to be recognized for everything they do in America. We're talking entrepreneurs of all types – not just the famous ones.
Takeaway: celebrate your customers! You don't need to create a national holiday to do that. We just like to do things big. The more important point here is you should always celebrate your customers for all their hard work. They'll love you for supporting them and showing them some gratitude.
Mailings
We constantly mail stuff to our customers. We don't just send thank-you notes (we do send tons, by the way, and people always seem to like them, like Jason Viglione). Now we tend to do more coordinated mailings with a broader impact. Back in January we did a Fun at Work Day at the Grasshopper HQ and sent off boxes of toys to customers so they could enjoy the Fun at Work Day with us. Here's an example of what we sent to one of our customers. They got all sorts of awesome stuff from us including play-doh. We did not spend a lot of money to do this, and the impact was great. Customers loved it and shared a ton of the love on social media.
Takeaway: Have some fun. We're a telecom company at the end of the day. We provide a virtual phone system to entrepreneurs. Our product is not very sexy and it's in an even unsexier and older industry. Thus, we try to stand out wherever possible so people remember us more than our competitors. We want to be the friend you go to when you have questions or just want to have some good fun.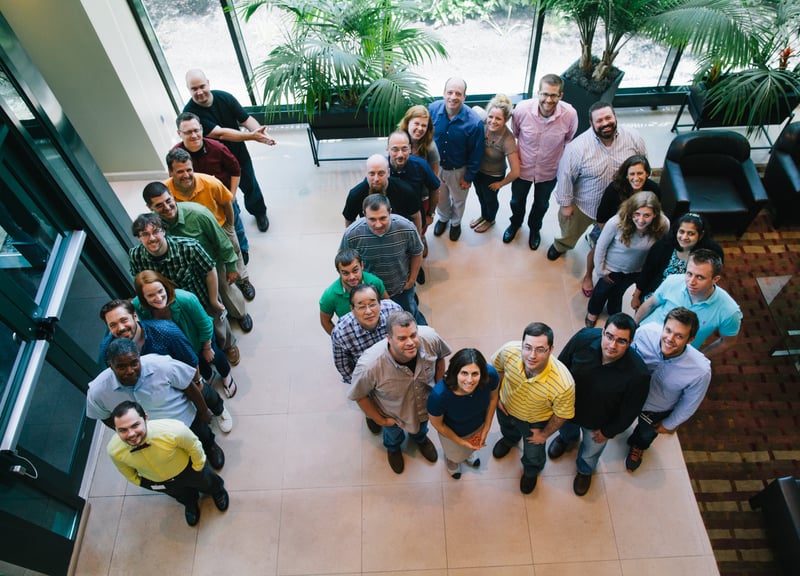 Customer spotlights and the Happy Customers page
This kind of comes off the "Tell Us Your Story" program, but when we get all those stories we use them all over social media and our website. We have customer spotlights on social media all the time. Here's a recent spotlight we did about Broga Yoga, a cool yoga studio geared towards men. Additionally, we have a ton of awesome customers – real customers – up on our Happy Customers page. You can see there's a bunch of cool people with interesting stories up there.
Takeaway: Share your customers with your audience. Sharing their stories with your audience is a great way to make new connections. You help them out, you help yourself out – it's a win-win. It's also free. Everybody likes making new connections without having to spend a lot of money. Are you noticing a theme here? You don't have to spend a lot of money to do awesome stuff for our customers.
Meetup Sponsorships
Here's where you'll spend a little bit of money because sponsoring a meetup locally always involves a little money. However, we see a massive benefit to sponsoring meetups. Our customers are busy and they're not throwing down $1000 to travel to some conference three hours away by airplane. They have families and schedules and customers to keep happy. They pop into meetups during the week to connect with their local community.
Maybe they want to be with like-minded people in their industry, network with customers, or just be around friends. We sponsor meetups because we know that's where our customers are because they're busy entrepreneurs. We want to support those communities in cities throughout the U.S.
They're rarely expensive – a few hundred dollars max – and we love to buy them food or drinks for the evening. One of my favorites has been the Customer Love Meetup here in Boston. We always sponsor, and I always speak at them. I love it. I get to connect with our customers or companies that love helping customers like Grasshopper does.
Takeaway: Support your local communities. Grassroots support is very powerful and goes a long way in the Pay-It-Forward game. When people see large companies going out of their way to hang at small meetups, they remember that. Plus, you can build a deeper relationship with your community and those people that are working hard to build it up. We obviously do it on a larger scale, but everyone can start small by offering to buy some drinks for everybody at your local meetup if you can afford it. Otherwise, think of a more cost-effective way to do it.
Overall Takeaway
Our customers are an incredibly good investment. Hands down. I'd invest in them every time. Plus, we've done it in a way that's not very expensive. I know for a lot of people it always comes down to money, budget, and time. None of examples I've outlined above take a lot of money, a big budget, or incredible amount of time to complete. Sure you always have to plan and set things up. But as an investment, the payoff has been the best part for us because our customers will remember that Grasshopper always has their back as they build their businesses.