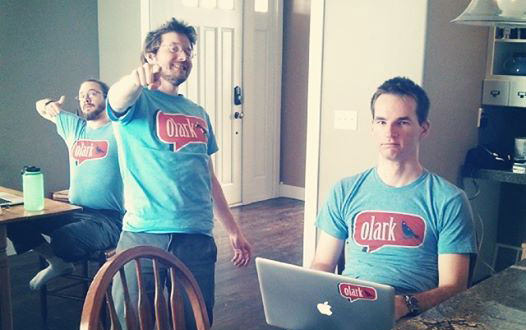 At Olark, we have people spread out over three continents, in four countries and six time zones. We're most interested in finding the right people as we build our business and location is not as important as what each and every member brings to the team.
Thus, we find ourselves spread out pretty far and wide, from our offices in San Francisco and Ann Arbor to as far away as Sao Paulo, Toronto and the Isle of Tiree, 40 storm-drenched miles off the West coast of Scotland.
Maintaining strong cultural ties when the team is distributed so broadly is a difficult nut to crack when we aren't all bumping into each other every morning in the office kitchen looking for a cup of coffee. But it's easier than you might think. Here's a 4-point plan that from my experience in cat herding works extremely well.
1. Hire the right people
During the hiring process we filter for people with remote experience working with teams and look for people who truly love it and thrive in this kind of self-starter environment.
2. Stay connected daily
Everyone in every corner of the globe tunes into our almost 24/7 Slack rooms so it's one big group chat round the clock. No matter what time you check with your morning coffee or that nightcap at the nd of the evening you'll likely find a teammate also logged in.
3. Do work alongs and travel to do co-working time often
At Olark, travel to do work-alongs with other team members is common and highly encouraged. Want to see fall colors and get in some face time with operations and Marketing folks? We head to New England and NYC for a week. Come out to the SF office during Beer Festival week which just so happens to be during the Dreamforce conference? Absolutely. Go work in New Orleans with Joe E. just well, because it's New Orleans. Joe is a great guy to hang out with. And we're all looking forward to a work-along on the windswept Scottish Isle of Tiree, except Rhoda might put us to work dosing her herd of sheep or something. But hey, continuing education is good, right?
4. Company events and plenty of them
We also host company events as often as possible with a yearly all hands retreat (for play and for Olark mission brainstorming) as well as getting together for ski trips, hiking, hockey games, our regular Tuesday evening BBQ in SF, wine tasting, rock climbing, surfing and frankly any group activity that encourages fun and a shared experience.