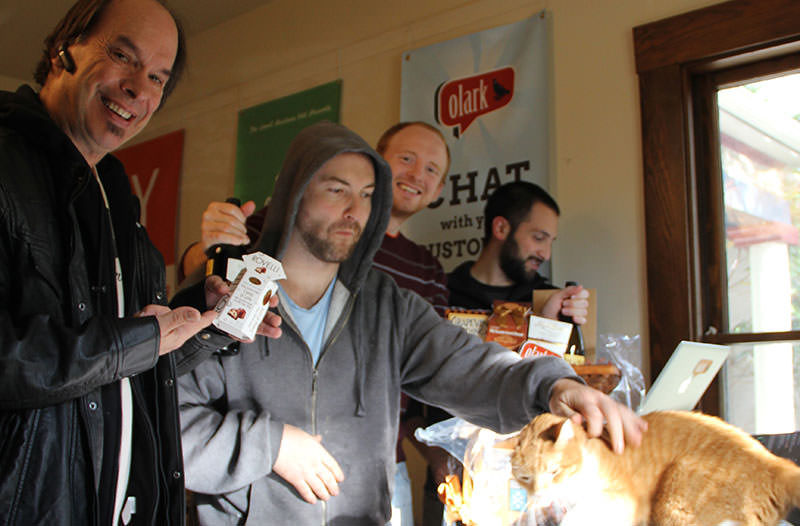 My everyday goal is to have each visitor who comes to Olark.com with a question leave with a sense of amazement at the quality of the support they receive. I want them to feel like they received personal service like they might get when walking into their neighborhood barbershop.
At Olark, we dedicate ourselves to building great software and also to using it every day of the week to help our customers with billing, upgrade, product queries and more.
But hey, a heckuva lot of companies have this same goal, what makes us so dang special?
All Hands Support
Sure, I have a superb hand-picked Customer Support Team, ninjas one and all, but we take it further. We get everyone in the company involved doing chat shifts, talking with our customers.
Howszat?!? You actually let your CEO and your web developers do your customer service? Are you insane? How can that possibly be cost effective and more importantly, an efficient and accurate way of providing customer service?
I'm so glad you asked.
Olark started out as four smart guys building something they believed in from the ground up. Long before titles like CEO or CTO or VP of Product started being doled out, they were just Ben and Matt and Zach and Roland. They lived together in a once posh Victorian in Palo Alto and wrenched Olark together out of thin air. As such they know more about its inner workings and the reasons behind things than anyone. In the early days support was just chatting and answering emails by the guys who wrote the code.
As Olark has grown I've made it my mission to continue the culture of all hands on deck support, and now, although we have a stupendous 5 person CS team and are rapidly approaching 30 total staff, all Olarkians from CEO to front-end devs, to marketing and PR, to operations chip in and work the front lines of chat for at least one shift on a weekly or bi-weekly rotation.
If you're lucky enough to get a development engineer on a chat you'll be amazed at the depth of knowledge about our product. That's reason Number 1 for all hands support and one way we amaze people everyday by providing access to fast, accurate info and solutions at super speed.
Reason Number 2 - doing at least one chat shift a week, the whole team keeps in touch with how our customers use and more importantly WANT to use Olark. This one little trick is how we stay on top of developing what our customers actually need, by directly talking to them every day of the week. We also dogfood our features extensively this way and if a new feature needs adjusting we find out pretty quickly. I can tell you from managing and directing customer service for a decade that it's much easier to convince the exec team and the product team to make much-asked-for-by-the-customer improvements when your exec team and product team are also hearing the same thing direct from your internal team or experiencing it themselves.
Reason Number 3 is the nearly unquantifiable but super important factor of delighting customers by giving them access to everyone in your organization. There is little to compare to the surprise of talking directly to the CEO when you have some feedback about features or service. Direct access makes happy, bonded customers for life.
All Hands Support is not for everybody. Wait, wait, yes, it is! Even if your company has 300 people and 87 of them are in the engineering department, you will discover the benefits of rotating your teams through shifts of support, to keep them in touch with your product and your customers.