The following is an excerpt from The Cyber Monday Survival Manual.
With more customers comes more typing. And the time you spend typing your holiday hours for the 20th time, could be time spent helping another customer buy something new.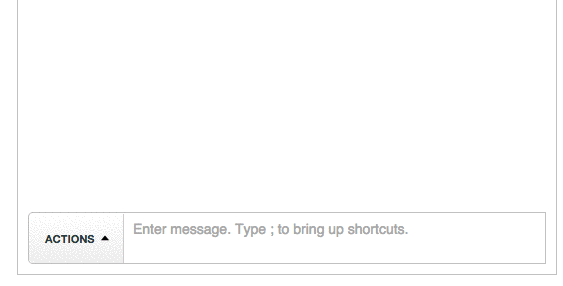 Canned responses help solve that problem.
Olark Shortcuts
Making its Cyber Monday debut this year is Shortcuts, our own built-in canned responses feature.
With Shortcuts, you can save common answers and phrases you and your team use over and over, and use very simple commands to recall those in three keystrokes.
For example, you can take "All orders must be placed by DATE for shipping by DATE", program that as a Shortcut, and then just press ;S to recall that string of text.
Personal Shortcuts
Every customer service operator knows it's important to be human when talking to customers. Inserting a little personality in your introduction, closing, or common responses is one way to show you're not a robot.
Personal Shortcuts are specific only to you - no one else on the team can recall them. So if you want to be able to say, "Hey Hey, from big Karl with a K, Happy HoliDAYs, to you." each time you finish a conversation, get it set up in your Shortcuts.
Team Shortcuts
If you're part of, or oversee, a team of operators who will be helping customers on Cyber Monday, then the Olark account admin should consider creating Team Shortcuts.
The entire team will have access to Team Shortcuts, which will help everyone stay consistent on the basics as well as important holiday-specific details like holiday hours, shipping dates, return policies, and/or time-specific sales.
More Shortcut Examples
Beyond cut-and-dry details, have a brainstorm with your team/company to see if there are any other common responses or sayings that get used frequently. If you sound it out, you might uncover some other helpful, time-saving Shortcuts, like:
Frequently requested URLs - think /pricing, /features, /mobile, or a /holiday-landing-page
Instructions - steps for product assembly, installation, uninstallation or usage
Misdirects - like it or not, people might reach you accidentally. Pre-program a nice way to tell them to jog off :)
Transcripts - customers like chat because they can get a record of the conversation. Make it easier for operators to send a transcript with, "Can I send you a transcript of this chat so you have the links and info? If so, what's the best email address to send it to?"
How To Create Shortcuts
There are two ways to start creating Shortcuts:
-OR-
In the course of a chat with a customer, any response can be turned into a Shortcut right in the conversation. Just look for the arrow icon (see image), click once, and assign the new Shortcut a name.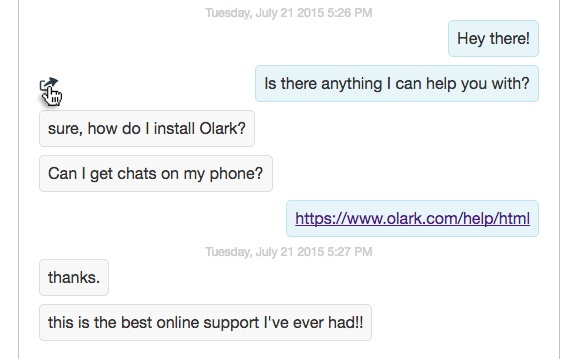 FYI -- If you're not an Olark user, we also recommend you check out TextExpander by Smile Software for iOS or Breevy for PC.
Want more tips like this? Get our Cyber Monday eBook: