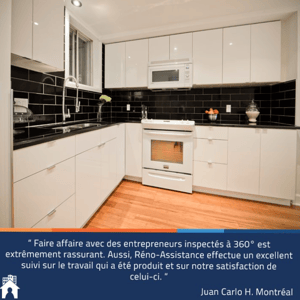 Reno Assistance, a Canadian company that connects its customers with reliable contractors, sets itself apart from the competition by offering advice tailored to each customer's unique needs. That individualized service starts with live chat software powered by Olark.
Paul-André Bégin, Vice President at Reno Assistance, knew his business delivered a product unlike any other. He says, "While our business is online, our approach is as if we were in a loud and open retail store, actually walking up to our clients, knowing which aisle they're in and what products they're looking at."
But Paul's team discovered that potential customers who landed on Reno's website didn't immediately understand what made Reno different than competitors offering similar, yet less personalized services. Average users spent less than a minute on the site before leaving. They had to find a way to make a great first impression within seconds.
That's why they started using Olark: to capitalize on a narrow window of opportunity to make a lasting first impression.
A daycare climbs out of a one-size-fits-all hole
"We often talk to customers who have used similar services, only to be referred to contractors who have no experience with the project they were actually hired to do," says Andrew Collins, one of Reno's 360° Verification Coordinators.
"Recently, an architect came to us after using one of our competitors. He had designed a childcare center – a building with very specific government mandates regarding everything from the heights of particular shelves to bathroom stalls. The contractors the other service recommended weren't aware of any of the pertinent regulations – they had never worked on a remotely similar job.
"But when he landed on our site, he quickly started chatting with us on Olark. Right off the bat, he saw we were different. Instead of telling him to fill out a generic online form, we connected him with a renovation expert who listened to his requirements and referred him to multiple contractors who could get the job done."
How to Maximize Olark's Effectiveness with Customized Features
There are countless kinds of renovations – residential, commercial, bathrooms, kitchens, basements, roofing, etc. – and every user comes to Reno's website with different needs.
But, Andrew says, it's impossible for Reno's customer service team to track every individual visitor, "At any given time we have so many users in different parts of our website, so we can't monitor all of them."
Most of these potential customers won't be on the site for long, and many aren't even aware of what Reno Assistance can do for them. The window of opportunity to make an impression is small.
Andrew explains, "Our highest-ranking pages tend to be blog articles we write about the price of renovations. But the bounce rate for those is quite high. A lot of users visiting those stories are actual buyers, but they're just clicking through pages they found on a Google search, not actively researching Reno Assistance."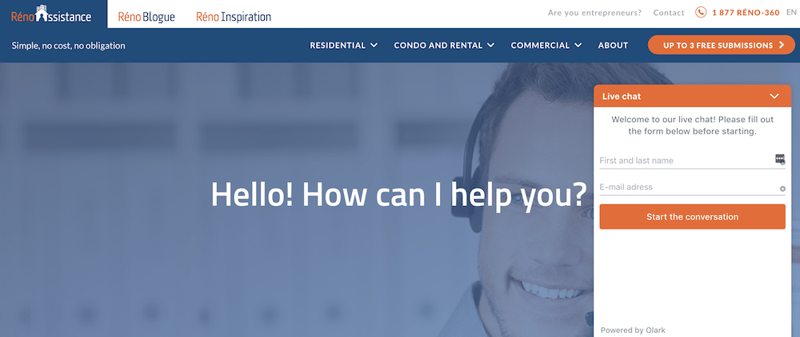 (Reno Assistance uses Olark's Pre Chat Survey to gather information about a visitor before they begin a chat.)
By using Targeted Chat rules to harness the power of Olark's automated messages, Reno's customer service team can reach out to all of these visitors with messages tailored to their individual needs.
"If a customer is reading an article about kitchen cabinets or new kitchen trends," Andrew says, "we have an automated message that pops up after thirty seconds, asking 'Are you interested in getting a quote for your kitchen project?' Olark lets us instantly recognize what customers need and grab their attention in that crucial first minute."
In addition to chat bubbles targeting specific home renovation topics, Reno uses customized messaging tools that pop up after users visit a certain number of pages. These users have shown that they're interested in Reno's services, but are maybe unsure how to get the ball rolling. Since Reno started utilizing this feature, they've had a proportionally higher user response, which they believe has contributed to a higher conversion rate.
Andrew says, "We're pretty realistic. We know a lot of the people who come across our page found it on Google. They're searching for information, and they're not going to immediately use the first search result they click on." But Olark chat lets them engage with these window shoppers as if they were customers walking by an actual storefront – as if their sales staff could step out onto the sidewalk to start conversations.
"We can talk to these users, put their name and their email address on file, and get more of a commitment. We can say, 'Okay, well if now isn't a good time, give me your phone number and I'll have an advisor call you at three o'clock. If we didn't have Olark's customized pop-up chat tool, then the few seconds when they pass by our site would be wasted."
Paul agrees, "In all industries, the game is how quick you are to respond to clients. Now, we're able to be more effective and to really snatch decline at the right moment. It makes a huge difference."
Live Chat vs. Phones
Paul says that Reno Assistance has given Olark the prime real estate on its website because, "not all of our customers like calling us. They want to interact on their mobile device without necessarily having to answer a call or dial a number. It's quicker for them."

(Reno Assistance uses a click-to-chat button to let visitors choose their preferred contact channel. How to create an Olark click-to-chat link or image.)
Andrew agrees, "Our customers feel a lot more comfortable sharing with us when we're on live chat. It's not as invasive, whereas on the phone, I get the feeling they're a little bit wary of getting stuck into a commitment. The chat experience is less intimidating, but we're still able to gather crucial information about customers' renovation projects that our advisors can use to close the sale."
Plus, Olark delivers actionable data and measurable results. Reno says, "The visually-simple live reporting feature is crucial for us in being able to monitor the success of the live chat tool. We're easily able to see when peak times are – hourly, daily, and seasonally – so we can be sure to have enough resources and agents available to optimize our response time during each of these periods."
Half-Pipe Dreams
Reno's customers learn that its contractors can do absolutely anything. That's why people with awesome, totally off-the-wall ideas know it's a company they can trust.
Andrew says, "Our competitive advantage is our personalized service. A lot of imaginative people come to us with amazing projects. We've talked to clients who want to build movie theaters and tricked out gyms in their houses. One recent project was brought to us by a father here in Canada. His kids loved skateboarding, but were stuck inside half the year – so he contacted us and we put him in touch with contractors who built a basement half-pipe his kids can use throughout the winter."
The spearhead of Reno's personalized service is Olark. Since they installed the platform, they've been able to qualify 25% more customers via live chat compared to all other channels.
When creative people want to get building, they jump on chat and dream big.
(Instagram image at the top of this article borrowed from the Reno Assistance Instagram account.)