In today's guest post, Chris Pontine, owner and publisher at Creating A Website Today shares some tips on how to easily build an online store, and 13 things that should set your mind at ease about the process.
There are a lot of things to consider when building an online store. Sure, there are questions like, "Should I add live chat?" but in my experience these are the 13 most pressing things to consider first.
Without knowing much about a company and what they offer in the way of eCommerce solutions, it can be very difficult to feel confident in your decision to sell your goods online. By determining the answers to your most pressing questions, you, too, will be on your way to eCommerce success.
Let's look at the 13 most important things to know when building an online store, shall we?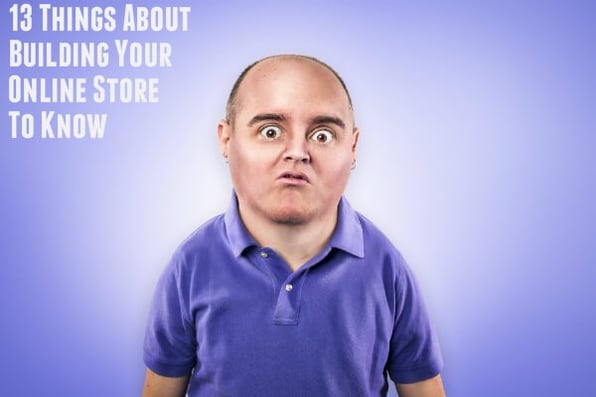 The Interface and Dashboard
First and foremost, you're going to need a website you can work with. That's why it's important to ask yourself, "Is the interface and dashboard user-friendly?"
Depending on your skill as a designer, you may not need to worry about the difficulty level of an eCommerce website. You're likely to code and know your way around challenges.
So, what do you do if you're a complete novice and possess no design experience whatsoever? You're going to want an online storefront that is easy to customize, accessible on your computer and mobile devices, and one that has a variety of tools that make running your business easier.
A drag and drop interface is a popular solution that many companies offer their eCommerce customers.
By grabbing the design elements you want to utilize and dragging them into place, you're able to customize templates and make them your own. You remove pre-set titles, descriptions, and photographs and replace them with your own text and images.
The end result is a beautiful online store that represents your company, reflects its values, and showcases its products or services.
The dashboard is where you go to see all the details about your online store. Everything should be clearly labeled and easy to access by clicking on titles or pictures.
The dashboard is essentially the control panel of your business, allowing you to monitor sales, add new products, and make adjustments to your website however you see fit.
Customer Support Availability
Another important thing to consider when building an online store is how accessible customer service is. Do they provide a support center where you can go to get answers without contacting a representative? Does the company offer phone, chat, and email support?
What type of timeline do they provide to customers in regards to follow-ups? Can you expect your problem to be solved in a timely manner or will you sit around with a broken website and lose sales because your online store is down?
If a company's customer support seems to be perpetually closed, it's time to move on to another service provider. Imagine how difficult it will be to solve an issue that potentially has the ability to cost you large sums of money.
When every minute counts, you can't afford to wait around for someone else to get their act together.
An ecommerce service provider doesn't have to provide support 24/7 to be ideal. They do need to have a clearly stated policy regarding feedback and follow-ups, though.
If you aren't able to reach support for days or find a solution in the customer support center, you very well might lose your business for good because of lack of profits.
Template Selection
Template selection is an important aspect of building an online store that you don't want to overlook. You want your eCommerce site to look aesthetically pleasing, showcase your products and services accurately, and provide a pleasant experience for your customers.
Take these things into account when choosing which eCommerce service provider to do business with.
Are there a variety of templates for you to choose from? How do they look? Does the website give you the option of previewing the eCommerce templates you like best?
How does it look on a mobile device compared to a computer? Are there definite flaws to how things are organized and presented?
If you don't have a lot of attractive templates to choose from, you might try another service provider who offers variety. After all, you only get one chance to make a great first impression on your customers.
Visually speaking, the template that you use has the ability to catapult you to success by providing your customers with a sense of security because of the site's professional look, feel, and verbiage.
Your Top Choice as It Compares to Two Others
Compare your top choice to two other companies. This allows you to see services and features side by side so you can make an informed decision about which to spend your money on.
Even if an eCommerce service provider appears to offer the same types of benefits and tools to its customers, you may learn that the competitor provides a feature that you just can't live without.
Having two other companies to compare makes it very clear that you've made the right choice. You can see how each stacks up financially.
If one provider charges significantly more for the same features and tools, you can go with a company that charges less and still benefit from having everything you need in front of you to build a successful online store.
Product Features
It's not enough to have an aesthetically pleasing online store. You need it to be functional, too. When determining whether or not an eCommerce service provider is right for you, consider what types of features they offer that allow you to build your online store quickly.
The sooner you get things up and running, the sooner you'll make your first sale.
You don't want to be stopped in your tracks trying to figure out a difficult feature of your online store. You should easily be able to find answers to the problems that you encounter by visiting the support center or contacting customer service.
Time is money, after all, and the reason why you chose the eCommerce service provider that you did was because they offered a quick solution to your online store needs.
Add-on Apps
Are there add-on apps for specific features you need to include in your online storefront? Many eCommerce service providers partner up with companies that make running a business easier. Some of these apps are free to use while others offer a free trial and monthly or yearly payment plan.
Depending on your needs, budget, and preferences, you may opt to go the route of an add-on app rather than pay a separate company for the additional services that you need.
Pricing
This is a very significant thing to consider as it has the ability to contribute to the success of your business if done properly. When starting a new business or online store, the objective often is to keep costs as low as possible.
Many people turn to eCommerce service providers because they're able to customize templates themselves rather than hiring a web designer to do the work for them.
They also like the idea of being able to control different aspects of their website without having to hire additional staff members. For example, most eCommerce service providers offer some form of accounting for customers.
Through the website or mobile app's dashboard, you're able to track sales, send invoices, pay vendors, etc. This feature prevents you from paying additional costs in the form of labor.
Pricing for eCommerce service providers range from free for those customers with very few products or services to sell, and elite packages that offer unlimited product listings and low transaction fees. Think about your needs and your budget.
Then determine which eCommerce service provider is right for you and the online store you plan on building.
Check Out Features
When your customers check out using the shopping cart provided on your website, is their information protected.
Security features like SSL are offered by most eCommerce service providers. It helps build trust in your company to have an online store that encrypts data. Too many people report having issues with security.
Criminals look for weak systems to take advantage of. Do not compromise the private information of your customers by failing to take note of the different security features the eCommerce service provider you're working with offers.
A security breech can damage the reputation of a company and cause it to go out of business in some cases. Don't let your online store be one that you read about in the headlines.
SEO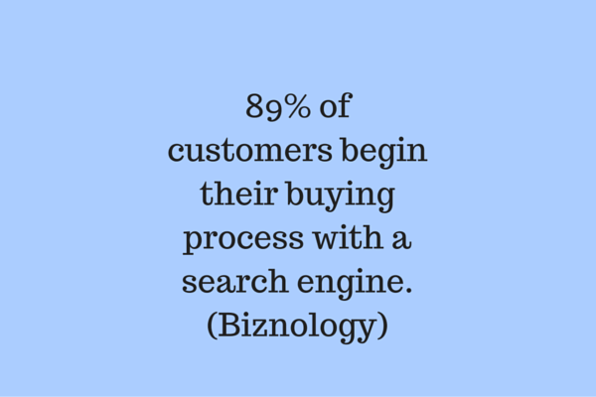 89% of customers begin their buying process with a search engine. (Biznology)
Even if you don't know much about Search Engine Optimization, you know that it's an important part of running a business. Without SEO, people can't find your website when doing random searches on the search engine.
The right eCommerce service provider offers tools that makes monitoring your SEO efforts visible and easy to understand.
Some SEO tools to look for are analytics which helps measure the success of your optimization efforts, link checkers to alert you to broken links which prevent traffic from coming to your website, and image optimization which allows you to use keywords to describe the images used on your website.
Your online store may also offer a blog. If it does, use good content to drive traffic to your website. Find out which keywords people use to find competitor websites and start using them naturally in the blog posts and social media posts that you share.
Everything should lead the customer to your online website and the products and services that you sell.
Scalability
You want an online store that can handle your growth. That's where scalability comes in. When weighing the pros and cons of an eCommerce service provider, it's crucial to know how they handle things when you do, indeed, become successful.
Can they handle extra traffic to your online store? Do they charge a higher transaction fee once your sales reach a certain amount?
You want an online store that grows with you. You don't want to start from ground zero after being in business for a while.
You want to keep blowing your sales goals out of the water. Waiting for your eCommerce service provider to catch up with you is not an option so choose wisely.
Mobile Optimization
With so many customers using mobile devices to shop, it only makes sense that your online store is accessible on the go. It should look as good as it does when viewed from a computer and also offer the same features as the standard site does.
If it doesn't, you may miss out on customers who don't have access to a computer or spend a majority of their time away from home and on their phones or tablets.
Mobile optimization gives customers the same experience on their mobile devices that they would get by visiting your website online on a laptop or desktop computer.
The mobile version is fully accessible and offers people buying from you the same tools, search options, and check out process that they get when purchasing from your standard online store site.
Hosting and Technical Aspects
Is hosting part of a package deal or something you'll need to supply yourself? How well equipped is the eCommerce service provider in taking care of technical glitches?
If your website's down, how long before it's up and running again? These questions and more can help you determine which company to go with when building an online store.
Many providers offer free hosting as part of the package they sell to you. This allows you to come up with a custom URL for your site and remain online at all times without any form of delay.
The only time your website is down is if you don't pay your bill or some type of technical issue is causing a problem with your online store.
Then, a team of computer technicians working behind the scenes to resolve the problem for you. There's no out of pocket costs because the eCommerce service provider takes care of all that for you.
Conclusion:
Don't worry about mastering exactly what each one is, but get comfy with these. You will eventually run into them or use them day to day.