Almost all of us know someone who's been affected by addiction or mental health issues. More than 20 million Americans over the age of 12 have a substance use disorder, and from 2002-2015, the drug overdose deaths in the U.S.more than doubled. (Source: Addiction Center)
Additionally, approximately 10-15 percent of Americans suffer from a serious eating disorder, 61% of American adults are either overweight or obese, and only one in 10 people with eating disorders receive treatment. (Source: Mirasol)
The stigma related to mental health, addiction, and eating disorders continues to be a major obstacle for those who desperately need treatment. Admitting to a problem, and finding the courage to pick up the phone and call a rehabilitation center, is a monumental step that can feel impossible to someone who's struggling.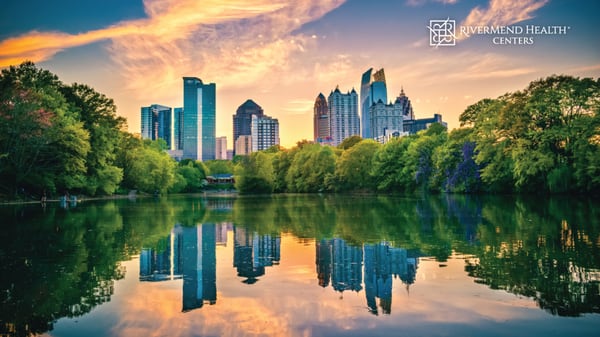 Counseling over a live chat app
RiverMend Health, a provider of evidence-based, scientifically driven addiction medicine, is one organization working to make seeking treatment easier.
Through a nationwide network of world-class treatment centers, RiverMend provides patients with access to five-star service, proven therapeutic environments, and the expertise of renowned academic institutions as well as addiction, eating disorder, and obesity experts. RiverMend is committed to delivering recovery models that restore lives, and their programs and services are at the cutting edge of evidence-based innovation.
However, RiverMend's effective treatment practices are only part of its success; the organization also makes it as easy as possible for prospective patients to reach out about treatment options.
Because people suffering from addiction often find it difficult to vocalize their problems (either over the phone or in person), RiverMend has adopted live chat as a tool to allow individuals to inquire about treatment through text conversations.
In the two years since RiverMend added Olark to its website, about 40 percent of inquiries have been handled via chat, versus 60 percent over the phone.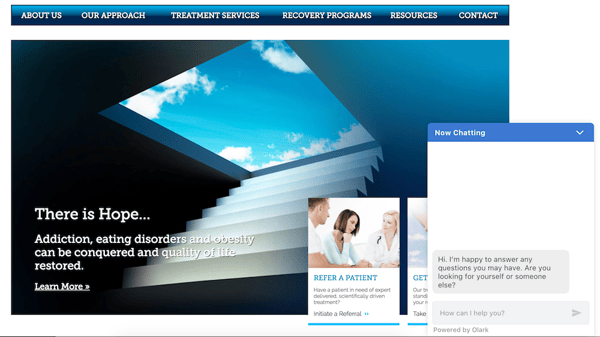 "The Olark chat platform is an effective lead conversation tool and a great customer service tool, but it also serves other purposes," says Lee Berg, Director of Marketing for RiverMend Health. "Due to the nature of our business and potential patients' situations, the chat platform can also work as a 'therapeutic' tool for those who may not feel comfortable immediately picking up the phone."
Live chat features for better customer service
RiverMend Health also utilizes Olark Shortcuts feature on the chat platform, saving the chat agent from having to type out answers to frequently asked questions in their entirety. "We use the Shortcuts feature to answer questions that come up quite often, like, 'How many days is your program?' and 'Do you take insurance?' It's an added convenience that makes the entire process a bit less stressful," Berg says.
RiverMend also makes use of Olark's live chat integration for Salesforce to save chat transcripts as part of each prospective patient's record. After a chat ends, a specialist at RiverMend reviews the transcript and recommends followup steps, such as setting up a call to learn more about the prospective patient's needs and circumstances.
The integration also helps RiverMend track downstream outcomes for patients referred through chat, so that they can build a complete picture of their ROI—in terms of both patient health and financial sustainability—from each of their referral channels.
New channels, new clients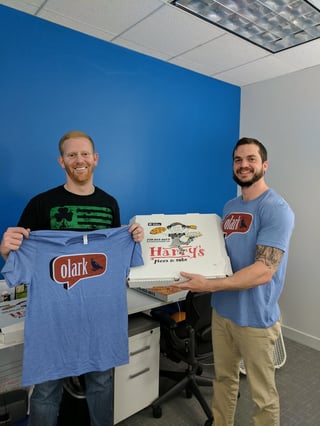 Overall, Olark has helped RiverMend's staff provide an easily accessible and manageable system for patients—whose focus should be on improving their health, rather than navigating a complicated logistical process.
[Two of RiverMend's staff members, enjoying a pizza lunch from Olark as a thank-you for sharing their live chat canned responses examples.]
"Olark is fantastic," Berg concludes. "It has opened up a new avenue for our intake team to get help for potential clients. The more clients we can talk to, the more people we can get into treatment and help them begin their journey to recovery."
For more information on RiverMend Health, please visit www.rivermendhealth.com or call 844-895-0785.
If you're interested in adding Olark live chat to your website, start a two week free trial today.