Bruce Springsteen once admitted, while introducing one of his many songs about car culture, "When I get under the hood, it's like Alice lost in Wonderland. I don't know about that stuff." He is not alone. Much as people rely on cars for the majority of their daily travel, comprehensive (or even basic) knowledge of what goes on under the hood is in short supply.
This, of course, is what fuels the auto repair industry. And while most auto shops recognize the long-term value of transparency and honesty, the negative perception of the typical auto mechanic endures: someone who leverages his expertise to swindle his customers by charging for nonexistent problems and egregiously marking up the costs of parts and labor.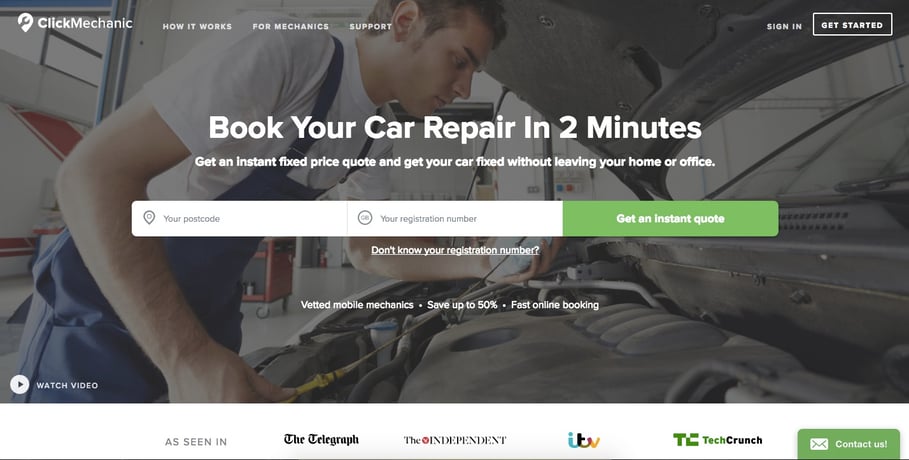 Enter ClickMechanic, a UK-based company with a network of mobile mechanics and garages throughout the country. The ClickMechanic business model is designed to put the leverage back where it belongs: in the hands of the customer.
The process is simple: customers enter their information on the ClickMechanic website and provide a description of the problem they have with their vehicle. ClickMechanic responds with a fixed price offer based on industry standards and the ability to book a mechanic online. From there, a vetted mechanic visits the customer at the vehicle's location, either to collect the car and fix it in the mechanic's garage, or to fix it onsite when feasible.
The benefits for the customer, as detailed on the ClickMechanic website, are clear: "No more wondering if the mechanic is ripping you off, or waiting around in a garage waiting room." The potential cost and time savings are, quite literally, invaluable.
As Simon Tinsley, Digital Marketing Executive for ClickMechanic, notes, the keys to ClickMechanic's success lie in simplicity, quality and communication. "Our users can book their repair in two minutes, with reviewed and vetted mechanics, while being fully aware of when, what and who is fixing their car," he said. "It truly takes the hassle out of car repair."
Simplicity, Quality, and Communication
Of those keys to success, communication tends to be the biggest challenge. "Our mechanics are out on the road, and our customers are often not at home," Tinsley said. "We get around this by having a wide variety of messaging tools. There are plenty of ways we can try to get in touch."
Indeed, communication is essential for any business when it comes to customer service. As part of its commitment to providing its customers with a responsive and open service experience, ClickMechanic relies on Olark's easy-to-use live chat software. In fact, ClickMechanic has been using Olark Live Chat software on its website for three years—almost as long as ClickMechanic has been in existence.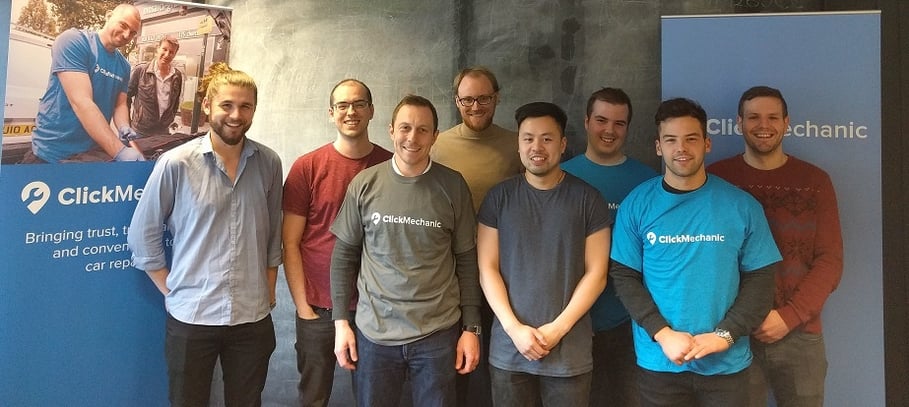 (The CX team at ClickMechanic.)
Customer Service at the Heart of its Business
With customer service lying at the heart of ClickMechanic's business, the Olark software is a key component in the company's operations. "With Olark, we're able to respond quickly and address any questions and concerns they may have," Tinsley said. "This allows us to increase our conversion of potential customers and keep existing customers coming back. Anyone can pop in online for a quick chat, and there are plenty who do."
The majority of inquiries via the Olark software, Tinsley noted, are from prospective customers. "Often, people who are considering booking with us will have a question about which repair they need, how the service works or how to find something specific on the website," Tinsley said. "The difficult questions come in the nitty-gritty mechanical questions since, while our customer experience team is well-versed in cars, our customer experience professionals do not have the same experience as our mechanics. This is no problem for us, as we immediately call on our network of more than 1,000 mechanics to answer any questions."
Austin Tran of ClickMechanic adds that Olark is a great feature especially for those who want a guiding hand on questions that aren't as tech-savvy. "A lot of the questions that come in ask for quotes on certain jobs, and it is here that we can have a direct impact on a sale as we walk a customer through our site. We also remind them of FAQ sections, which we update a lot because of brand new questions."
Olark Live Chat: Easy-to-Install
The Olark software's ease of use and easy integration into any web design has contributed significantly to ClickMechanic's success in its short existence. Moreover, it has enabled users to provide ClickMechanic with useful feedback. "The Olark tool has helped us to not only address customer queries more quickly, but it's also given us valuable insight into how we can improve our website," Tinsley said. "When we get questions around the usability of our website, it helps us to identify and correct any problems quickly. This has been invaluable for keeping our site clean and free of bugs."
In addition, the Olark tool may even contribute to company morale, especially among those in the trenches—that being the web development team. "We also get some nice compliments on occasion, which we're happy to pass along to the developers who don't usually get feedback from customers," Tinsley said.
With plans to grow its presence in the UK market before launching across Europe in the future, ClickMechanic has a trusted and valuable partner in Olark.
For more information on ClickMechanic, please visit www.clickmechanic.com.
To get started with Olark Live Chat on your site, sign up for a 14 day free trial and get started: