We've talked before about how to effectively automate a live chat greeting, essentially sending visitors a pop up message. Today's guest post comes from Grant Thomas, Marketing Manager for JustUno, who offers 12 more ways for eCommerce businesses to use website pop ups.
One of the most important aspects of any website experience is the ability to grab your visitor's attention. The average consumer has a short attention span and needs to be engaged to spur action.
The most effective way to do this on site is with website pop ups. While some may just use a pop up to capture emails, savvy marketers have found creative and effective uses for pop ups to drive desired actions.
In this post, I'll analyze 12 creative uses of website pop ups. Online businesses have boosted engagement, email capture, sales conversion, and loyalty using these tactics below.
1. Increase sales and loyalty with free shipping promotions
Free shipping is a major deciding factor of a purchasing decision. In fact, 47% of shoppers indicated they would abandon a purchase if they found that free shipping was not included. Alerting your visitors early on with a free shipping promotion not only fulfills their needs but also eliminates any need to shop elsewhere. Shoppers are also much more likely to make repeat purchases from a retailer that offers free shipping.
2. Convert new visitors with a discount
It's difficult to drive new traffic to your site, but it's even tougher to convert this traffic. To appeal to your new visitors, present them with a new customer discount. Visitors can enter their email address to receive the promo code that can then be applied to their order.
Even if they don't use the discount code during that initial visit, you receive their email. Now, you've opened up a direct communication channel with email marketing.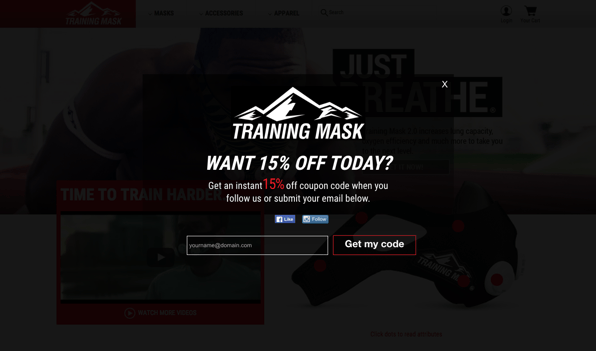 3. Increase order sizes with threshold offers
Sometimes it can be difficult to offer promotions without digging into your profit margins. However, by using thresholds, most brands can find ways to offer a discount or free shipping promotion.
A threshold offer is a promotion that is only accessible if the shopper has a cart size higher than a certain threshold. This helps increase order sizes and convert more sales because shoppers have an incentive to spend more and complete the purchase. A study by Harris Interactive and UPS found that 39% of customers would purchase enough to get free shipping.
For example, if my average order size is $30, then I'd want to offer free shipping on orders of $50 or more. This way, I'm able to encourage shoppers to increase their order size with the incentive of free shipping. Do some math to figure out what the ideal order value threshold would be for you to offer some sort of promotion.
4. Offer a gift with purchase
People love free stuff! Offer your visitors a free item with the completion of their purchase. Give out some branded merchandise like stickers or a bottle opener. This is a terrific way to build customer relationships, promote your brand beyond your website, and potentially clear out some excess inventory.
Get creative with your offer and you'll see the benefit. This will increase sales conversions because customers must complete their purchase in order to get their free item.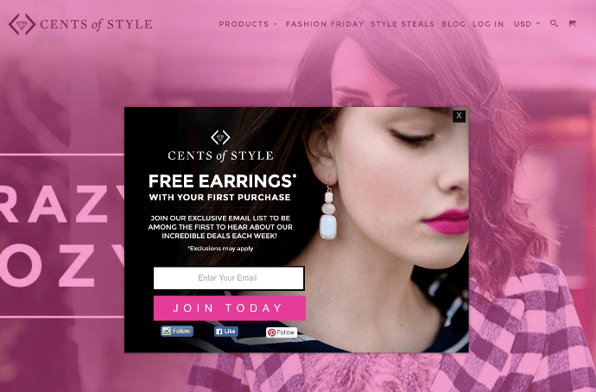 5. Reduce bounce rates and convert visitors with exit offers
You are most likely familiar with exit offers by now but if not, here's the deal. An exit offer is an email pop up that is presented when a visitor attempts to leave your site. On average, 98% of traffic will leave your site without converting, which is where exit offers come into play.
Presenting an exit offer provides you with one last chance at converting a visitor. Exit offers are incredibly effective at grabbing a visitor's attention and driving people to take action.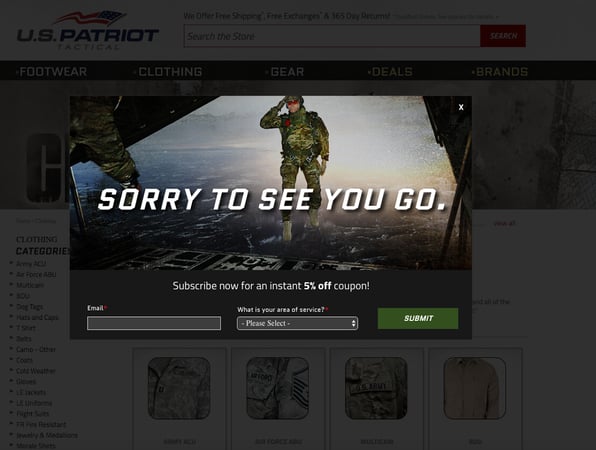 6. Cart exit offers for abandoned cart prevention
Engage shoppers who attempt to leave the cart or checkout pages with an exclusive exit offer. This offer is aimed at fulfilling the shopper's needs that usually drive them to abandon a shopping cart. This enables you to market directly to cart abandoners and you can hit them with powerful incentives to purchase.
Instead of requiring an email to receive the offer, just give the shopper the promo code. This way, you eliminate barriers and the shopper is able to redeem the offer within the cart and checkout pages and never have to leave your site. This will reduce cart abandonment and increase sales!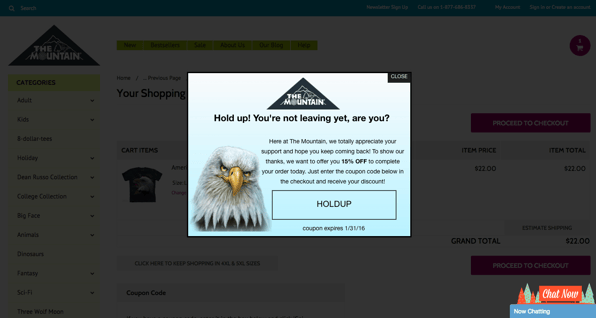 7. Boost lead generation and PPC ROI with contests
Contests are by far the most effective way to generate new leads. Present your website visitors with an offer to win a big ticket item that they can enter by submitting an email address. This promotion displays high value to your visitors while also having a very low barrier of entry. Most shoppers will be interested in the offer and many will enter their email address.
Another common problem many retailers face is low conversion rates with PPC campaigns. Most ecommerce brands are investing a lot of money in driving traffic to their site from PPC campaigns with little focus on converting this traffic. Running a contest on site displays immediate value to these new shoppers and they are much more likely to submit an email for a chance to win a valuable item. This can help you run more effective PPC campaigns and boost ROI from your traffic driving campaigns.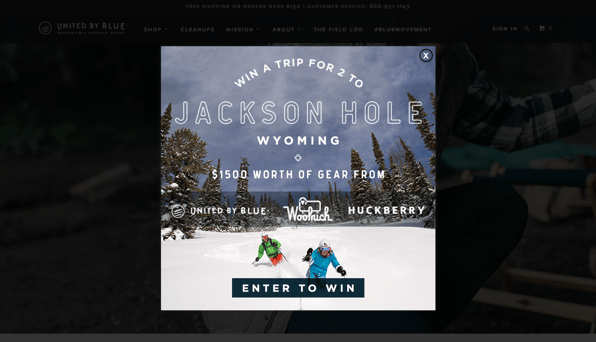 8. Build your email list with gated content
Content marketing has dominated ecommerce marketing strategies and rightfully so. People want additional value within the shopping experience. It's also an excellent way to build your email list. A gated content offer allows your visitors to access a piece of content by submitting an email address.
Ecommerce brands have seen great success with buying guides, look books, recipe books, and much more. A gated content promotion is a perfect option for businesses who aren't offering any sales promotions but are still looking for a way to build their email list.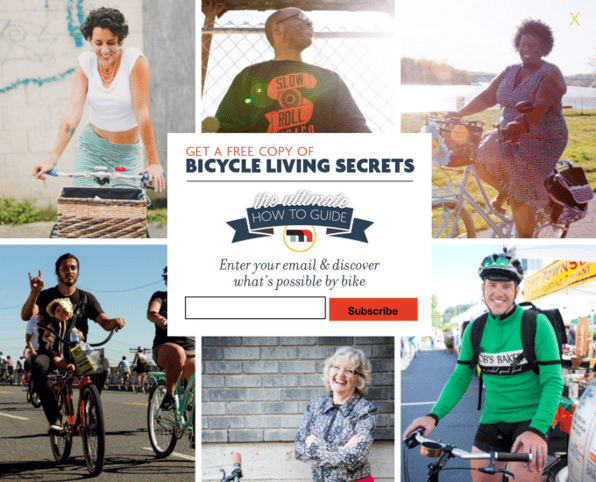 9. Drive on site engagement with holiday themed promotions
Holidays provide a great reason to run sales and engage shoppers with themed marketing emails. This means that you should also have an effective way to drive on site engagement.
Holiday themed promotions are a fun and fresh way to engage your shoppers with messaging and offers. This shows that you are actively updating your website and take pride in your customer's experience. This goes a long way in terms of brand loyalty and trust. It also increases on site engagement and conversions!
10. Collect customer info with multi-field forms
Multiple fields in a form require more time and personal information in order to complete. This usually results in less submissions but there are still uses for multiple field forms. Multi-field forms usually acquire higher quality leads and the added information can be beneficial for segmented email campaigns.
For example, if I ran an online shoe store, I'd ask for your email and your shoe size. Now, I can send you emails that only contain shoes that are in stock at size 10.5. The key here is to only ask for information that is relevant to segmenting your email campaigns. Limit multi field forms to under 5 fields to ensure that it's still easy for visitors to complete.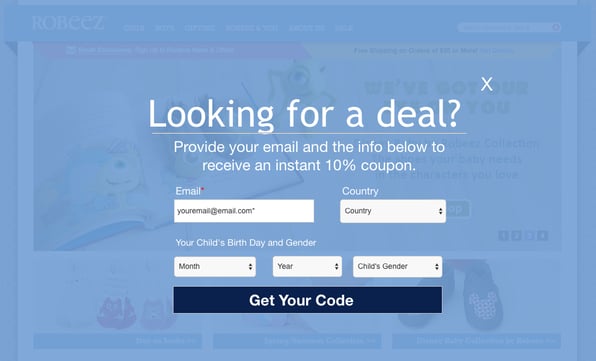 11. Direct traffic effectively with navigation pop ups
Typically, ecommerce sites will have a few pages that they want to drive traffic to (Clearance section, New Arrivals, etc.) Unfortunately, not all traffic will end up on these pages. To effectively drive shoppers to specific pages, present your traffic with a navigation pop up. Include details of why this page should be viewed and provide a clear call-to-action link.
12. Verify traffic with an age verification pop up
Websites that have age-restricted merchandise or content are required to verify the age of website visitors before they can enter. Create your age verification pop up under the same platform that you run all of your promotions!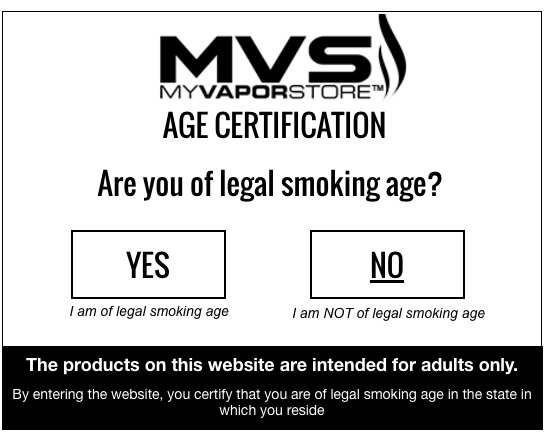 Implement these marketing tactics today!
You can effectively build your email list using website pop ups but why not expand upon that success? These 12 uses of website pop ups can be run on any website and will allow you to target specific visitors while driving desired actions and conversions.
Using website pop ups in a unique way? Share your marketing tactics with us in the comments below!