Hello, Olark blogfans! We've got a great post about our Olark affiliates program for you today. Let's kick it off with a few easy questions:
Are you a digital sales, marketing, or customer service consultant? A web software developer? A purveyor of ecommerce or SaaS services? A generally helpful person who occasionally sends your friends links to nice things?
Have you ever recommended Olark to a client, mentioned Olark in a Facebook post, or given a live Olark demo to your crazy entrepreneurial uncle?
We jest, but...Olark actually does work really well for selling exotic foodstuffs.
Did you know...you could make money doing that?
It's true! We're honored to have your personal recommendation, and we'd like to reward you for the business you're sending our way.
As an Olark affiliate, you'll earn a 25% commission for every customer you refer to us. That means you receive 25% of the revenue from that customer, for the lifetime of their account. We'll pay you every time a customer makes a payment, for as long as the customer's account is active—there's no limit to how much you can earn.
Intrigued? Awesome. Here's a little more information:
Who can join the Olark affiliate program?
Anyone! You'll benefit most from the program if you're already working with clients who are likely to be interested in live chat (e.g., if you're an ecommerce web developer or a digital sales, marketing, or customer service consultant). But anyone interested in promoting Olark is welcome.
How do I become an Olark affiliate?
Head over to https://www.olark.com/affiliates and enter your information. If everything looks good, you'll receive a confirmation and welcome email within a day or two.
How does Olark know who I've referred?
Great question! We use unique URLs to track referrals (you'll receive your URL via email once you're enrolled in the affiliate program). All of these URLs direct to the Olark pricing page, but we can see which URL a customer used to navigate to that page. If a new customer creates an account after navigating to the pricing page using your URL, you receive credit for the referral.
How do I actually go about referring people?
Up to you! The only requirement is that anyone you refer needs to navigate to Olark from your unique referral URL. However, you can share that URL with potential customers in any way that makes sense for you. You could embed it on your website, send it to customers via email, include it in a social media post, or even just write it on a scrap of paper and hand it to a friend. We'll provide you with Olark logos and other visual assets to use in your promotions, if you like.
How do I get paid for my referrals?
We pay you monthly through PayPal, starting as soon as your commissions total at least $100. To get paid, you just need to join the program, provide us with a valid PayPal email, and get a few paying customers up and running—one signup for our annual paid plan is enough to kick you over the $100 mark!
Do I get paid if a customer I referred creates a free account?
The short answer is no :) But the long answer is...you still receive credit for referring that customer, in the sense that their account is linked to yours. So if they upgrade to a paid account a few weeks, months, or even years down the line, you'll start getting paid, too!
Do I get paid more if a customer I referred adds agents to their account?
Yep! Your affiliate account is linked to their customer account, and you always receive 25% of whatever they're paying to Olark. So if they're paying more, you're earning more.
Can I see how much money I've earned between payment dates?
Absolutely. When you join the affiliate program, we'll create an account for you in our affiliate portal. The portal gives you access to all the data you need to track your performance—you'll be able to see how much money you've earned (and from which customers), how much money you've been paid, how many times your unique URL has been clicked, and more.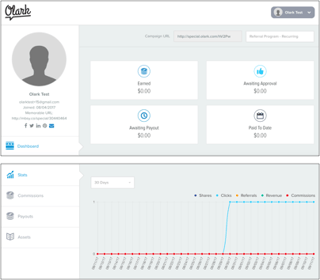 Snapshot of the Olark affiliate dashboard
Does Olark provide support for affiliates?
Heck yes! Helping affiliates succeed is a big-ticket priority for us. As an affiliate, you'll have access to a dedicated support email address that reaches a friendly member of our marketing team, and you'll receive regular updates with tips and resources to help you promote Olark.
One more time...how do I become an Olark affiliate?
Click the big green button below :)
Still have questions about the program? Register for an affiliate training webinar!