Can you believe 2017 is almost over?
…
Let's try that again.
Can you believe 2018 is almost over?
It's cliche, but it's true — time flies when you're having fun. Here at Olark, we have the most fun when we're helping you connect with customers and grow your business...so if 2018 has flown by for us, we hope that means we've made your year a little easier, more productive, and more fun, too!
Our complete 2018 play-by-play would fill a novel, but before we usher in 2019, we wanted to take a moment to celebrate a few of the highlights with you. Here's what stands out as we reflect on the past 12 months:
Helping you get to know your customers
In 2018, we released Notes and Visitor Profiles — two brand-new features designed to help you capture more customer insights and data from every live chat conversation.
To make those insights easier to save, review, and use, we also gave your chat console and transcripts dashboard sidebars a full makeover. The new sidebar separates information into two tabs for the customer's Profile and Activity, organizes data under nifty collapsible headers, and incorporates additional handy references such as summaries and transcript links for all of a customer's past conversations.
Here's a peek at what that looks like: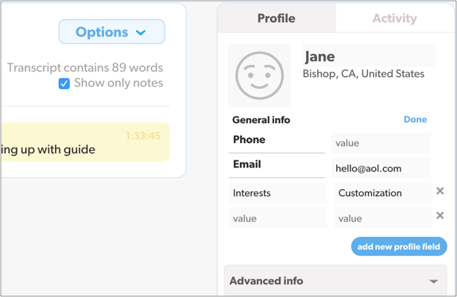 We'll be building on this work with a few more improvements to your dashboard organization in early 2019, so stay tuned!
Giving you more options with PowerUps
One thing I love about working at Olark is the diversity of our customers. Y'all are an amazing community of smart, creative professionals, selling everything from children's toys to auto insurance — and using live chat for everything from sourcing leads to solving support issues.
The only downside of that diversity is that we can't always build one product that works for everyone. So, in 2018, we decided to take a different approach. We added three new features that are offered as modular add-ons — PowerUps — to serve customers with very specific sales or support needs.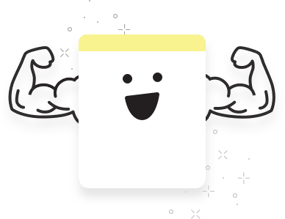 Has this chatbox been working out? Nope — just got a PowerUp.
Check out the PowerUps store to learn more about:
Visitor Insights

— in-depth customer information, ideal for enterprise sales

Live Chat Translation

— automatic, instantaneous translation to and from 100+ languages, for businesses with large international audiences

Cobrowsing

— tools for viewing, highlighting, and navigating your customer's browser screen, perfect for sales demos and tricky support issues
Turning your groan of "GDP-arrgh" into a sigh of "GDP-ahhh"
It was the privacy law heard 'round the world in 2018...and for teams using live chat, it posed tricky questions about handling customer data collected through the chatbox.
We take privacy very seriously at Olark. We're 100% in favor of any regulation that gives you and your customers more control over the information you share online, and we'll do everything we can to help you comply.
So, this spring, we helped you prepare for GDPR by:
Adding new privacy tools to your Olark dashboard; these tools make it possible (even, dare we say, fairly easy) to manage and redact customer data in accordance with GDPR requirements.
Sharing detailed information about the use of these new tools, and about your general responsibilities under GDPR, in our help center.
Privacy law may not be the "funnest" thing in software (although we have a few resident nerds who'd beg to differ...) — but it is one of the most important, and we're proud to have given you the tools to protect your customers' privacy in 2018.
Providing you with outstanding support
Commitment to exemplary customer service is a pillar of Olark's culture, and we strive to improve our service year after year.
In 2018, our 8-person customer service team:
Handled approximately 45,000 chats and 33,000 emails

Maintained an email resolution time of about 2.5 hours, and a median chat response time of just 10 (!!!) seconds

Achieved a 96% overall customer satisfaction rating — and weekly satisfaction ratings of 100% on three separate occasions
As we say in our service standards — "As customers, we want quick, friendly, helpful service that leaves us feeling warm and fuzzy. We want to feel a human connection, we want to feel like we interacted with a person who cared." If you had occasion to interact with our customer service team this year, we hope we left you feeling all the good feels!
Sharing insights, stories, and skills at conferences
Olarkers may work remotely, but we don't always sit at home in our pajamas...in fact, we love getting out in the world! In particular, attending conferences helps us hone our skills and make an impact in areas we're passionate about.
This year, we conference'd it up at the following awesome events: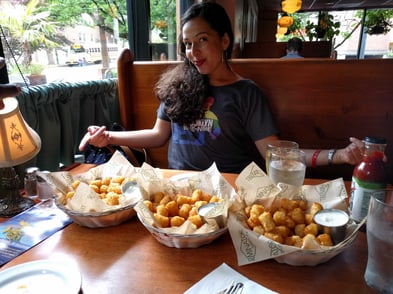 Sarah and Kimberly enjoy a well-deserved tater tot break during Support Driven PDX.
If you're headed to a conference in 2019, let us know — we'd love to meet up!
Continuing the conversation about mental health in the workplace
In 2017, Olark CEO Ben Congleton's support for employee mental health days made national news. The press coverage was a reminder that while mental health is a normal topic of conversation here at Olark, many workplaces aren't as open — and that our example can be a powerful and important one for employees and managers everywhere.
So, in 2018, we committed to starting more external conversations about our mental health experiences. Some of those efforts were small (but still significant), such as publishing self-care tips on our blog. And some were a bit higher-profile — such as our incredible Director of Customer Service, Rhoda Meek, sharing her deeply honest story about managing bipolar disorder in the workplace with Harvard Business Review. Both Ben and Rhoda received mentions in a December Wall Street Journal article, as well.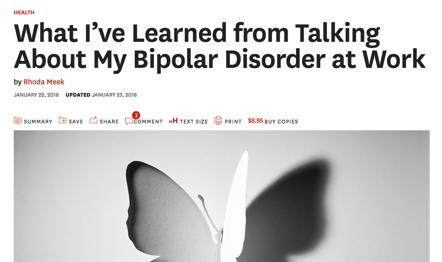 Your responses to these stories have been incredible, and we're heading into 2019 more motivated than ever to keep this important discussion going. If you'd like to share your own stories or advice, reach out to us via chat or email — we'd love to hear from you.
Bringing holiday cheer to your chatbox
What's a holiday season without a little decorating? Holiday chatbox themes are back for 2018, and better than ever — from twinkly lights, to classic colorful patterns, to eye-catching falling snow.
If you haven't switched your chatbox to holiday mode yet, there's still time. Head over to your Olark dashboard to celebrate the end of 2018 with a little extra flair, and give your customers one more thing to smile about when they drop by your website to finish their shopping.
Building community around remote work
Operating as a remote team requires constant adaptation, stellar communication, and a healthy dose of creativity. Over the past 10 years, we've learned a ton about what it takes to make remote work work — and as working remotely becomes more common, we're making a bigger effort to share those insights and lessons with the world.
In 2018, we published more than a dozen blog posts about remote work, covering topics like finding a remote job, training new remote team members, and creating opportunities to socialize and celebrate remotely. We've also begun building a remote community on Instagram, featuring a wide variety of silly and inspiring workplace photos from remote employees and freelancers.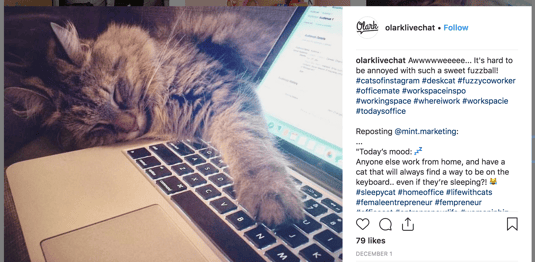 For more photos of our furry remote coworkers, check out @olarklivechat on Instagram!
We want to give a huge shout-out to to everyone who has shared photos, stories, and questions with us this year. If there's a remote-related topic you'd like us to cover in 2019, reach out and let us know — we'd love to make this content more relevant and useful for you!
From everyone at Olark — thanks for sharing 2018 with us. We're looking forward to helping you connect with customers and grow your business in 2019 and beyond!